AMAN LAUNCHES "ESSENTIAL SKIN" A NEW FUNCTIONAL SKINCARE RANGE
Aman Essentials, the lifestyle brand derived from the revered luxury hospitality company Aman, has launched Essential Skin, a new skincare range comprising five products developed and produced in Japan which combine to create a functional and effective daily skincare routine supporting the natural skin barrier, encouraging deep hydration, andprotecting from daily environmental stressors. AmanEssential Skin comprises a Clarifying Milk Cleanser, Skin Activating Toner, Replenishing Face Serum, Radiance Face Cream and Illuminating Eye Cream.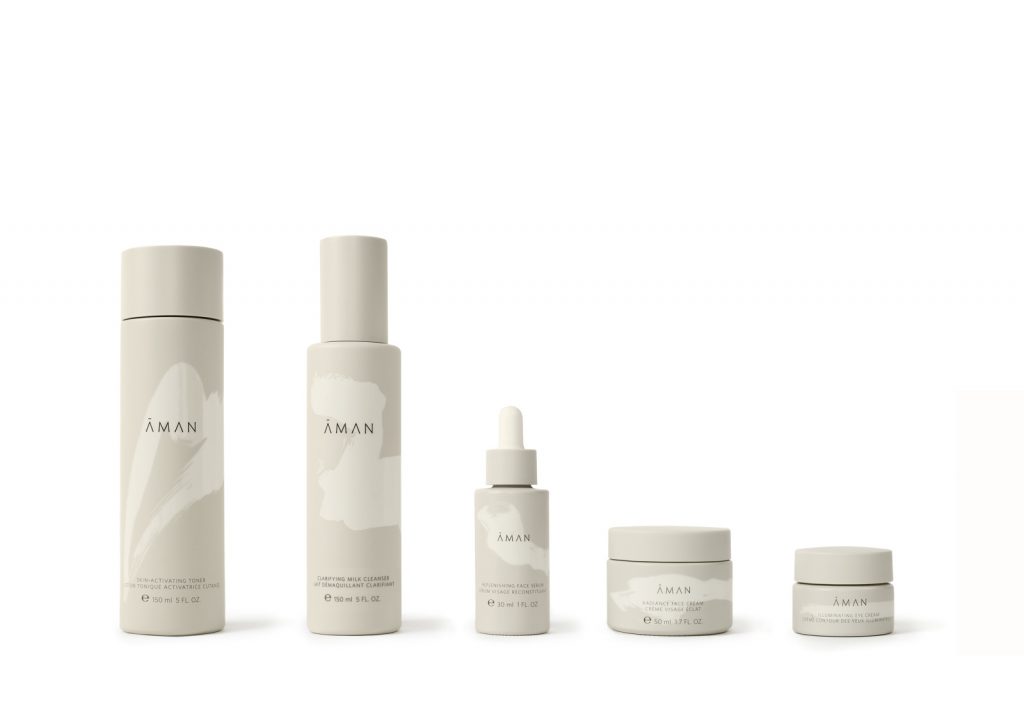 Each of the products is built around two key ingredients featured throughout the range. Ancient purple rice bran extract is known for its antioxidant properties, as well as promoting fibroblast proliferation rate which supports the production of collagen. Indigo extract, from the indigo plant, has also been proven for its anti-oxidant potential. In addition, Aman Essential Skin uses a unique blend of potent herbs that have long been valued in Japan for their powerful effects, as well as skin actives including Vitamin C, Vitamin E, peptides, and hyaluronic acid.
In keeping with Aman's ethos of celebrating knowledge from ancient heritages, indigo features throughout each product as it has been used as a medicinal herb since the 5th Century. Known as Aizome, which is the process of indigo dyeing, and the properties of the indigo herb were favoured by the Samurais, who would wear Aizome clothing for its antibacterial effect on wounds, which was said to encourage faster healing.
The Aman Essential Skin range comprises:
Clarifying Milk Cleanser ($80) – A refining milk cleanser which removes make-up and impurities to reveal clear and hydrated skin. Ingredients include phytosterols, which is highly moisturising, as well as lecithin which improves skin's moisture retention
Skin Activating Toner ($95) – A toning lotion created to condition the skin, restore the natural pH balance, and infuse the skin with hydration. Ingredients include lactic acid, an alpha-hydroxy acid which gently exfoliates the skin, as well as hyaluronic acid, a naturally occurring humectant which plumps and hydrates the skin
Replenishing Face Serum ($170) – A potent serum which rehydrates, reduces dullness, and reveals firm and brightened skin. Combining Vitamin C to brighten and prevent premature ageing with Vitamin E, whose antioxidant properties help to reduce the impact of environmental stressors, as well as squalane, naturally derived from olives, which boosts hydration
Radiance Face Cream ($250) – A rich and hydrating face cream which promotes smooth, luminous skin. Key ingredients include camellia oil, extracted from camellia seeds an ingredient used in Japanese beauty for over 1,000 years, which provides nourishment. In addition, phytosterol macadamiate, a butter-like compound of macadamia nut oil which creates a rich texture and protective layer on the skin.
Illuminating Eye Cream ($270) – A replenishing eye cream created to rejuvenate and brighten the eye area, which uses caffeine to help reduce puffiness and improve circulation in the skin, and peptides known for its properties which can enhance the production of collagen, and hyaluronic acid to help prevent premature ageing.
Aman Essential Skin has been developed in partnership with KOSÉ, a renowned leader and manufacturer of skincare, cosmetics and beauty products based in Japan. KOSÉ's philosophy is to prioritise the comfort and safety of its products, while also using hi-tech testing and product development to create high performance skincare which suits all skin types and all ages. Manufactured in Japan, Aman Essential Skin, has been created in close collaboration between KOSÉ and Aman to develop a fully bespoke range which seamlessly integrates into Aman clients' daily wellbeing and beauty rituals.
Kristina Romanova, CEO of Aman Essentials, said, "The strategic vision and ambition for Aman Essentials, is to create a considered and timeless curation of the finest products which reflect the Aman way of living. The launch of Essential Skin marks the next phase in this journey, bringing our clients a targeted range of functional skincare which delivers exceptional results using gentle yet effective ingredients and fragrance-free formulations, focused on celebrating and preserving one's natural beauty.
Personally, I have been fortunate to travel extensively, much like our clients, and I know the importance of having a routine which can reduce the impact of environmental stressors and keep the skin calm and nourished. Aman Essential Skin reflects this ambition and we have worked closely with KOSÉ for over two years to ensure the formulations are suitable for all skin types and specific need states, as well as being tactile and enjoyable to use, so the products will become a much-loved part of our clients' everyday rituals and routines."
In addition to its development as a product range, Aman Essential Skin will be used in new facial treatments – the Aman Advanced Facial – at several Aman Spas, including Aman Tokyo, Amanemu, Aman New York, Amangiri and the Aman Spa at The Connaught, London. Combining products from the Essentials Skin line with exfoliation and manual lifting techniques, the Aman Advanced Facial stimulates face muscles to improve the skin's overall texture. Supported by the use of electric muscle stimulation and massage to firm, and cryotherapy bulbs to eliminate puffiness and promote a gentle glow, the complexion appears all together brighter and tighter.
Aman Essential Skin is available to purchase now via shop.aman.com, or within Aman Boutiques at the brand's destinations across the globe. Aman Essential Skin ranges from $80 – $270.