EXPERIENCE A TRANQUIL DAY OF SILENCE AT HOSHINOYA BALI
A rejuvenating retreat into Ubud's sanctuary for the mind and soul
To celebrate Nyepi, the Balinese New Year and the annual "day of silence" that falls on March 3, 2022, HOSHINOYA Bali will be hosting a special two-night program. Guests can delve into the spirit of reflection and relieved from busyness of daily life. Experience this unique occasion with inspiring activities immersed with traditions of the Island of the Gods and embrace total renewal.
Practiced by the entire island, the Balinese dedicate the entire Nyepi day to introspection and spiritual cleansing. It is also marked by the closure of the international airport and an island-wide ban on the use of fire and electricity which creates the ideal conditions for stargazing and amazing candle lighting. HOSHINOYA Bali provides the perfect oasis where guests can experience activities within the resort; Japanese design Ogoh-ogoh painting, star gazing in complete darkness, floating candlesin a long pool, and various other cultural and wellness activities.
All activities are complimentary for in-house guest.
Ogoh-ogoh Painting & Parade
The preparation for Nyepi celebration rituals start with the crafting of the Ogoh-ogoh, a giant, demon-inspired puppet. The Balinese believe that these puppets, along with loud sound of the gamelan orchestra and fired torches, attract the demons and evil spirits living on the island. They will inhabit the Ogoh-ogoh monsters and so traditionally, the puppets are burned together with the demons at the end of the day.
In Japan, which is the origin of HOSHINOYA brand, there is a similar tradition practiced during the Setsubun festival in February. Soybeans are thrown to drive out demons, known as Oni, a gigantic ogre-like creature with a single or multiple horns and tusks. People cast beans indoors or out of their homes while shouting "Oni wa soto! Fuku wa uchi!" meaning "Oni go out! Blessings come in!".
At HOSHINOYA Bali, a 160 cm tall Ogoh Ogoh shaped like the Japanese demon, Oni, will be crafted by local Banjar artisans to acquaint travelers to this inspirational Balinese culture. Guests are invited to paint the Ogoh Ogoh Oni. Then, this puppet will be paraded inside resort the evening before Nyepi day.
Painting will be on February 25 – March 1 from 09:00-18:00 in reception area.
Parade on Wednesday, March 2.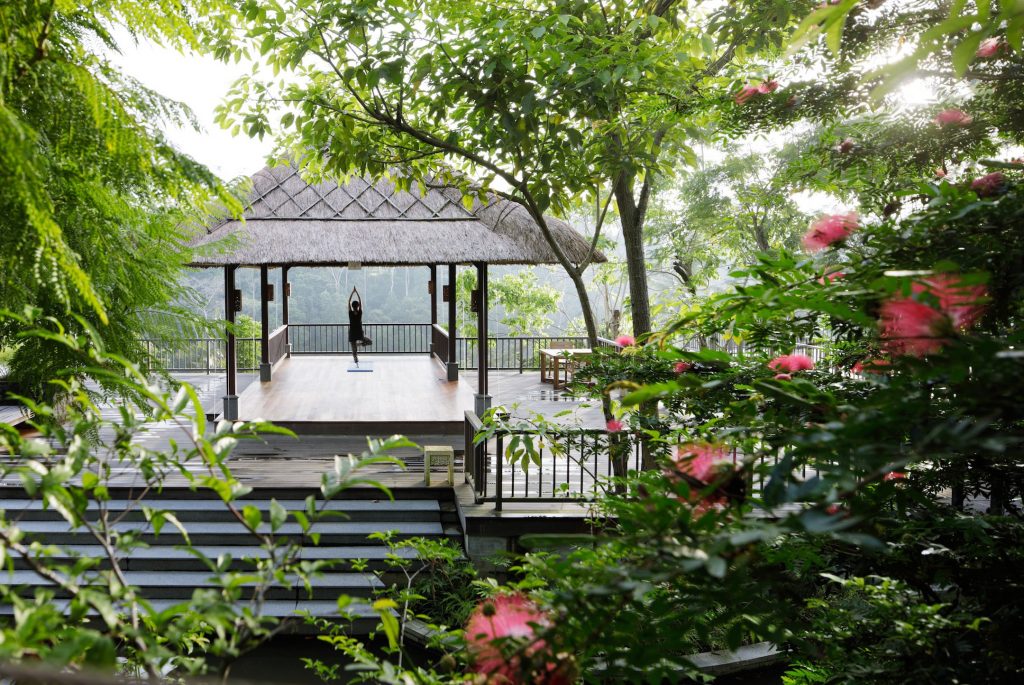 Sun Salutation Yoga
Guests are invited to start the day by purifying their minds and bodies through yoga surrounded by vast nature and morning mist from the Pakerisan River Valley below. Fresh coconut water is served after each session. No reservation required.
Thursday, March 3 in 2 sessions, from 07:00 – 07:35 and 08:00- 08:35 at Yoga Gazebo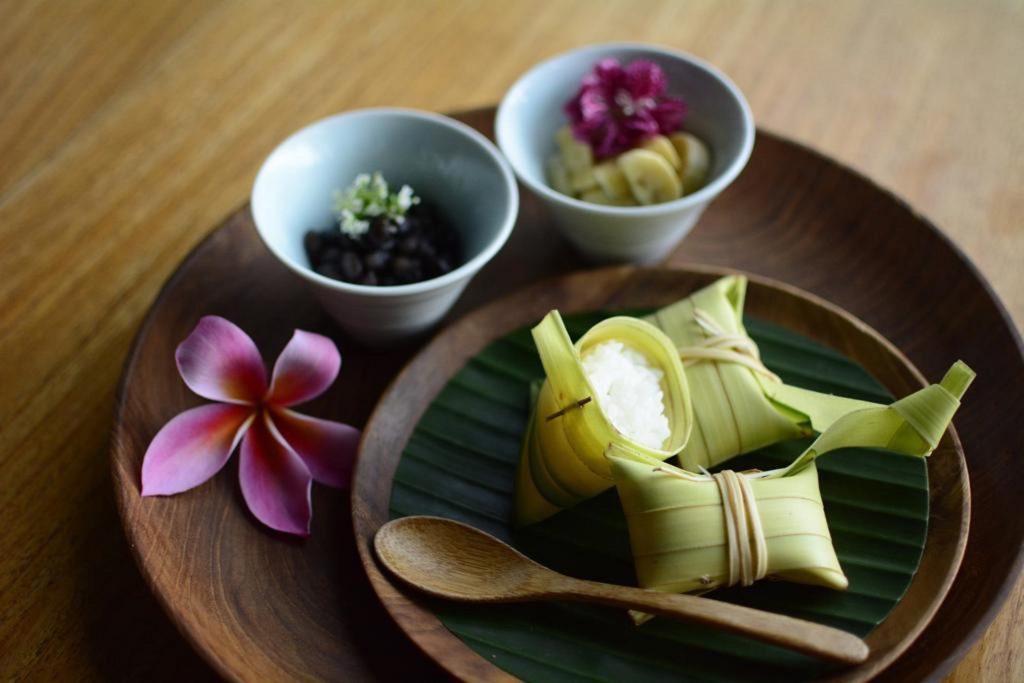 Cooking class Ketupat & Jaje Bantal
Curious to know what the locals eat? Join the Nyepi-themed cooking class featuring Ketupat rice cakes served with soup, and Jaje Bantal, a dessert made from sticky rice, grated coconut, sugar, banana and jackfruit.
Thursday, March 3, from 11:00-12:00 at Public Gazebo
Star Gaze in Complete Darkness
As the entire island will turn off all the lights for 24 hours, it is a perfect moment to watch the clear Ubud sky full of bright shining stars. Smell the fragrant incense, meditate or lay back and gaze at the wonders of the universe and capture some stunning images.
Take this opportunity to learn about zodiac signs with an Augmented Reality application. Complete the experience with a warm cup of ginger tea during the session.
Thursday, March 3 from 20:30-21:00 at Spa Reception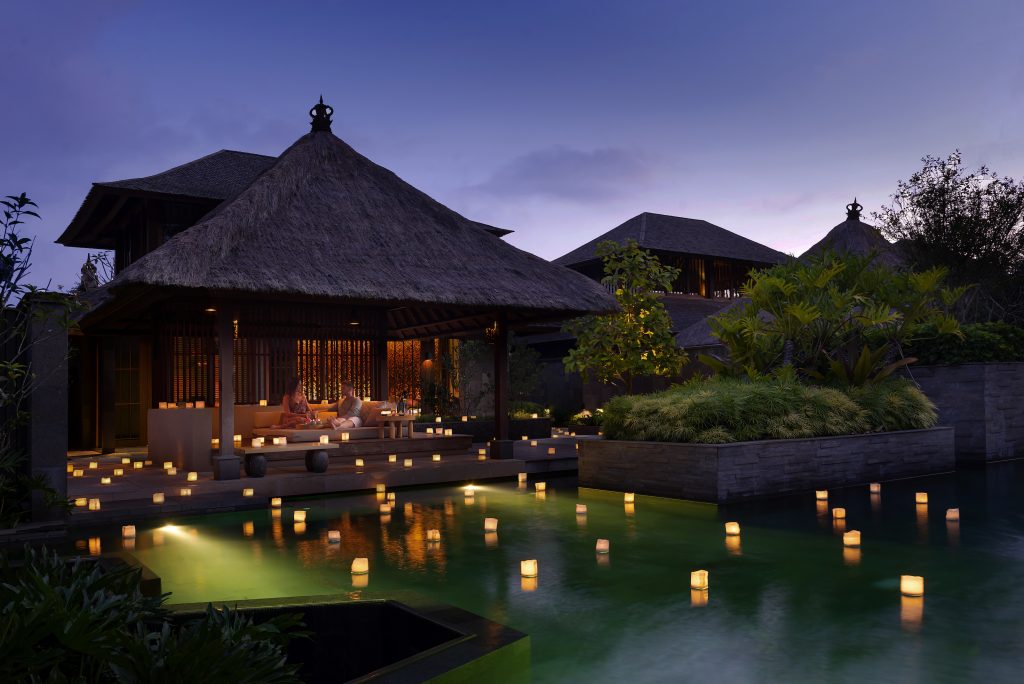 Candle Night
This 'Day of Silence' is a thoughtful time to gaze out into the jungle and embrace the peaceful darkness. Enjoy a mindful time under dimly lit candles, to detox from the digital world and focus on what matters most in life. Welcome a renewed sense of inner peace and calmness. The 70m-long pool, designed like the rivers where Balinese bathe, will be illuminated with subtle candle lights.
Make your own candle holder and join us as we float the candles from your villa's poolside gazebo on this memorable night.
Candle making workshop will be on Thursday March 3, from 16:00-17:00 at Reception Area
Culinary Feast of Ayam Betutu
Experience an elevated Balinese dining experience, designed to please your senses, from taste, sight to hearing. A special feast of whole chicken Ayam Betutu accompanied with other Balinese authentic cuisine: Ayam Jejeruk, sambal bongkot, Lawar ayam, Ares, Rujak Rambutan, Serombotan, tempe medadah, sate languan, Ongol Ongol, Jeruk Bali, and Jaje Pulung Nyepi, all meticulously prepared by the executive chef, Mitsuaki Senoo.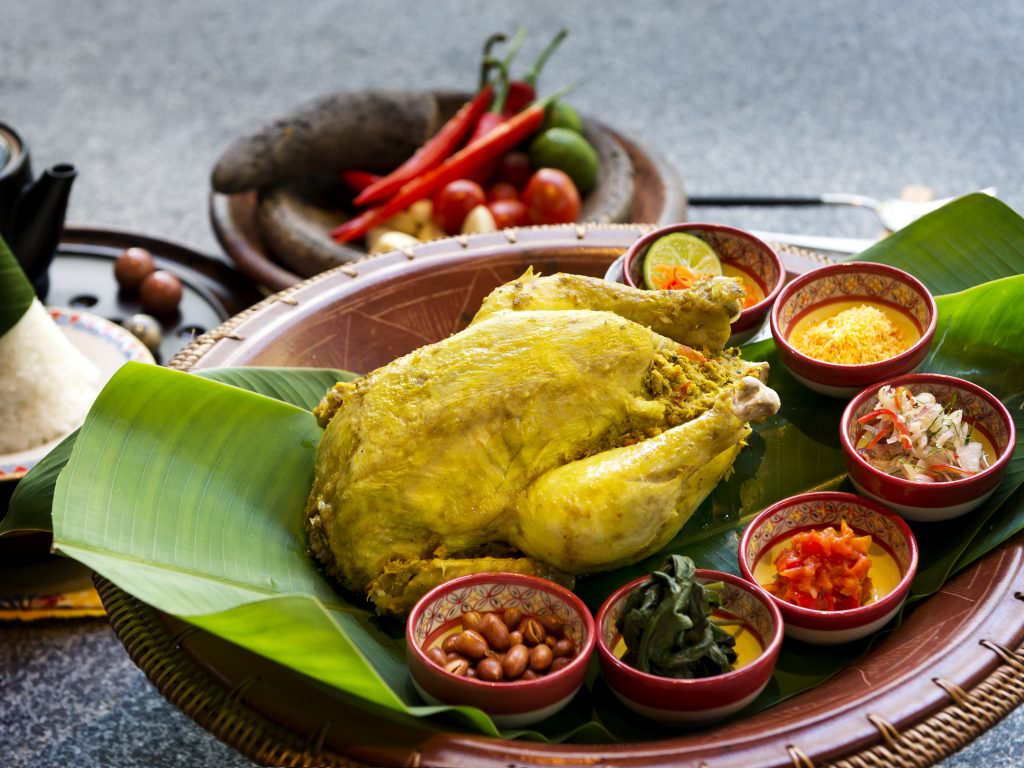 Available for in-room dining only on Thursday, March 3 from 17:00-19:00
The Tranquil Silence Day Package is valid for a minimum 2-night stay over Nyepi, from March 2-4, 2022 including daily breakfast and one time Nyepi dinner on March 3 for 2 persons and all wellness activities mentioned above. Price starts from Rp 13,086,400++ per villa.
Available for direct booking only, reservation in advance required, book via WhatsApp (+62-878-7511-0511) or email (info_bali@hoshinoya.com).
Explore visuals of our majestic river valley and forest resort set in lush gardens with impeccable dining experience through our social media channel, Instagram @hoshinoyabali. Contents are carefully curated to provide guests with the ease of access to bookings and the latest offerings.
Book our limited offer for domestic residents only, up to 40% discount from regular price.
To book go click to HOSHINOYA RESORT
For more information, please visit https://hoshinoya.com/bali/en/.