John Hardy Fall '19 Collection Mood
John Hardy is pleased to present the newest collection from Creative Director Hollie Bonneville Barden. In admiration of the dramatic beauty of Bali, the mythical island where the brand's story originates, the Fall 2019 collection is fueled by the transformative spirit of nature.
"Drawing from our heritage that's rich with bold and iconic jewelry, the latest collection brings forth the untamed and elaborate side of John Hardy, made into talismans of power and self-expression," explains Bonneville Barden.
Charged with soul and vitality, Bonneville Barden delved into the wild genesis of Bali, an island shaped by powerful
volcanic eruptions. That led to the introduction of Lahar, a new collection named for the Indonesian phrase for "lava." An homage to the raw dynamic between nature and art, Lahar features a wealth of wild diamonds. These icy stones are cut in unique shapes and boast natural inclusions; their elemental beauty is emphasized in John Hardy's signature lava setting. Emulating the organic movement of lava, flowing waves of diamonds sweep across cuff bracelets, bold rings, and statement earrings.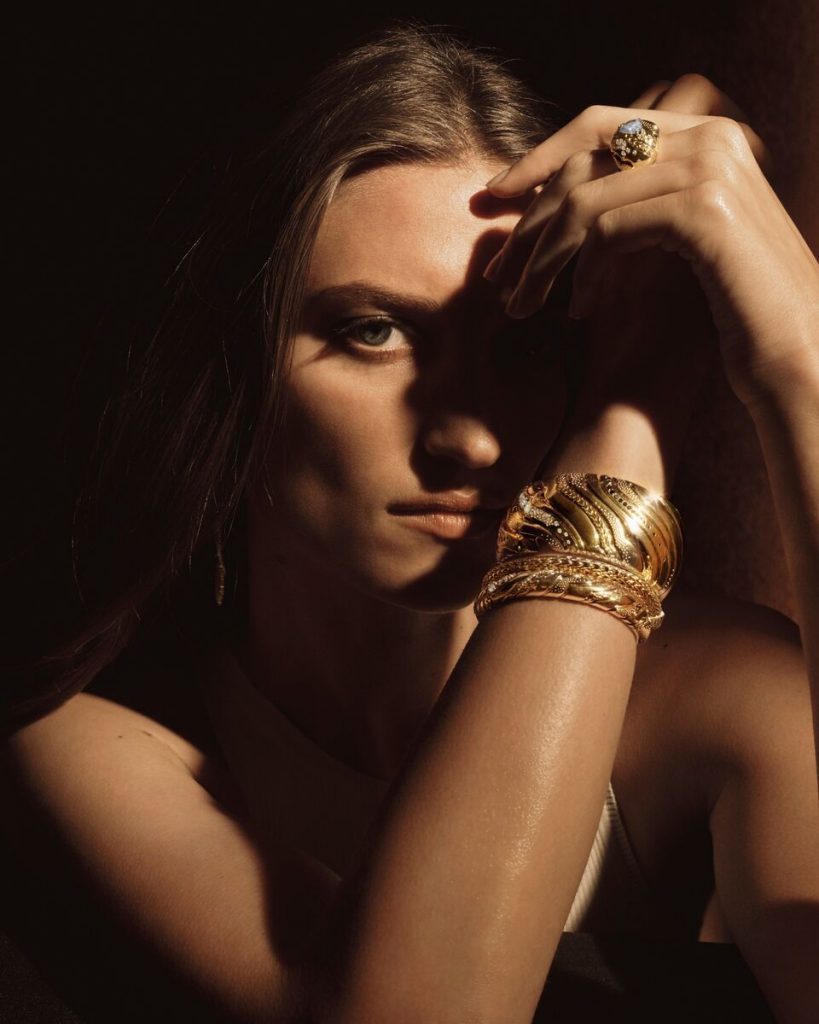 "Born from the earth's crust and formed millions of years ago, diamonds emerge in an explosive eruption, a force that's as strong and magnificent as the diamonds themselves. This is a collection that's full of alchemic expression," says Bonneville Barden about the Lahar collection.
While revisiting the origins of John Hardy, Bonneville Barden discovered a triangular iteration of Classic Chain that was originally developed in the '80s. Now known as Tiga, the reissued style embodies a sculptural essence through a trio of sharp, hammered edges. Melding the past with the present, Tiga offers an angular interpretation of the John Hardy archive for both men and women.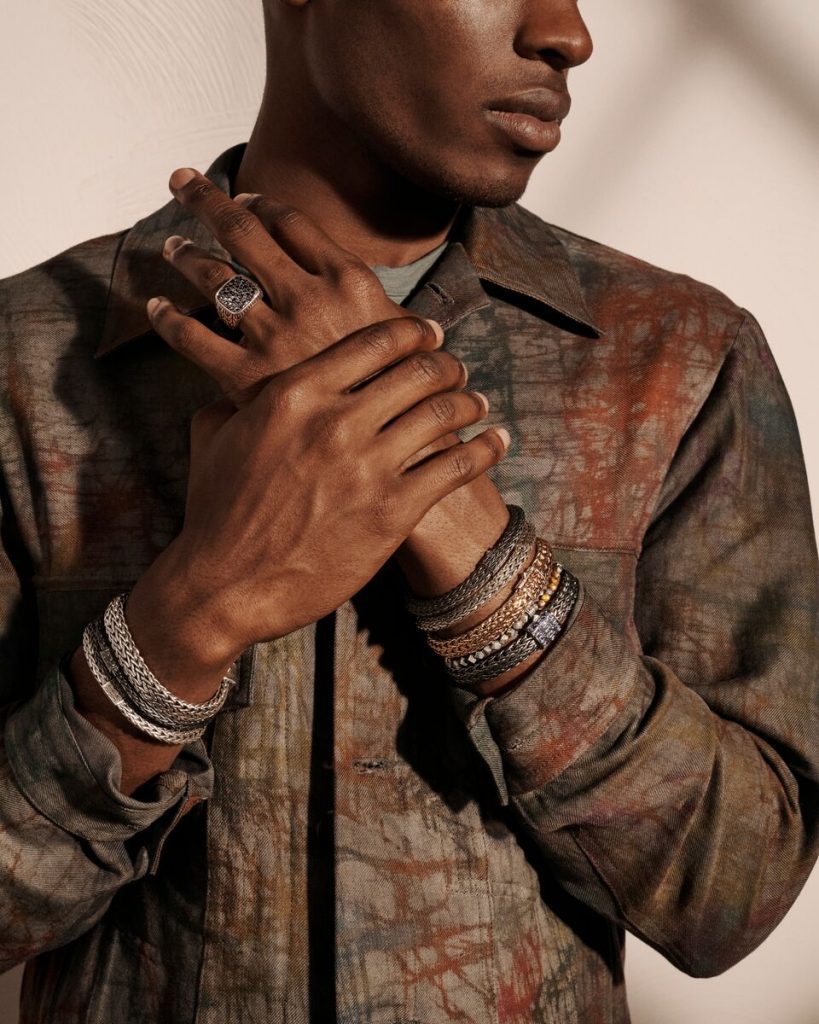 The bold and iconic history of John Hardy continues to be explored through Modern Heritage, with designs that exude the drama of legendary brand muse, Cynthia Hardy. Effused with power, the Spear Chain radiates charged energy and fierce strength through spear motifs. Hammered Palu merges with carved chain, resulting in reversible necklaces, striking earrings and flexible cuffs that play with the duality of texture and light.
Bonneville Barden provides a renewed focus on sleek forms with Knife Edge, a highlight of the bold, pure, and graphic quality of sharp links. Taking form through functional kick cuffs, crossover rings, and classic bracelets, this collection is crafted in sterling silver and adorned with diamonds and semi-precious stones. Each link in Knife Edge highlights Bonneville Barden's continued dedication to revitalizing John Hardy's vast library of woven chains.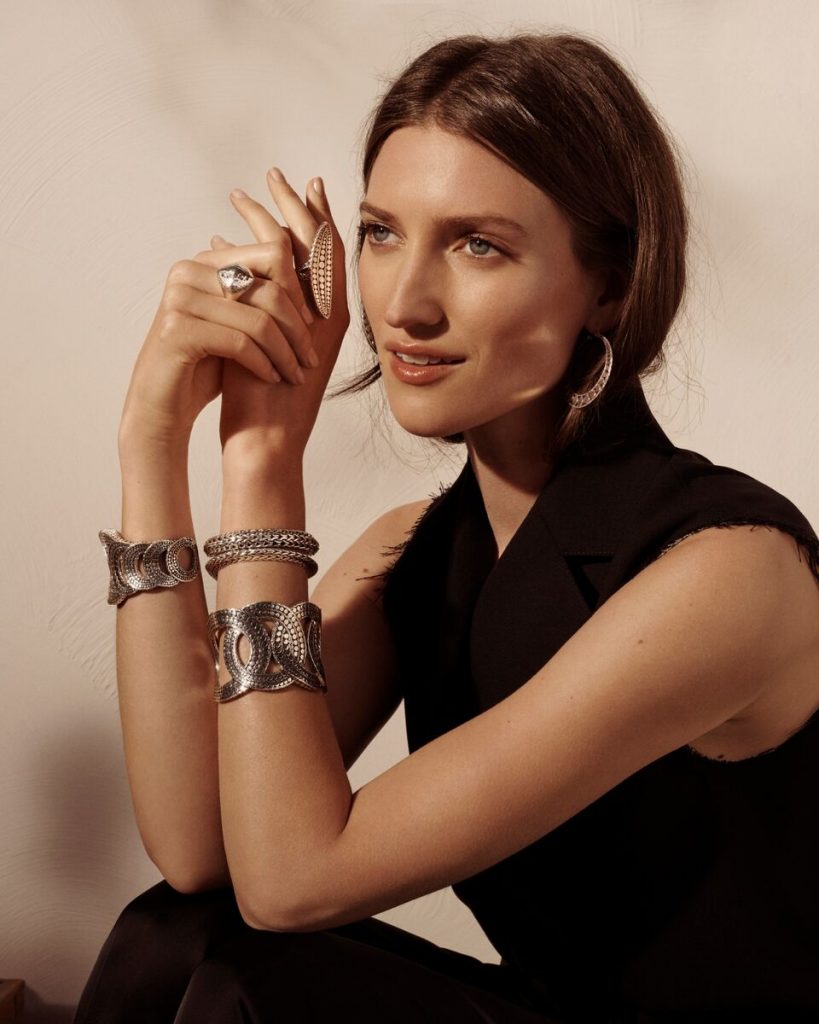 New Dot styles reference John Hardy's very beginning, when the rock 'n roll spirit of the '70s became tangled in the raw elegance of Bali. This season, Dot emerges from the archive as oversized earrings, dramatic pendants, and saddle rings, many of which reference the multifaceted phases of the moon.
Current men's collections are expanded upon for Fall 2019, including the Asli Classi Chain Link Elevation. The traditional Asli Classic Chain Link has been fluidly transformed into a more angular expression, embodying bold  lines and complex layers. With the addition of faceted relief, pave white diamonds, and black sapphires add a noble effect to bold ID bracelets, modern pendants, and chunky rings in sterling silver or 18K yellow gold. Men's wrap bracelets have also been updated, offered in rugged combinations of semi-precious beads, braided leather, and carved chain details.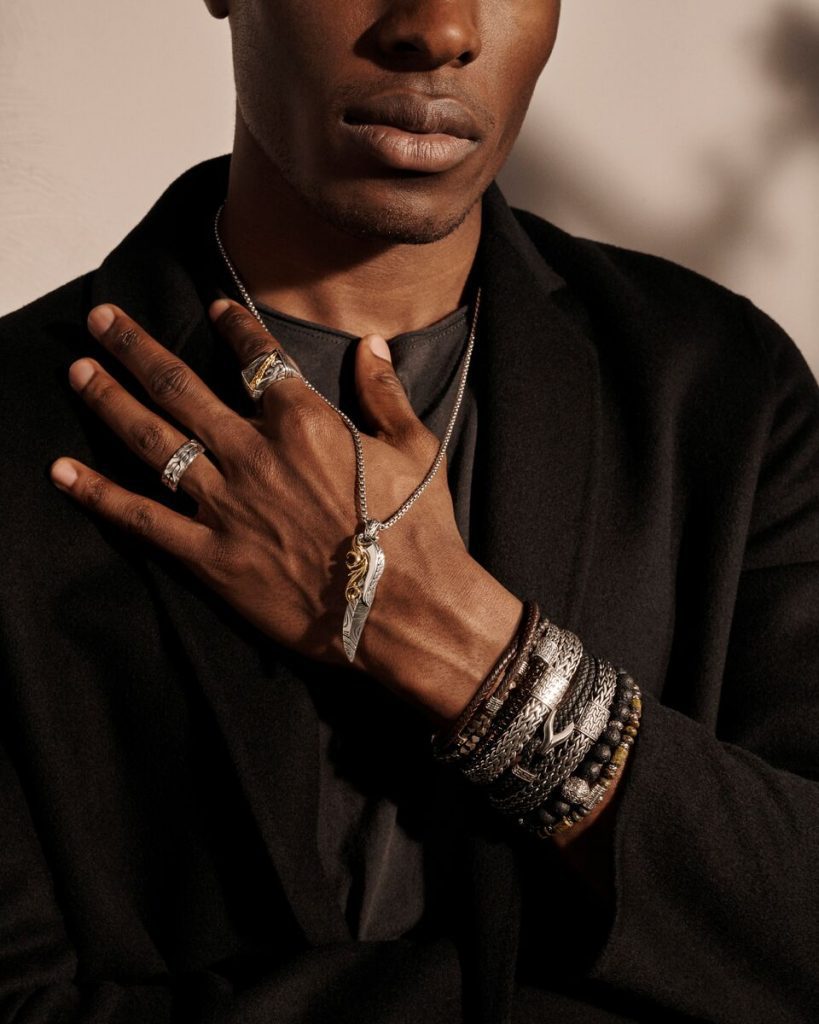 This season sees the introduction of Keris Dagger, a new collection for men that symbolizes the heroism, power, and
authority of the ancient weapon. Inspired by the lost art of Damascus Steel forging, created by layering, hammering and folding metal, the gold and silver rings, and pendants in this range reflect tenents of strength and heritage.