La Vela, Unwind With The Rhythm
ESTABLISHED IN THE DYNAMIC HEART OF CANGGU, BALI, LA VELA IS A BEACH LOUNGE DESIGNED TO ENACT A STRONG SENSE OF COMMUNITY & PLACE.
The contemporary venue's design takes inspiration from Mediterranean vibes such as Ibiza, Mykonos, to Corsica. It is a getaway to unwind with the rhythm of Bali's tropical ambience.

Chic but Tropical Organic, La Vela pays tribute to surrounding environs by using organic materials; almost no concrete construction is used to build our convenient space. La Vela embodies the easy going joie-de-vivre of Bali island without losing its essence as an eclectic dining venue.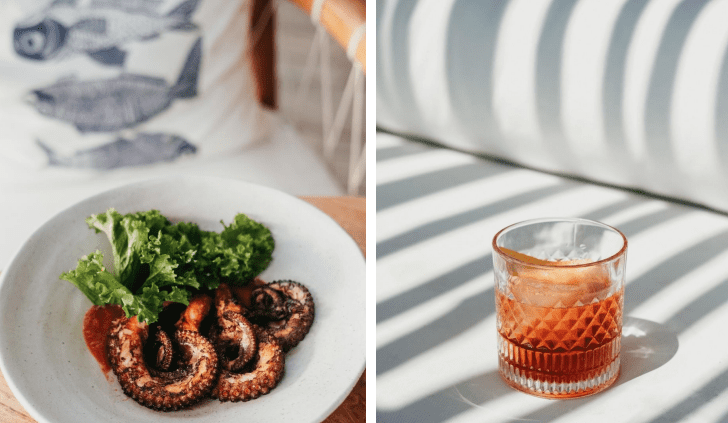 ALL DAY MENUS ARE AVAILABLE;
FROM BREAKFAST, DINNER TO PARTY
AFTER-SUNSET, WITH HONEST
CASUAL FOOD MAINLY GRILLED OVER
CHARCOAL AND ORIENTED TOWARD
SEAFOOD GOODNESS.
La Vela kitchen spotlights indigenous ingredients and cooking methods, sharpened with attitude to satisfy the modern plate. Everything is inspired by what island people have done for centuries, using wind, sun, smoke and fire to pickle, ferment, cure and char-grill whatever seasonal treasure the soil and sea provide.
Guests will be spoiled with arrays of Seafood BBQ selections here to share with their loved ones, using local fresh products and Mediterranean inspired recipes to serve an honest and creative dining experience. Signature dish include fresh Octopus, slowly-cooked, grilled and smoked in front of the guest, and whole fish cooked in salted dough for sharing portions.
DEEP ROOTS, FRESH
PERSPECTIVE. LA VELA IS AN
EXPRESSION OF THE FREE
LIBERATION RHYTHM WAY OF
LIVING.
"La Vela" literally means "Sail" in Italian and Spanish, hence the strong Mediterranean influence. We provide nice shades during humid (but pleasant) days, which are reflected through the restaurant's main interior mostly made of ropes, recycled woods and organic materials to embrace the Ocean's pristine environment.
Discreetly located in the backalleys of Pemelisan Agung Street, beyond the area's designer boutiques and glamour bar, La Vela is an oasis in the white hot blaze rural Canggu. It is a haven for everyone who wants to dine and enjoy the ebb, flow and rhythm of Bali's immaculate tropical vibe without hassle. We are grateful to be blessed with a sacred home to share with you. Let us inspire you with Bali's mindful morning rituals, beach days and magical moonlight evenings with your toes dipped in the sand.