MELIÁ BALI
Luxury Tranquility, Reflects The Essence of Tropical Bali
Built since 1985, Meliá Bali has been witnesses Bali evolution specially Nusa Dua area for about thirty decades. Received thousands guest and VIP's from all around the world, Meliá Bali preserve their hotelier professional with authentic Balinese hospitality.
Step down from the drop off, I'd greet by warmly staff, while the luggage is whisk by the porter, and my car is park safely with their valley service. The first people I met at this hotel were the security and the concierges. They welcome my family with friendliness and professionalism. Right on this time, I just realize this is the main reason of resort guests keep returning to come.
Entrance at the resort's main lobby area it sets the Balinese tone with polish floors and high-pitched ceilings. I'm amazed while look up into the ceilings that fully painted crafted in three different tiers of the lobby. It is illustrate about the seat of Hindu Dharma, a unique form of Hinduism, which its philosophy of Tri Hita Karana, a balance and harmonious relationship between men with environment, other human being, and God.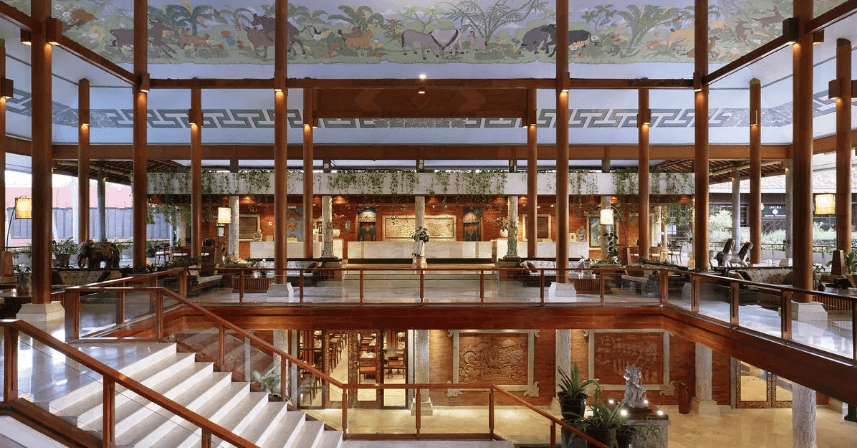 The rooms themselves are the next ploy in my experience stay. All rooms are decorated in contemporary luxury, highlighted by indigenous teakwood and furnishing with jewel-tone accents. Ten private villas are set in a secluded compound apart from the rest of the resort.
Discover the Meliá experience, designed to make your stay in Bali truly unforgettable
Services
24 hour room service (*)
Luggage service
Personalized customer care
Laundry, dry cleaning and ironing service (*)
Babysitter (*) (on request)
Personalized wakeup call
Exclusive service of YHI Wellness Spa (*)
Free access to the gym
Welcome drink upon arrival
Fresh fruit & natural orchid flower in the room upon arrival
Turndown service
Free internet access for hotel guests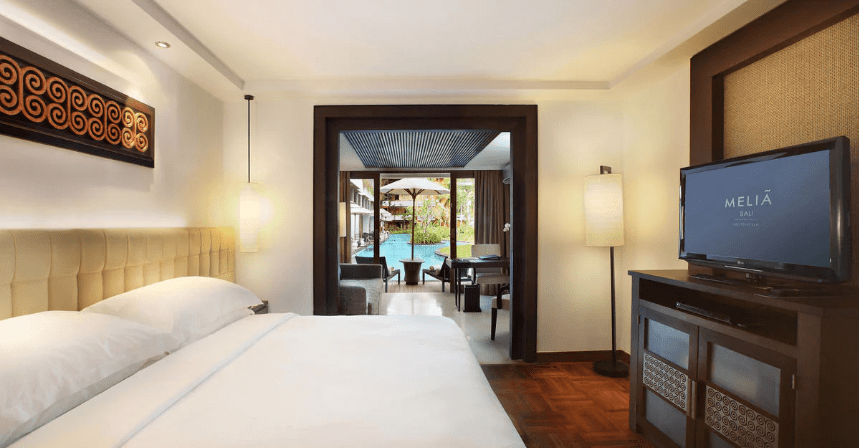 Facilities
Hairdryer
Kimonos
Slippers
Minibar (*)
Individually controlled air-conditioning
43″ LCD television with popular satellite channels
Telephone with direct international line (*)
Private terrace with direct access to the Lagoon pool
Coffee/ tea making facilities
Safe
The plunge pool in front of our room it's so inviting to dip in, right after checked in, all of our family members already enjoyed the lavish lagoon pool while watching the blue sky, with no human crowded, it is just feels as our private pool.
Nearly dinnertime, I decided to leave the comfort of my room behind, and I went to Sateria Beachside Restaurant. In my way to the restaurant, I passed the huge tropical water garden of the hotel, that blown my mind away. Claimed as the one of largest gardens of all Asia, Meliá Bali's four-hectare garden must be experience to be believed. There are over 530 coconut trees and 150 kinds of plants inside this water garden resort. This garden represents the ancient Balinese luxury in eighties period.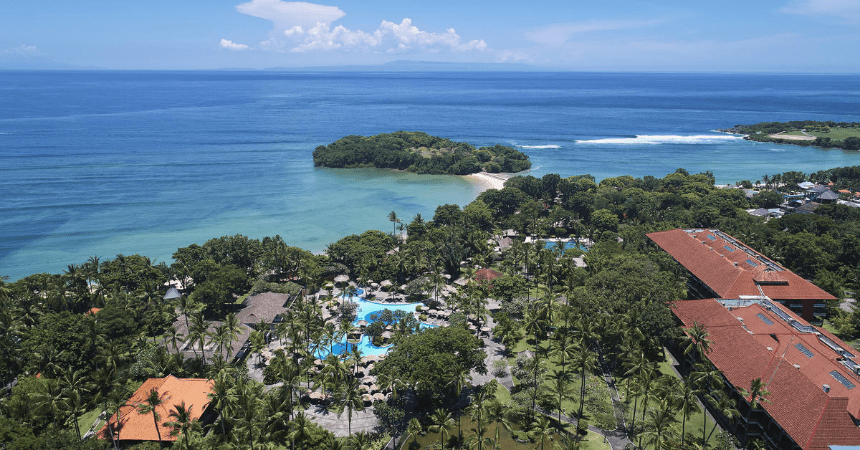 Meliá Bali has five restaurants inside the resort; Sateria Beachside Restaurant, 24 hours El Patio coffee shop, Sorrento Mediterranean Restaurant, Sakura Japanese Restaurant, Lotus Asian Garden Restaurant, and Lobby Bar.
Breakfasts were served every morning at El Patio, with wide range dishes from Asia including Chinese food and Japanese, a lot of choice Western food, Indian and of course Indonesian food.
Once I've settled in, the prospect of room service is incredibly tempting. So I decided to order a guilty pleasure at midnight through room service. A plate of rum raisin ice cream, tiramisu by chefs recommended, with two glass of moscato wine. It's just perfect to end the joyous day here, before I left in the next day.
On top of all that are 24 hours room services in all-inclusive access, which generously Meliá Bali provided to me. It is included daily meal from breakfast to dinner in all hotel restaurant, 24 hours free flow beverages (soft drink, juices, mocktails and cocktails, selection of wines and local liquors), daily snack at poolside, and mini bar with 1 time refill per day.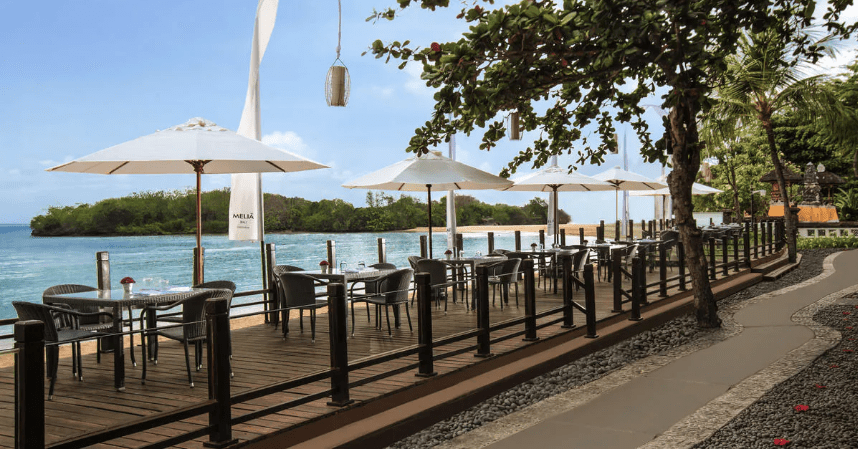 Other benefit with this access is you can use also for snorkeling gear, wind surfing, canoeing, and paddleboard per hour per day. Daily yoga class, and use of bicycle is on your choice. Meliá Bali all-inclusive access makes vacation easy. It was relaxed me and my family knowing that the only thing left to do is sit back and enjoy. It is a comfortable one-stop service at the resort.
Staying here gives visitors an opportunity to explore the best of Nusa Dua's shoreline. The beaches are less crowded, the water there is calm, and the trees are shady. Guests can immerse themselves in secluded luxury during their tropical holiday. Meliá Bali provides all that is needed for this type of holiday relaxation.
(Write by Gaby Nareswari)
More Information & Reservation:
Meliá Bali
Kawasan wisata ITDC Lot 1, Jl.Nusa Dua, Benoa
South Kuta, Badung, Bali, 80363
(0361) 771510