Sofitel Bali Nusa Dua
For a worldwide traveler pleasure seeker for their vacation, Bali has it all. Whether you seek a boutique hotel, or luxury hotel for holiday , they offer the perfect accommodation to kick back, relax, and explore this eclectic destination.

Basking in its magnificent natural setting, Sofitel Bali Nusa Dua Beach Resort welcomes guests with all the charm and elegance of a prestige hotel. The 5 stars with its Oceanside location on Bali's southern peninsula and its extensive luxury facilities.

Define the luxury hospitality, we can experience at the very first step arrival at Sofitel Bali Nusa Dua Beach Resort & Hotel. The exclusive privileges with their club access allow for enjoying private check in at their Club Millesime while guest can sit back enjoy the afternoon high-tea.

Sofitel Bali Nusa Dua provided 415 well-appointed rooms with its luxury charm, presented sleek, modern, and warm decor. The plush rooms are beautifully finished and elegantly furnished with modern wood appointments and polished parquet floors, full length sliding glass doors leading out onto private verandahs overlooking the breathtaking ocean.

The luxury room has an enhanced layout, and earthy hues have been used to give it a more spacious feel, include living rooms with all modern comfort, including high-speed internet access, work table, mini bar, coffee & tea maker, work table with charging station.

Marble ensuits bathroom, with separate rainfall shower and bathtub, completed with five star standard amenities, such as toiletries, bathing essentials, and bathrobe.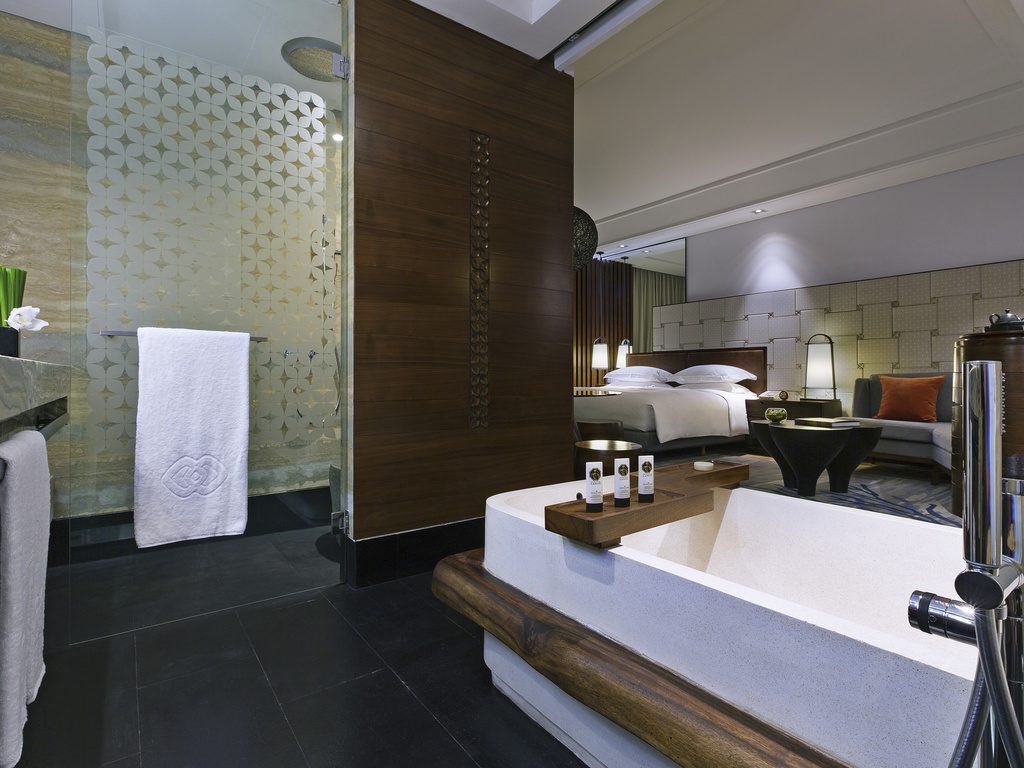 Occupying a prime setting in a secluded area, guest can enjoy all the other facilities at the hotel such as So Fit which out flies with the high end gym equipment and guest can have weight training exercise, beachfront access, five restaurants and four bars.
You can savour Balinese Food at Toya Grill & Bar, enjoy Asian dishes at Kween Zen also a sumptuous buffet breakfast, enjoy a casual dining or sunset at Loh pool & the bar with their signature aperitivo Italian, and finally having a la France brunch or any authentic France dishes at Cut Catch and Cucina.

Relaxation is redefined at Sofitel Resort Nusa Dua Hotel & Resort, with its endless blue water main pool, an ocean view Jacuzzi pool, and kids sandy beach pool completed by sliding.

As they're one of many family-friendly features, the little guest will have so much fun at their kid's club. As children explore the kids club with their personal caregiver, with exclusively club access parents can enjoy an evening cocktail.

To extend the rejuvenating experience, I'd got pampered with So Spa. The plush facilities and indulgent treatments presented in an uplifting atmosphere and its promise of delivering calm to the senses and feelings of bliss in both mind and soul.

This classic tropical Resort beauty with nonintrusive guest service Brings the luxe factor up a notch.