The Apurva Kempinski Bali and Javara Indonesia Proudly Present 'Majapahit Imperial Dining'
Sustainably Preserving Indonesia's Biodiversity and Culture Through a Culinary Journey.
The Apurva Kempinski Bali, renowned for its luxurious accommodations and exceptional dining experiences, pays homage to the majestic history of the Majapahit Kingdom with their latest offering – 'Majapahit Imperial Dining'. This unique collaboration with Javara Indonesia aims to celebrate Powerful Indonesia through an extraordinary culinary journey.
Drawing inspiration from the grandeur and opulence of the Majapahit era, guests can expect to be transported back in time as they embark on a gastronomic adventure, guided by the ancient Javanese wisdom of 'Mitreka Satata' for a harmonious relationship between people and nature, as it preserves Indonesia's culinary biodiversity, diverse flavours, and abundant resources – a gastronomy celebration across the archipelago that once graced the tables of Majapahit's monarchs.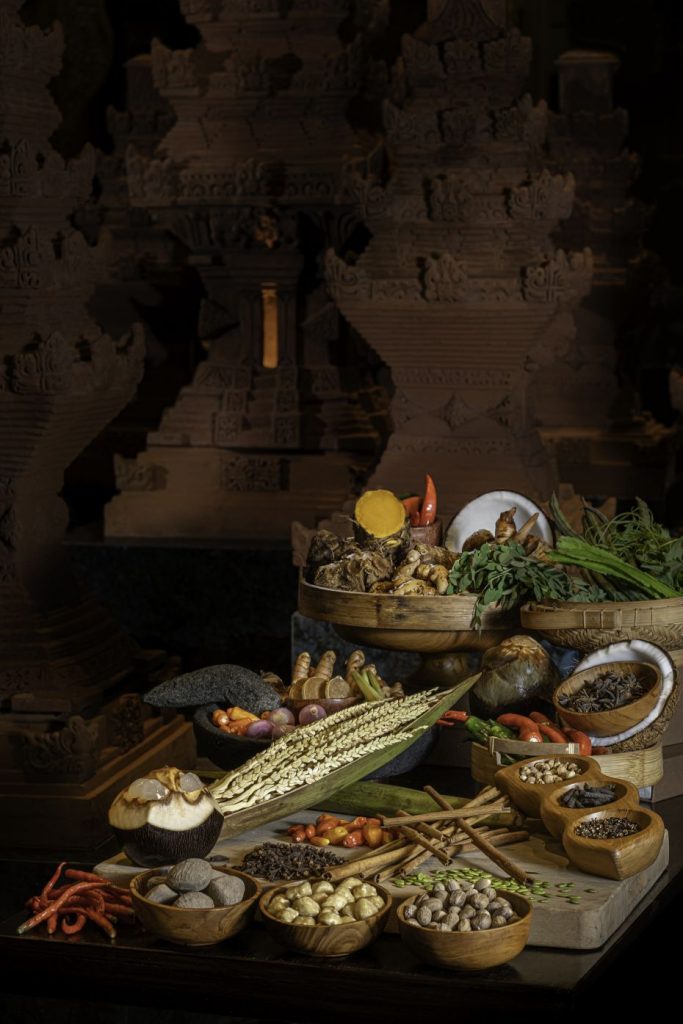 The Majapahit Empire was renowned for its extravagant banquets and feasts, where cuisines were crafted with intricate and decorative presentations for special occasions, ceremonies, and religious rituals.
From fragrant spices to exotic fruits and rare herbs, every ingredient tells a story. Guests will have the opportunity to savor authentic flavors while discovering new tastes that reflect both tradition and innovation. With each bite, they will be taken on a sensory journey that highlights Indonesia's diverse culinary landscape.
The kingdom, which thrived from the late 13th to the early 16th century, is celebrated for its advanced agricultural practices where ingredients are divided into five cardinal growing techniques including 'Pala Pendhem' (grown underground), 'Pala Kesimpar' (grown on vine), 'Pala Gumantung' (hanging on trees), 'Palawijo' (all-around harvest), and 'Pala Kitri' (long-lived corps). Rice was transformed into a staple food while spices like cloves, nutmeg, lemongrass, galangal, coconut, and pepper were not just flavour enhancers but symbols of the kingdom's opulence. Moreover, food preservation methods such as drying and salting were very popular in this era, along with smoking and fermenting. One exemplary dish that highlights the mastery of these techniques is 'Ikan Asin' or the salted fish.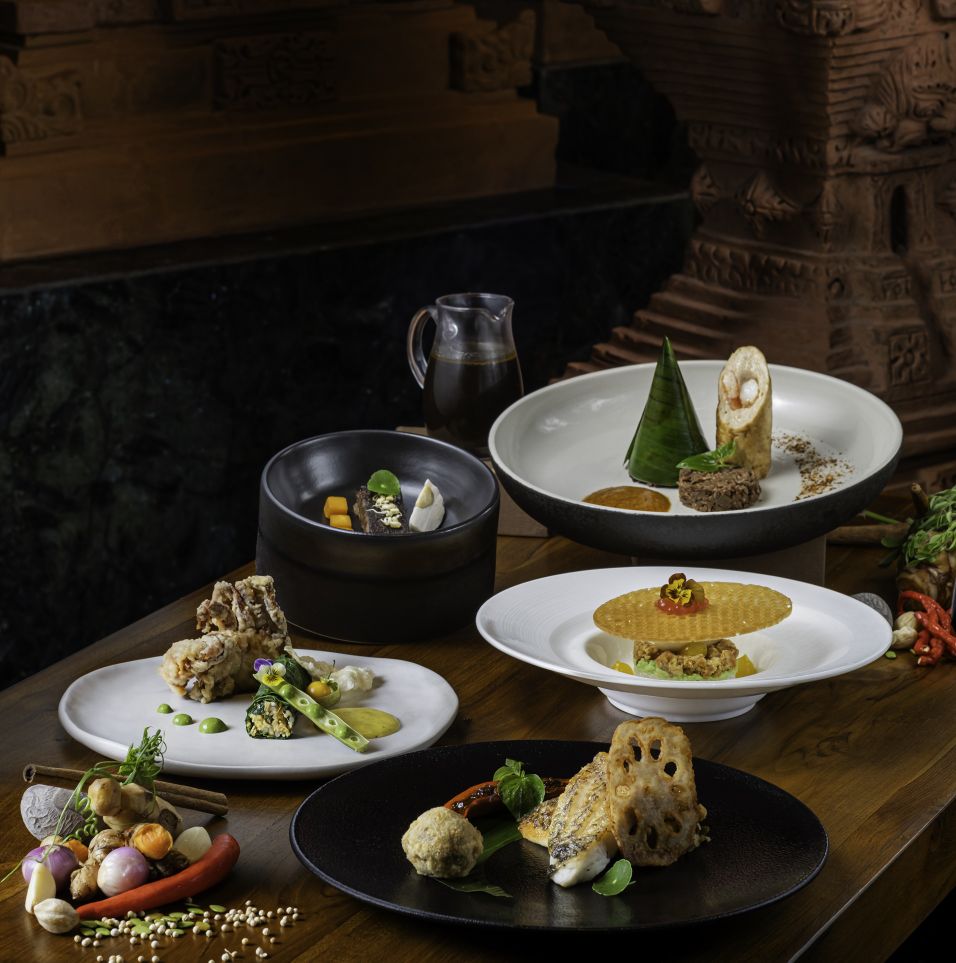 The specially curated menu for 'Majapahit Imperial Dining' features 'Urap Hayuyu' that symbolises harmony with unconventional grains like Jewawut (Foxtail Millet or Setaria Italica), 'Rawon Lembu' enriched with Kluwek (Pangium) for its dark broth, 'Botok Iwak' honouring every part of a coconut, 'Manuk Urang Manggar' infused with a citrusy and spicy kick from Andaliman Pepper, and 'Jadah Tape' as a tribute to the Betawi's tradition of street snack Tape Uli. At the heart of the set menu is the. remarkable Melik Parijatha Rice – a unique variety grown on the slopes of Mount Ijen in Banyuwangi, East Java, and known to have been exclusively served to the kings of Majapahit. Each dish is prepared using time-honoured techniques of grilling, roasting, steaming, and frying, which embody the evolution of taste and culinary craftsmanship while telling a story of ancient flavours.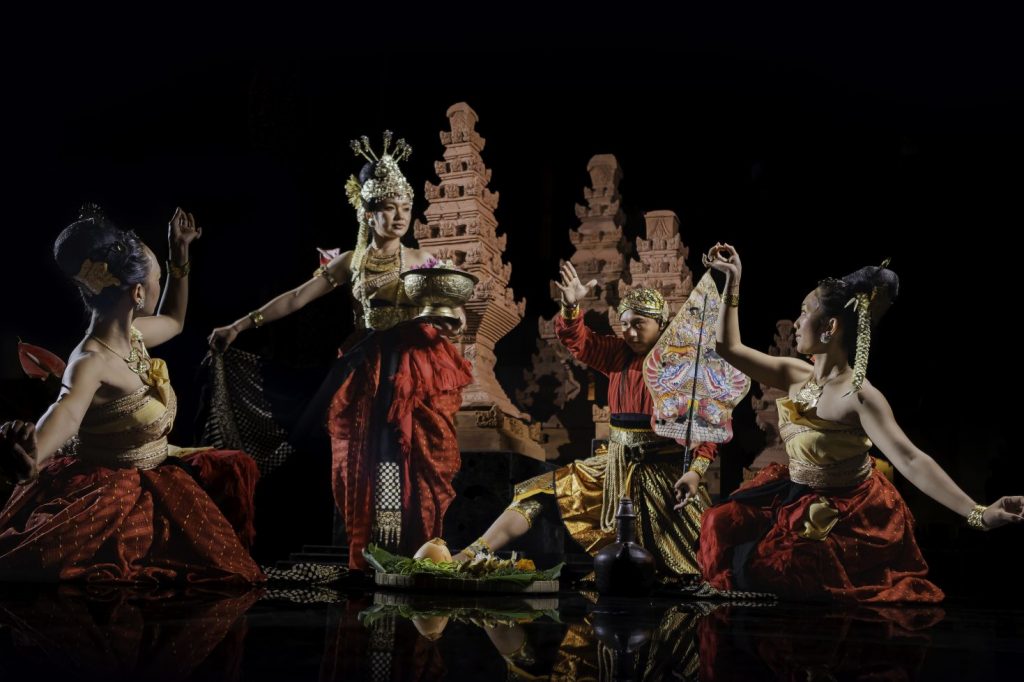 What sets this dining experience apart is not only its tribute to history but also its dedication to supporting local farmers and artisans. Javara Indonesia, known for their commitment to preserving Indonesian heritage ingredients, has partnered with The Apurva Kempinski Bali to source only the finest produce from across the archipelago. This collaboration ensures that each dish served is an ode to Indonesia's rich culinary tapestry.
The ingredients for this imperial dining have been meticulously sourced from organic farms and skilled fishers, ensuring every element adheres to principles of organic cultivation and sustainable practices. Moreover, the 'Majapahit Imperial Dining' is beyond merely a culinary celebration, it is an odyssey that brings the Majapahit legacy to life. The artisans from our 'Sustainable Wedding' decoration partner, Designmill.Co, have crafted a magnificent decoration that further levitates the feel of Majapahit era for the dinner. Finally, a dramatical dance performance elevates the sensational evening with a specially curated choreography by Kitapoleng, telling the story of Tribhuwana Tunggadewi, the Queen of Majapahit and the mother of King Hayam Wuruk.
"We are thrilled to present 'Majapahit Imperial Dining' at The Apurva Kempinski Bali. This culinary journey is a testament to our commitment to preserving and honouring Indonesia's cultural legacy. Our heartfelt gratitude to the key partner who are the experts having similar vision towards preserving Indonesia's culture and heritage. Through this program, we invite guests to indulge in a memorable experience that combines history, flavours, and traditions while savouring the essence of Indonesia's past elevated with unique performances. Moving forward, showcasing and preserving Indonesia's biodiversity will continue to be part of guest experiences throughout the resort. " – said Vincent Guironnet, the General Manager of The Apurva Kempinski Bali.
With deep gratitude, we thank The Apurva Kempinski Bali for partnering with us to preserve Indonesia's rich culinary heritage and biodiversity. The 'Majapahit Imperial Dining' is beyond simply a meal, it is a tribute to our history and flavours passed down through generations. Through this feast, we honour our past and ensure our cultural legacy thrives. Our great appreciation to The Apurva Kempinski Bali and all who join us, savouring the essence of Powerful Indonesia." – Helianti Hilman, the Founder of Javara Indonesia.
The 'Majapahit Imperial Dining' is launched in an intimate evening in the majestic Pendopo Lobby at The Apurva Kempinski Bali as Indonesia celebrates the Youth Pledge Day on 28th October 2023. Following this sensational evening, the unique experience is available for a minimum of 10 guests with advance reservation to the resort's Culinary Concierge, starting from IDR 2,000,000++ per person.
Explore more of the 'Majapahit Imperial Dining' experience by clicking here and reserve your unique experience by sending an email to restaurants.bali@kempinski.com or contact +62 361 209 2288.