UNVEILING THE FLAVORS OF INDONESIA
A culinary journey through the archipelago
The Ritz-Carlton, Bali is delighted to announce the re-opening of Bejana, the resort's signature Indonesian restaurant on Friday, November 12th 2021. Derived from the Indonesian word for a traditional culinary vessel, Bejana presents a unique mix of five-star-flair and relaxed ambience. It features a variety of indoor and outdoor seating with dramatic views of the resort and the Indian Ocean. Located on the upper-cliff, the restaurant is open for dinner only, welcoming guests and visitors alike. Bejana is also home to the 'Culinary Cave' an exciting gourmet learning center allowing guests to discover Indonesian cooking through hands-on experiences with the Chef.
"Indonesia has a very rich culinary heritage, and Bejana embraces this tradition. Authenticity in flavor is crucial. Therefore, we take our guests on a journey through the Archipelago with a delightful culinary presentation featuring signatures dishes across Indonesia," says John Woolley, General Manager of The Ritz-Carlton, Bali.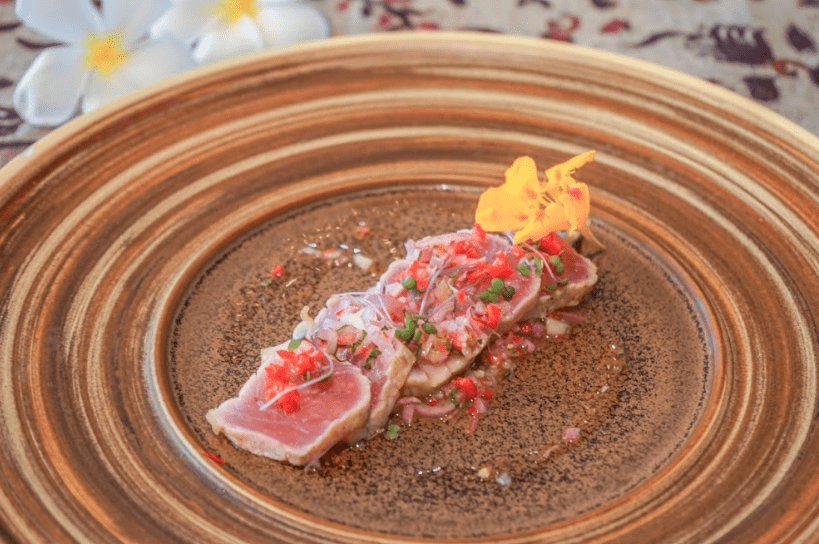 Designed by Burega Farnell, the restaurant sits on three different levels. The upper-level houses the Culinary Cave, featuring an open kitchen with three state-of-the-art cooking stations for learning and demonstrations as well as a colonial style chef's table. A step down, the middle of the restaurant guests will find a private dining room for 12, as well as several intimate tables especially designed for couples, with a romantic atmosphere complimented by a small garden and bar. The last level is set on an open-air wooden deck, featuring cozy lounges and casual outdoor seating. The intricate Balinese design was influenced by traditional elements from local craftsmen and creates an exceptionally elegant environment with a rustic edge.
At this stage, Bejana will be opened three times a week every Friday, Saturday, and Sunday from 6.00 to 10.00 p.m. Guest may enjoy special Balinese buffet every Friday, featuring famous dishes across the island of Gods such as Bebek Betutu, a dedicated Babi Guling stall, Srombotan, Lak-Lak and Klepon to sweetened the evening. Every Saturday will feature Nusantara buffet, presenting famous menu across the archipelago such as Gohu Tuna, Pecel, Coto Makasar, Bebek Taliwang, Nasi Kuninga, Gulai, and Klapertart. While every Sunday will present Family-style set menu, ideal for family to spend an enjoyable dining.
Bejana's kitchen is lead by Chef Made Karyasa. He is inspired by traditional village-style food, which he elevates to a fine dining standard through the use of premium ingredients and stylish presentations. A finalist on the popular television show, Top Chef Indonesia 2013, Chef Made has over 20 years' experience in the profession, and brings enormous pride and passion to his position at The Ritz-Carlton, Bali. "Becoming a chef changed my life," he says, and he relishes the opportunity to inspire and motivate his team, sharing his skills, knowledge and experience. "I like to encourage people to go beyond their comfort zone, to help bring out their best." To reserve a table, please contact the restaurant reservation team at +62 361 849 8988 or email at rc.dpssw.restaurant.reservation@ritzcarlton.com.