Adiwana Hotels & Resorts Announces the Opening of Its Latest Resort Collection Ubud, Adiwana Unagi Suites on 25th December 2019
Adiwana Hotels & Resorts is delighted to announce that the highly awaited Adiwana Unagi Suites is ready to open its door as of 25th December 2019. This move marks the consolidation of the newly launched Adiwana brand, which currently manages 13 boutique resorts and expects to open 7 additional boutique resorts located within in the cultural heart of Ubud, Lovina and Nusa Penida, Bali.
Adiwana Unagi Suites is hiding in plain sight, offering guests a quiet haven while Ubud's finest attractions are right outside the door. Their spacious suites are designed with contemporary Bali in mind. It takes advantage of the skillful artisans from Ubud to fill each room with their finest craftsmanship. Located right in the heart of Ubud, meters away from the famous Ubud Palace, Adiwana Unagi Suites is a chic hideaway in the heart of Ubud.
Adiwana Unagi Suites offers 4 choices of room category that are Club Room, Unagi Suite, Adiwana Forest View and Adiwana Pool Access. Each room is designed to pay tribute to Bali and its artisan craft. From the hand-painted wall to the wooden furniture, everything has a touch of Bali wrapped in a contemporary way. The cozy bed becomes the center point with beautifully appointed handcrafted décor in the room. Choices of indoor and semi-open bathrooms, with an elegant comfortable bathtub and aromatherapy toiletries will take the guests deep into a perfect relaxation as an ending adventure in Ubud. A wall of windows in each room opens to breathtaking emerald-green rice fields or gorgeous forest.
Adiwana Unagi Suites invites the guest to enjoy all resort facilities and to experience the excellent personalized services. While it is easy to fully immerse yourself in the comfort of our rooms, we have several facilities that will make your stay even more enjoyable. Right by the main entrance of our suite, guests can find Ely's Kitchen that specializes in modern Asian cuisine. The rustic vibe matches Ubud's cultural personality and the combination of the two will make your dining experience top-notch.
Our leisure-time recommendations include spending the day by the infinity pool and doing your yoga routine at our multi-function sky pavilion.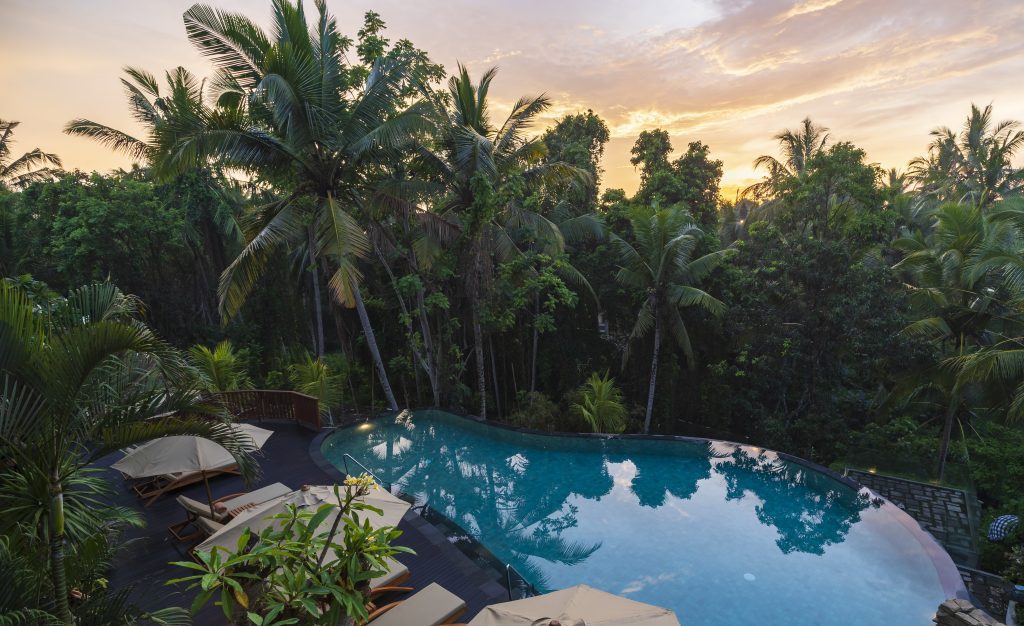 The Balinese believe that the river holds the power to nourish, purify and enliven its surrounding. Adiwana Unagi Suites is very fortunate to be nestled right by the riverside. Aimed to be in line with nature, Tejas Spa was stunningly designed directly facing the lush green jungle. Guests can experience total bliss as our therapist gives the treatments while the gentle sound of the flowing river plays the background music.
"Our aim is, this resort becomes a new oasis in the heart of Ubud that brings heavenly comfort to guests with all the facilities and architecture that blends with the nature surrounding," said the owner, Bayu Dewangga. While the CEO of Adiwana Hotels & Resorts added, "We think carefully on every single touch in each room to ensure we deliver a different Balinese feeling when the guest arrives at this resort."
A trip to Bali opens the door to many remarkable experiences that could be best described as life-changing or unforgettable. Adiwana Unagi Suites has put together a series of activities that will suit your every mood. Learn how to make Balinese offering, explore the rich flavored Balinese dishes through our in-house cooking class or learn the unique movements of our Balinese dance. Not only learning how to do it, you will also be understanding more about Balinese culture from a local perspective. Situated in the cultural heart of Ubud, Adiwana Unagi Suites is only a five-minute drive to the famous Ubud Art Market and 10 minutes to the renowned view of Tegalalang rice terraces. It is approximately 2 hours from Ngurah Rai International Airport.