DOUBLE IKAT PRESENTS BALINESE CONTEMPORARY DINNER
Bringing together flavors from all around Bali, Double Ikat Restaurant at Renaissance Bali Uluwatu Resort & Spa presents "Balinese Contemporary Dinner", a seven-course Balinese-themed culinary experience at one of Marriott's Top 100 Restaurants & Bars in Asia Pacific.
This dinner experience, crafted by Executive Chef Wisnu Adiyatma, celebrates the complex and authentic flavors that Balinese cuisine is known for. Using only the freshest ingredients from the local market in the neighborhood and prepared with a modern and contemporary approach, each dish is a testament to the richness of Balinese cuisine – from the taste, texture, presentation, and aroma.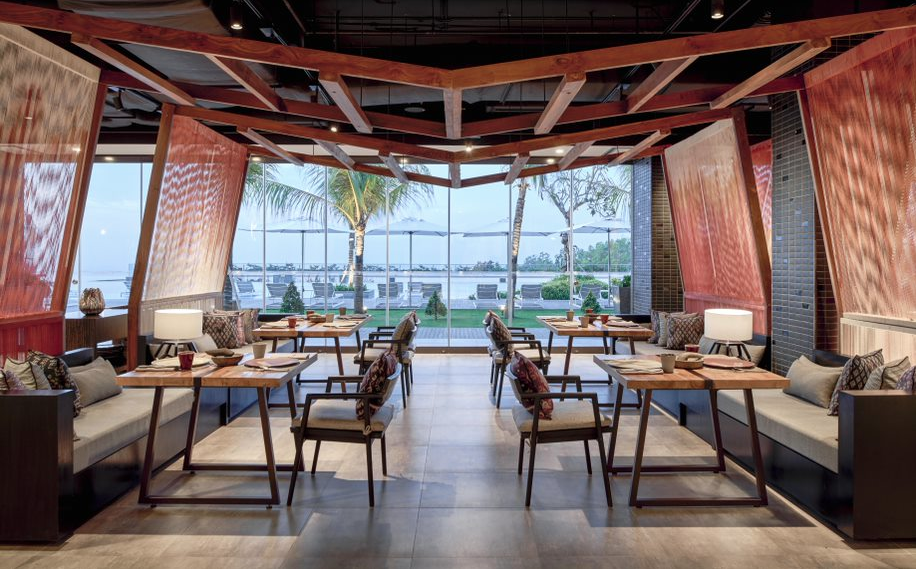 Upon arrival at this iconic restaurant, guests will be greeted by Renaissance Ambassador in Balinese traditional outfit. Walk through the Balinese decorated door to sip a refreshing herbal welcome drink from the Jamu Station and watch the process of making canang (Balinese flower offering). Be seated in one of the well-arranged tables and brace yourself for an indigenous culinary adventure.
The experience begins with a sambal making ritual. A "must have" in Indonesian cuisine, Double Ikat's staff will make this condiment right on the guests' tables. Then, discover the indigenous dishes such as Lawar Kenus – freshly caught squids from Jimbaran seafood market and seasoned with Balinese basa rajang dressing, Lumpia Kepiting – crispy spring roll filled by crabs from Tanjung Benoa, Sate Sampi Lalah Manis – sweet and spicy marinated beef skewer, Babi Guling – Balinese famous suckling pig, and Bebek Betutu – slow-cooked marinated duck in Balinese basa genep.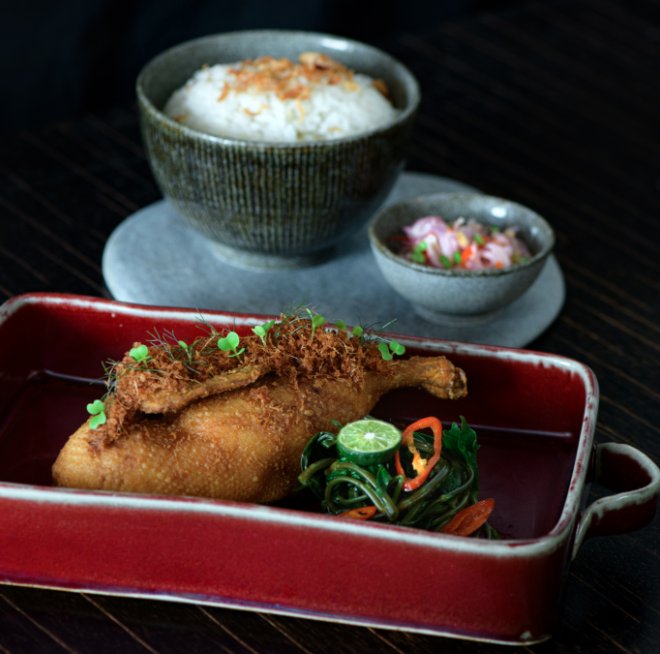 Balinese Contemporary Dinner will be available every Friday in March and April 2022. All seven-course set menu is served in a family-style dinner and priced at IDR 300,000 net/person. For reservation, guests can contact yeni.sudiani@marriott.com.
Double Ikat Restaurant, located next to the resort's infinity pool overlooking the views of the scenic horizon beyond, is the place to go to discover the essence of local Balinese and Indonesian cuisine. The restaurant's namesake is inspired by an indigenous high-skill weaving technique that involves painstaking tying and dying to create a perfectly woven fabric. This inspiration is resembled in the restaurant's approach towards authentic Balinese and Indonesian cuisines by meticulously weaving the vibrant local flavors with innovative modern cooking techniques.
In 2021, Double Ikat was recognized by Marriott International as one of the Top 100 Restaurants & Bars in Asia Pacific. This recognition, given to the restaurants and bars with excellent service and distinctive qualities, further reaffirms Double Ikat's commitment and dedication to present high-quality dining experience that celebrates the authentic local flavors in Uluwatu, Bali.