Four in ten Gen Zs use social media to plan a vacation: YouGov
Recommendations from friends and family another top resource, although more popular among those above 25
Social media has transformed the way consumers not only communicate with each other, but also how they interact with brands and advertising across the globe. YouGov's Travel & Tourism Report 2022: Youth of Today, Travel of Tomorrow – which explores what Gen Zs want from travel and the best ways to engage with this future generation of travellers – reveals the consequence of social media among the generation, with four in ten using social media platforms as a primary source of information when making travel bookings (39%).
This compares to a fewer three in ten of those above the age of 25 who said the same (29%), and even supersedes getting information from friends and family (35%) and online random searches (32%).
Other methods that Gen Zs are more likely to undertake than their older counterparts are getting information from travel blogs (27%) and dedicated online forums (21%).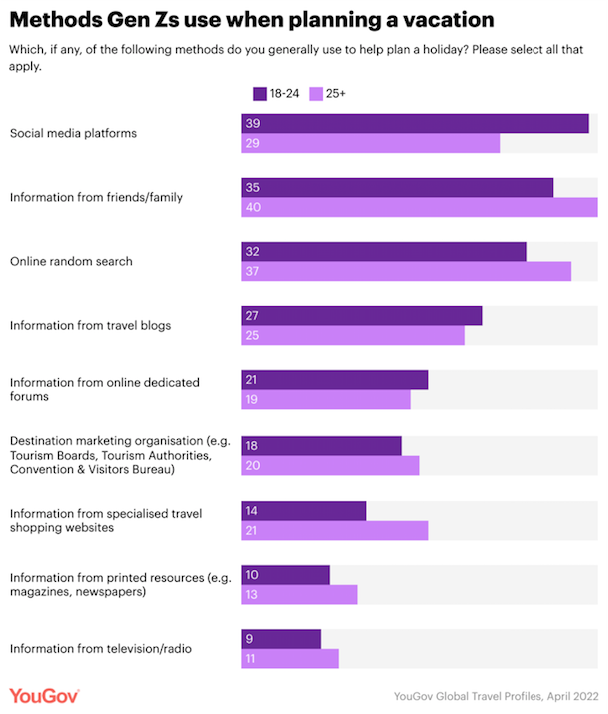 In general, Gen Z have a positive view of social media and four in ten of them globally agree that social media changes their life for the better. Furthermore, YouGov Custom Research reveals that 88% of global Gen Z consumers currently follow a social media influencer compared to less than half (47%) of adults aged 25+.
Food and music influencers are the most followed influencers on any social media platform across the globe (25% each). Among Gen Z in Indonesia, music and food influencers are the most popular categories (34% each), followed by beauty (31%), fashion (28%), and general lifestyle influencers (28%). A quarter follow travel influencers (26%), making up the third-largest following in Asia, after India (30%) and Hong Kong (26%).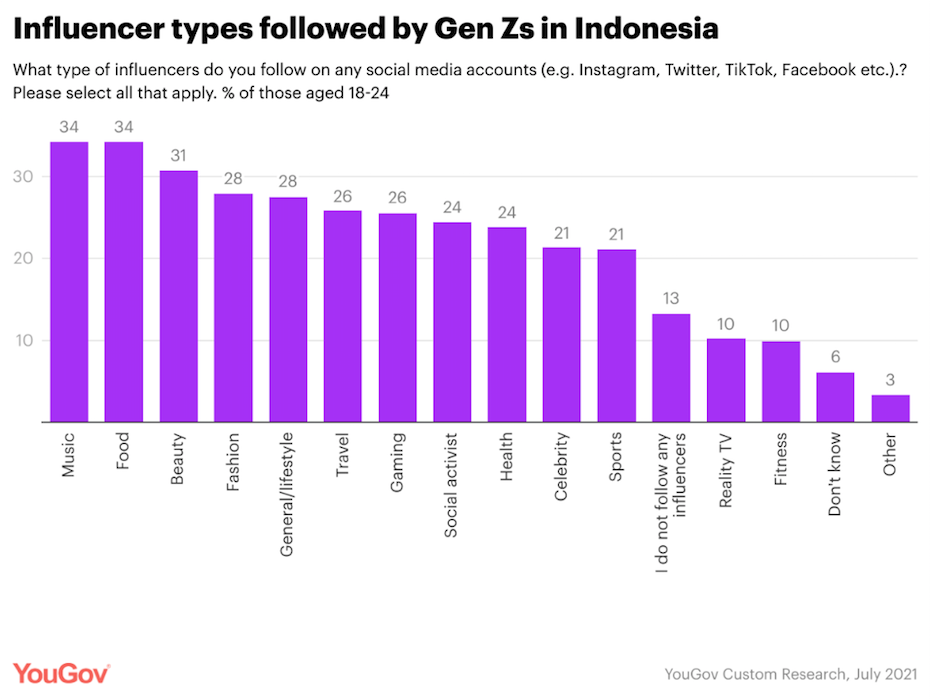 Additionally, YouGov Global Profiles data indicates that Gen Zs are more likely to engage with advertisements on social media than on regular websites (34%), and are also more cynical about TV in general, with almost half agreeing that they do not trust advertising on TV (47%).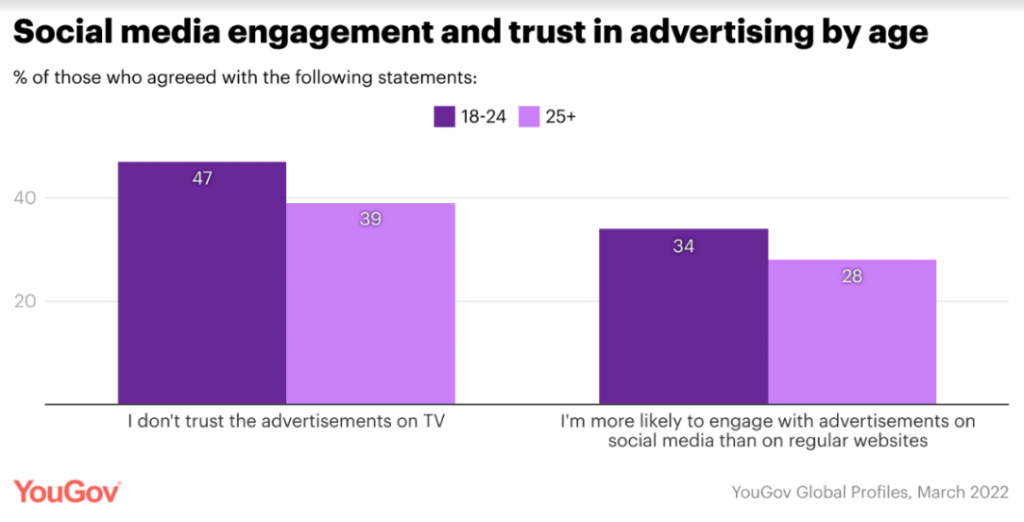 Methodology:
For this study we connected research from our syndicated solutions including, YouGov Global Travel Profiles, YouGov Global Profiles, and YouGov BrandIndex whilst also leveraging YouGov Custom Research.
The data from Global Travel Profiles used in this study is based on the interviews of 25,918 adults aged 18 and over across 25 countries in April 2022. All interviews were conducted online and the results are nationally representative. The countries in the poll include Australia, France, Germany, India, the UK, the US, China, Sweden, Indonesia, Canada, Spain, United Arab Emirates, Denmark, Italy, Singapore, Thailand, Japan, Malaysia, Norway, Kingdom of Saudi Arabia, Finland, Brazil, Egypt, Mexico, and the Philippines.
Global Profiles tracks 1,000+ questions in 43 major markets, offering the largest globally consistent audience dataset. Sample sizes in Global Profiles vary for each market, however we endeavour to have a minimum of c. 1000 per market, and in many larger markets we will have a larger sample. Data was collected in April 2022.