From Bali to China: Movenpick Resort & Spa Jimbaran Bali's Unmatched Luxury on Display at the Shanghai's 1000Meeting Showcase
Movenpick Resort & Spa Jimbaran Bali, designed as a family lifestyle resort as well as a prestigious 5-star premium hotel under the renowned management of Accor, is thrilled to extend a warm invitation to their esteemed Chinese guests seeking an unforgettable and indulgent vacation or business trip in the heart of Bali's picturesque landscapes.
This resort boasts a range of thoughtfully designed rooms and suites that provide a haven of comfort and relaxation, offering stunning vistas of lush gardens and the surrounding tropical beauty. With a total of 297 elegantly appointed rooms, guests can choose accommodations that suit with their preferences and needs.
Amidst the sunlit haven of Movenpick Resort & Spa Jimbaran Bali, the expansive 5,000 sqm pool sets the stage for a day of tropical delight. Here, the Jejala Pool Bar adds its inviting charm to the scene, offering colorful cocktails and relaxation. For those seeking delectable pastries and top-notch coffee, the cozy Movenpick Cafe awaits with open arms. Don't forget to enjoy the enchanting indulgence of their free Chocolate Hour at Katha Lobby Lounge & Library everyday at 4:00 PM is an experience not to be overlooked during your sojourn with Movenpick Resort.
The centerpiece of rejuvenation at Movenpick Resort Jimbaran Bali, the Arkipela Spa & Wellness, invites guests to indulge in a sanctuary of tranquility and revitalization. Drawing inspiration from Balinese traditions, the spa treatments and therapies offer a holistic approach to well-being, leaving guests refreshed and rejuvenated.
As the sun sets, immerse yourself in an exquisite All You Can Eat Thematic Buffet Dinner at Anarasa Restaurant that transcends borders. Indulge in the rich tapestry of Italian Mediterranean Night cuisine. For those seeking the vibrant spirit of Indonesia, savor the vibrant array of Indonesian Street Food Night, where fragrant spices and local secrets unite to create an authentic culinary spectacle. And of course, pay homage to the bounty of the sea with the freshest catches seafood in Jimbaran Seafood Barbeque Night, where the ocean's treasures are expertly prepared and elegantly served.
Explore the surroundings and try to immerse yourself in a rich cultural experience by exploring the vibrant traditional Kedonganan Fisherman's market. For a mesmerizing evening, witnessing the captivating Kecak Dance at one of the tallest statue in the world, Garuda Wisnu Kencana, or against the backdrop of the Uluwatu sunset in Uluwatu temple is a must, infusing your stay with the magic of Balinese tradition and natural beauty.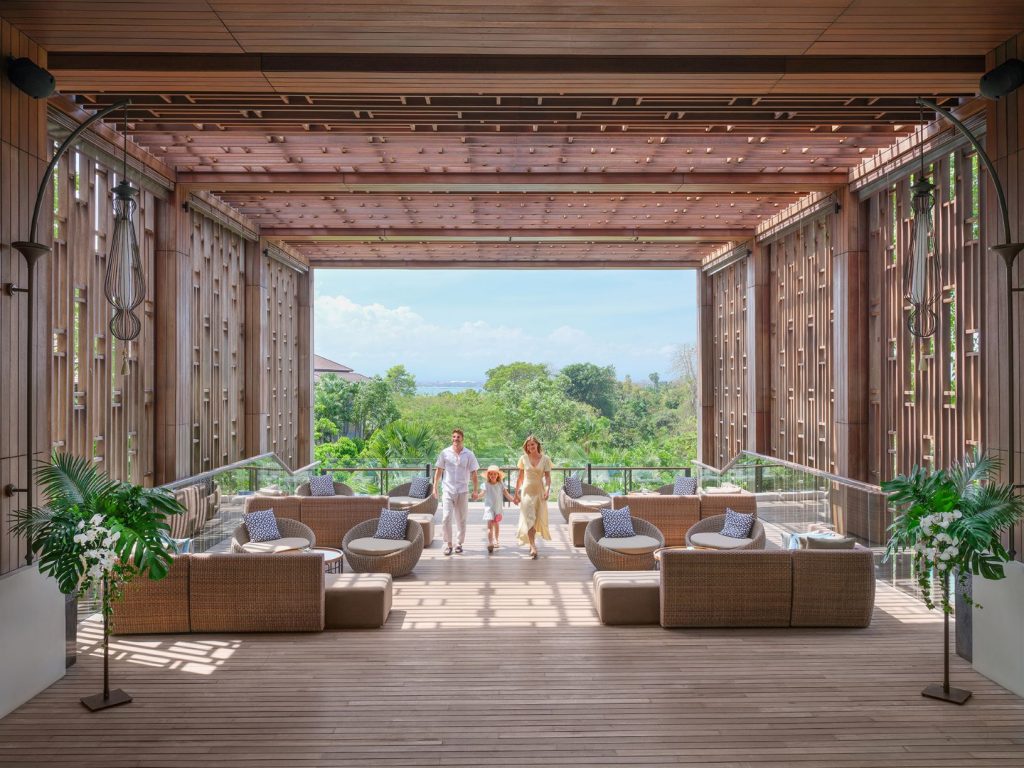 In addition to luxurious five-star family resorts, the Movenpick Resort & Spa Jimbaran Bali also presents an excellent option for hosting your company's business meetings on this paradise island. Its strategic placement in South Bali, expansive ballroom, fully furnished boardroom, and meeting spaces boasting garden vistas collectively make our resort the ultimate choice for corporate gatherings, seminars, receptions, and more.
The Akasa Ballroom covers an area of 420 square meters and can accommodate up to 210 attendees, or it can be divided into versatile sections for various functions. The trio of Baga Rooms offers pleasant settings for workshops, training sessions, or intimate group meals, while the Boardroom provides comfortable seating for up to 14 individuals. Each space can be tailored to meet your specific requirements. Furthermore, all the resort's meeting and event venues come equipped with contemporary conference amenities, including complimentary Wi-Fi, LCD projectors, screens, DVD players, and video conferencing systems. The dedicated catering team is also available to deliver everything from themed coffee breaks to extravagant dinner buffets.
In anticipation of the upcoming 1000Meeting Showcase venue at Fairmont Peace Hotel in Shanghai, China on September 7, 2023, they are excited to announce that Movenpick Resort & Spa Jimbaran Bali will be in attendance to connect with corporate representatives from China. This valuable opportunity allows Movenpick Resort to introduce their resort's exceptional offerings to a wider audience. Representing the resort at the event will be Ms. Shelly Darcy, the Director of Sales & Marketing, who will be delighted to engage with you and discuss how Movenpick Bali can enhance your corporate events and meetings.
Movenpick Resort & Spa Jimbaran Bali is dedicated to creating cherished memories that last a lifetime. They invite Chinese travelers to embark on a remarkable journey of discovery, relaxation, and adventure at their captivating resort. Discover all the luxurious amenities and stunning features of the resort in your preferred language and visit their dedicated Chinese Mandarin Language website:
https://movenpick.accor.com/zh-cn/asia/indonesia/bali/jimbaran-bali.html