HYATT HOTELS AND RESORTS LAUNCH NEW OFFERS INSPIRING TRAVELERS TO EXPLORE INDONESIA
For a limited time, guests can enjoy the Stay 3 Pay 2 offer with qualifying stays at many Hyatt hotels and resorts in Jakarta, Bali and Central Java
Exploring Indonesia's diverse destinations just got easier with a new "Stay 3 Pay 2" offer from Hyatt hotels, allowing guests to enjoy savings on qualifying stays at participating Hyatt hotels and resorts across the archipelago, including hotels under the Grand Hyatt, Hyatt Regency, Andaz and Alila brands, catering to different travel desires.
Indonesia offers a variety of unique experiences for travelers. Its bustling capital, Jakarta, offers something for everyone, from dining and shopping to cultural exploration and nightlife entertainment. Grand Hyatt Jakarta enjoys a central location with easy access to major attractions. Alila SCBD in the dynamic business district, surrounded by upscale retail, dining and nightlife, is ideal for a vibrant urban retreat.
Bali is renowned for its natural beauty, stunning beaches and magical temples. Beach lovers will be spoiled for choice with four Hyatt beachfront hotels and resorts in popular spots – Grand Hyatt Bali, Hyatt Regency Bali, Andaz Bali and Alila Seminyak, where relaxation comes with an ocean view. Along Bali's southernmost coast, visitors can take to the waves at surfing hotspots and enjoy the legendary seafood dinners at Jimbaran Bay while staying in the height of luxury at Alila Villas Uluwatu.
The secluded seaside resort of Alila Manggis is the ideal base for exploring unspoiled East Bali and the dive islands of the east coast. At the hillside retreat of Alila Ubud, guests can immerse in the charms of the countryside and Bali's cultural spiritual and artistic heart.
For spectacular scenery and culture, the twin cities of Yogyakarta and Solo in Central Java, once the heart of ancient Javanese kingdoms, are a must-visit. Guests staying within the expansive lush grounds of Hyatt Regency Yogyakarta or in the modern sophistication of Alila Solo can discover beautifully preserved royal palaces and a rich heritage of culture and craft, including some of the best batik art in the region. Beyond the cities stretches a stunning landscape dotted with volcanic peaks and incredible temples, including the iconic Borobudur temple, that make for an unforgettable day out.
Book your getaway in Indonesia between January 24 and February 11, 2022 for qualifying stays from January 25 through June 30, 2022. The "Stay 3 Pay 2" offer is available for booking through Hyatt.com, certain online travel agents and wholesalers, as well as certain travel agencies. Use Offer Code HFR3 at check-out. One-day advance booking is required. Learn more at www.hyatt.com/en-US/promo/indonesia-stay-three-pay-two-offer
Terms and conditions apply.
Guided by its purpose of care, Hyatt's multi-layered Global Care & Cleanliness Commitment further enhances its operational guidance and resources around colleague and guest safety and peace of mind. More information on Hyatt's commitment can be found here: hyatt.com/care-and-cleanliness.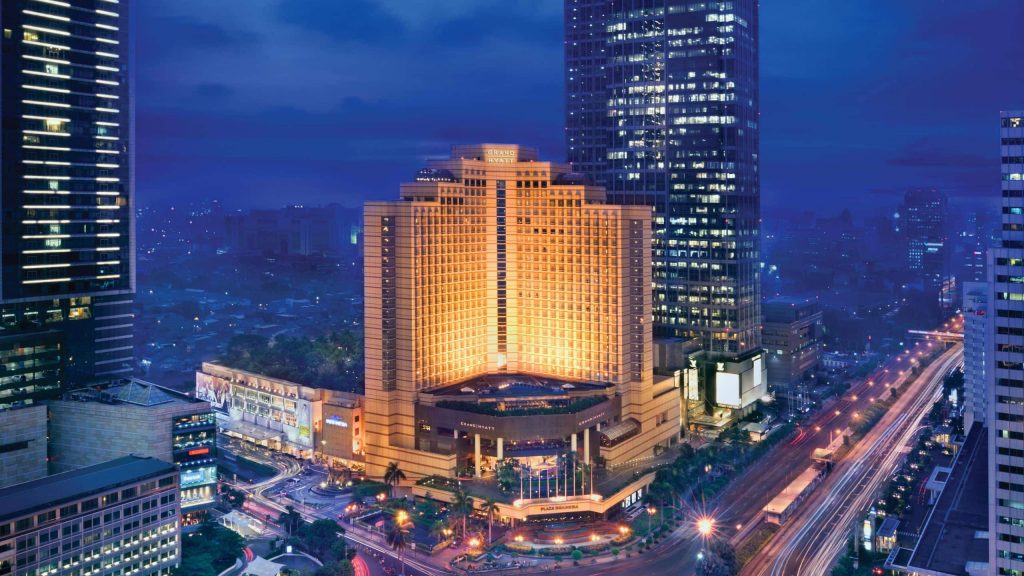 Hyatt hotels in Jakarta
Grand Hyatt Jakarta: Located downtown in the iconic landmark complex of Plaza Indonesia, Grand Hyatt Jakarta offers convenient access to all that the metropolis has to offer, from the Old Town to theme parks and fabulous shopping centres. Stay in the newly renovated rooms and book the Le Petit Chef 3 dining experience for a memorable trip.
Alila SCBD: This stylish hotel in the heart of the business district is an attractive choice for urbanites. The hotel features distinctive design, two buzzing restaurants conceived by Michelin-starred chefs, and is a stone's throw away from the new lifestyle mall, Ashta. After shopping or sightseeing, relax by the pool or rooftop bar.
Park Hyatt Jakarta*: Located in the tranquil Menteng district, the first Park Hyatt in Indonesia will welcome discerning guests with warm and gracious Indonesian hospitality. The thoughtfully designed spaces of this modern luxurious residence will house 220 rooms and suites offering uninterrupted skyline views, while exciting dining options include the rooftop Kita restaurant serving modern Japanese cuisine. * The hotel is slated to open early to mid-2022 and is not applicable for the Stay 3 Pay 2 offer.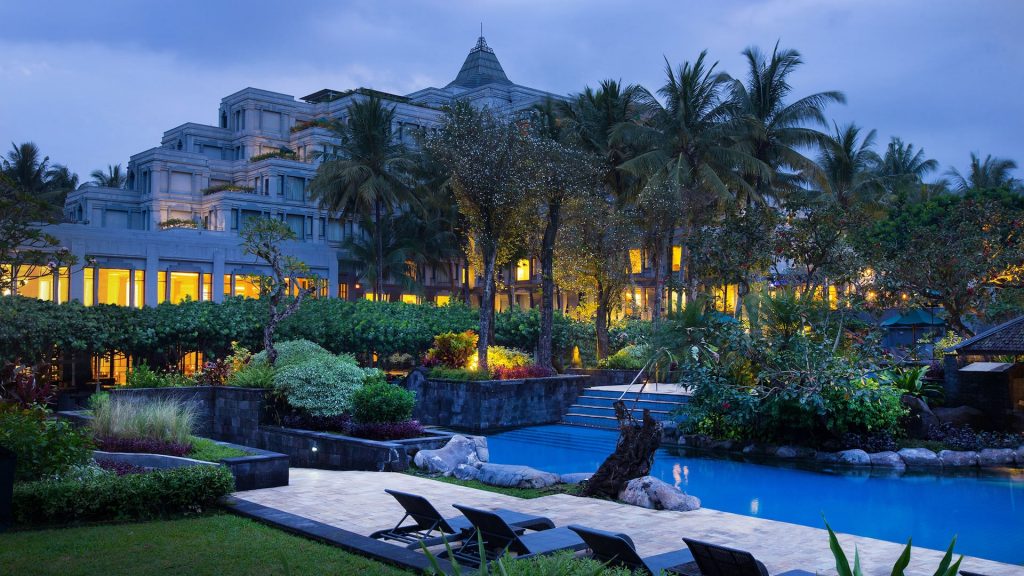 Hyatt hotels in Central Java
Hyatt Regency Yogyakarta: If you are looking for a relaxing break, retreat into a slower pace of life at Hyatt Regency Yogyakarta. Time flies by as you play golf on a nine-hole course, enjoy the pools, and wander around the hotel's 22 hectares of beautifully landscaped gardens overlooking Mount Merapi.
Alila Solo: This modern urban retreat is the crown jewel of Solo, where you can immerse yourself in the city's rich culture of dance, music and art, enjoy resort-inspired facilities, and unwind with a nightcap at Agra, the highest rooftop bar in Central Java.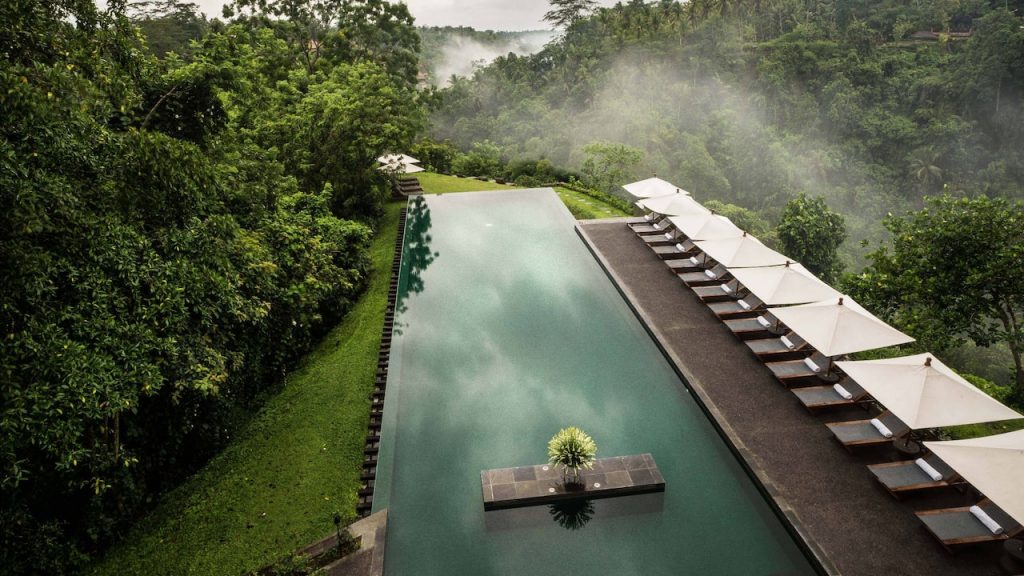 Hyatt hotels in Bali
Andaz Bali: This modern boutique resort offers a modern and immersive interpretation of the traditional Balinese village. Set in low-rise clusters and spread across a lush tropical landscape, the hotel features a variety of accommodations, including garden and beach villas with private pools, and a refreshing dining concept inspired by a local food hall.
Hyatt Regency Bali: If you prefer a traditional Balinese ambience, look no further than Hyatt Regency Bali. The lush landscape at this iconic Sanur hotel will instantly transport you to a dreamy, tropical beachfront escape, complete with three swimming pools for all to enjoy.
Grand Hyatt Bali: Families will enjoy Grand Hyatt Bali, with its extensive recreational facilities, including a kids' club, two water slides, five pools, and sprawling gardens. This tropical paradise in Nusa Dua also lies near the beach and steps from Bali Collection shopping complex.
Alila Villas Uluwatu: Bali's magnificent southernmost tip is home to Alila Villas Uluwatu. Spend the night at this luxurious and tranquil clifftop resort in a one-, two- or three-bedroom pool villa, and soak in the ultimate privacy with dramatic views of the Indian Ocean.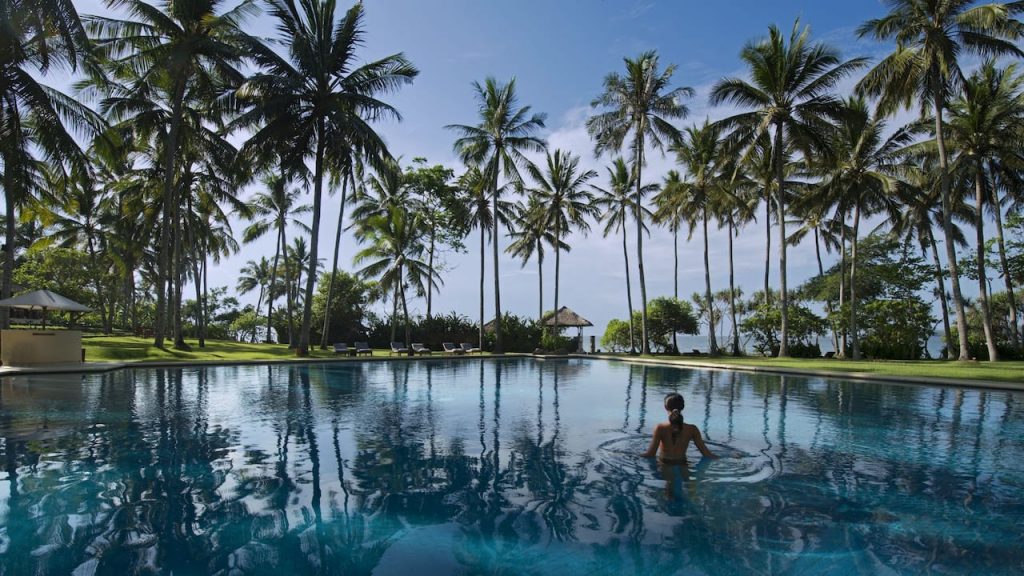 Alila Manggis: A retreat to the east harks back to what Bali was once known for: unspoiled nature and heartwarming locals, each an intrinsic part of Alila Manggis. Time magically stands still at this luxury hideaway by the sea – East Bali's best-kept secret.
Alila Seminyak: A five-star beach resort in Bali's hippest neighborhood, Alila Seminyak perfects the blend between laidback luxury and modern island vibes. Explore chic cafes and boutiques, sip tasty cocktails by the Beach Bar during sunset, and discover the exuberant nightlife just around the corner.
Alila Ubud: Rebalance your mind and senses amid the mystic charm of Ubud. Set on the edge of the Ayung River valley, Alila Ubud boasts some of the finest views Ubud has to offer: rushing fresh rivers, lush green forests, and expansive rice fields.