IZAKAYA BY OKU JOINS LOCAL JAPANESE TALENTS FOR A SPECIAL COLLABORATION
The collaboration seeks to introduce guests to the classic Japanese cuisine from the perspective of Japanese native
Celebrating the Japanese Emperor birthday, The Apurva Kempinski Bali invites the talented Japanese chefs living in Bali for an exciting new collaboration. The event, which will be organised at the resort's signature Japanese restaurant Izakaya by OKU from 23 to 25 February 2021, will introduce two of Japanese guest chefs who have been making their namesknown in Bali's Japanese community.
Chef Hashimoto Soji and Chef Hatanaka Hirotake will be joining Chef Deni Koeswara of Izakaya by OKU, to deliver authentic flavours of Japan during a three-day event at this award winning Japanese restaurant. The unique collaboration will not only introduce patrons to real Japanese cuisine, but also to the chefs themselves, who are Japanese native and have been running their own restaurants for years in Bali.
Chef Hashimoto once worked as the captain of a fishing boat who has a board set of scale when it comes to seafood. His hands-on experience working with fishes gave him a solid foundation, as he opened his famed Japanese venture called Tensaki in 1999. Meanwhile, through this collaboration, Chef Hatanaka hopes to show people the real authentic food of Japan, not the altered version that has been modified for international taste. Placing great importance in the freshness ofingredients used, Chef Hatanaka opened Namiya's stall in 2017 and has since then gained popularity within the Japanese community.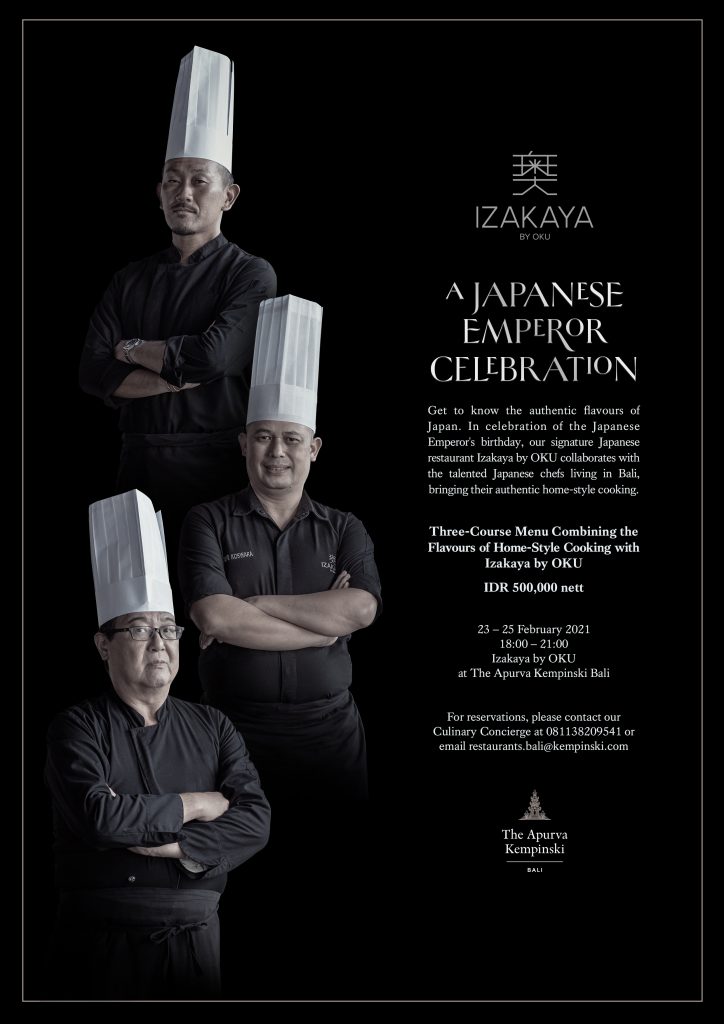 "As part of our Celebrating Diversity campaign, we are truly honored to work with Chefs Hashimoto-san and Hatanaka-san. It is a great opportunity for everyone to experience and take the journey alongside them." Chef Deni Koeswara shared.
Chef Deni Koswara, who has more than 15 years' experience in Japanese gastronomy is leading the team at Izakaya by OKU. The chef resided in the Middle East for thirteen years, deepening his skills in Japanese cuisine in international luxury brands as well as highly acclaimed restaurants such as Nobu Restaurant in Doha. Chef Deni found himself returning to Indonesia to prepare the opening of Izakaya by OKU, and has been sharing his skillset with his team ever since. Under his leadership, the team has curated a creative menu, inspired by the traditional Japanese cooking method and ingredients.
The restaurant emphasises bringing out the best of its creations in a dynamic and convivial atmosphere. The restaurant is the signature Japanese restaurant of The Apurva Kempinski Bali, an internationally renowned five-star resort in the southern slopes of Nusa Dua. Not only famed for its Japanese cuisine, the restaurant is also known for its creative mixologists. These mixologists entertain the guests behind their cocktail cart while preparing unique fusion between traditional Japanese and modern western liquor.
The event will see both chefs preparing their signature course, presenting a comfortable experience for guests to have a taste of classic home-cooked Japanese dishes in the luxurious setting of the five-star resort. Meanwhile, Chef Deni Koeswara and his talented team will be creating Izakaya by OKU's tempting creations.
This special Japanese Emperor celebration will be priced at IDR 500,000 nett per person. The menu is able to be explored here. For further information and reservation, please contact +62 81138 209541 or email restaurants.bali@kempinski.com.