RAMADAN PROGRAM WITH ARTOTEL GROUP
The holy month of Ramadan will be back at the end of March 2023. To provide a lively and memorable Ramadan atmosphere, ARTOTELGroup presents a variety of exclusive promos during Ramadan month from March to April 2023, both for stay promo and F&B.
During Ramadan, ARTOTEL Sanur – Bali presents an Everlasting Kareem, stay promotion with a 20% discount through the website, artotelgroup.com. The price includes breakfast for two people. The booking period starts now, and the stay period is available on March 23 to April 16, 2023.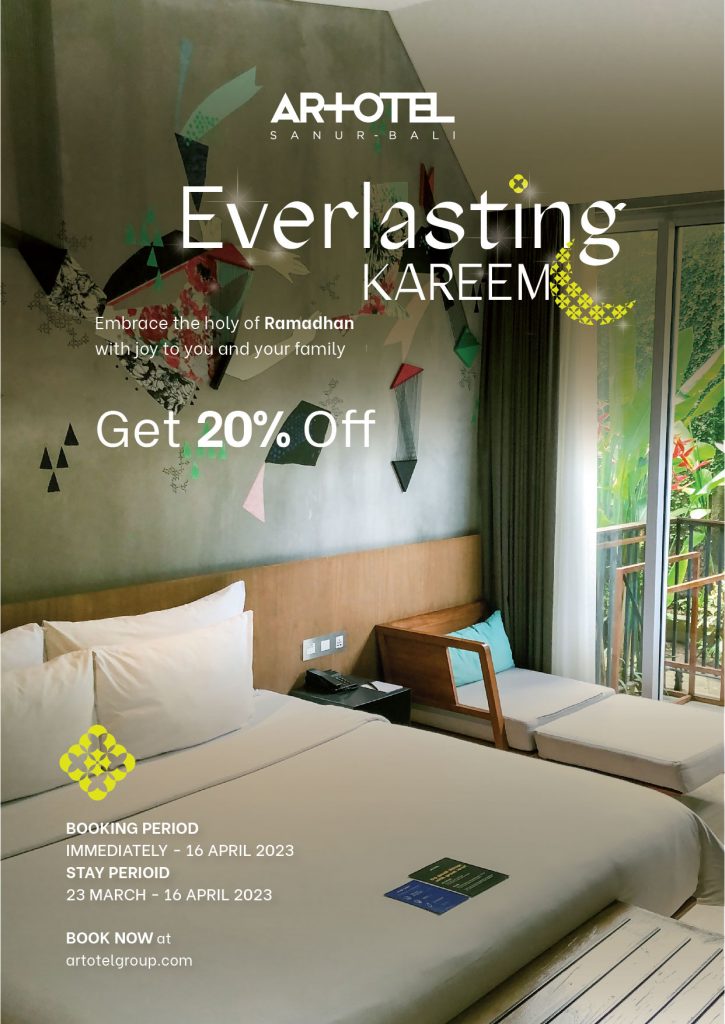 For the F&B program, ARTOTEL Sanur – Bali has prepared Bountiful Ramadan Ala Carte, a choice of iftar offerings that can be enjoyed at Lidah Lokal Sanur Restaurant, starting at IDR 35k with choices such as
Lontong Sayur, Opor Ayam, Beef Rendang, and Bubur Ketan Hitam. The F&B program can be enjoyed throughout Ramadan starting from 3 – 6 AM for Sahur and 12 – 10 PM for Iftar. Please contact +62 813 5366
2966 for further information and reservations.
Yulia Maria, Director of Marketing Communications ARTOTELGroup said "We are very eager to welcome the holy month of Ramadan in 2023 because, with the end of the PPKM launched by the government,
the community will continue to carry out its activities as usual even in Ramadan, from just doing official travel activities or Organizing breaking the fast together with friends, clients, or gathering events with the company.
So, we have specifically designed an interesting stay program and a very special breaking fast. "
Agus Ade Surya Wirawan, General Manager of ARTOTEL Sanur – Bali added, "Various offers we provide during the month of Ramadan, we hope that business traveling, and vacation activities still can be carried out with a very affordable price offer for the community. On this occasion, on behalf of ARTOTEL Sanur – Bali, I would like to say Happy Fasting to all Muslims. "
Additional and exclusive advantages related to the Ramadan promo program can be enjoyed by guests who have joined as members of the Loyalty ARTOTEL Wanderlust program. Guests will get an additional 10%
discount for a stay and up to 15% discount for F&B by making direct transactions in the ARTOTEL Wanderlust application that can be downloaded on the Google Store and the App Store.