REDISCOVERING BHUTAN: NEW PERSPECTIVES ON THE LAST BUDDHIST KINGDOM
On behalf of Aman, we are delighted to share Amankora reveals the heart of Bhutan with ever rarer and more awe-inspiring cultural experiences for 2023. Well-suited to those embarking on a once-in-a-lifetime adventure in the year that lies ahead, Amankora continues to tell the story of the Kingdom of Bhutan through unique, culturally enriching experiences across its five intimate lodges.
New for 2023, several experiences reveal the very best of the Kingdom's rugged Himalayan landscapes, inviting guests to rediscover the once forgotten ramparts of its central and western valleys. Built in 1638 on a cliff at the confluence of two rivers, the defense fortress of Wangdue Dzong has finally been restored, following fire damage, and is ready to welcome guests once again to its grounds after a decade of rebuilding and careful restoration.
Another piece of history restored, the Trans Bhutan Trail provides further opportunity to discover the pristine nature that surrounds. Dating back to the 16th century, the 402-kilometre-long trading and pilgrimage route was abandoned in the 1960s following the construction of Bhutan's first major roads. After 60 years, the trail has been reestablished, allowing the Bhutanese to walk in the steps of their ancestors, and visitors to follow the ancient path with curated daily hikes and multi-day experiences, paired with stays in all the five lodges.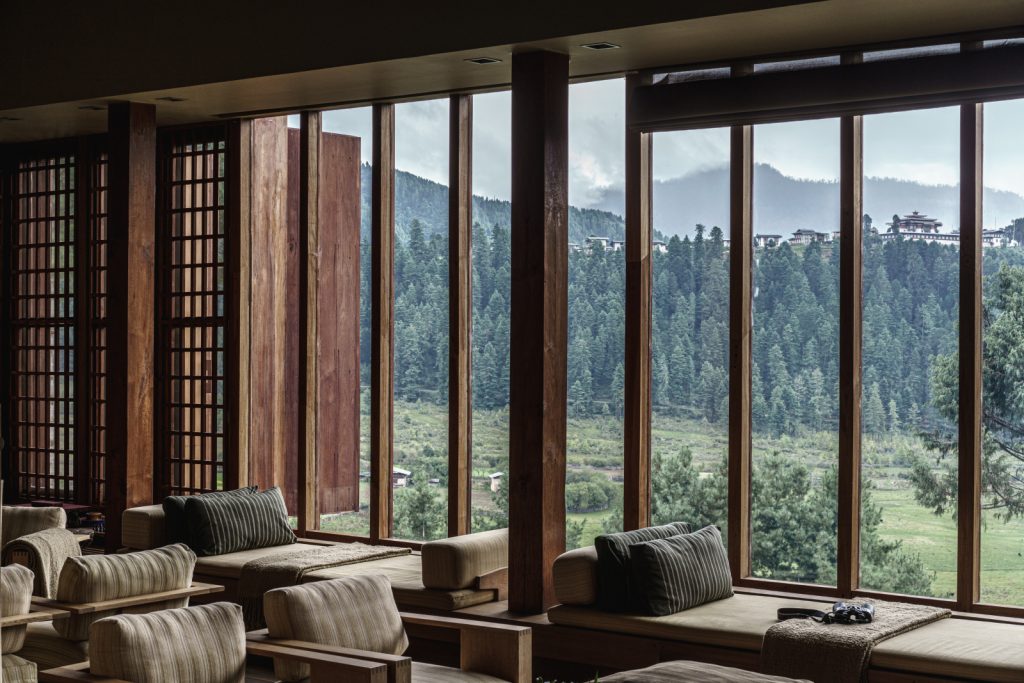 Thimphu
Situated in the forested Thimphu Valley, home to Bhutan's capital city, Amankora Thimphu is a 16-suite lodge tucked into the pine-scented woods of the Motithang area.
New for the year ahead, learn more about the ancient art of incense from artisans at Nado Poi. Using a wide selection of rare, foraged or homegrown herbs, spices and ingredients from across the Himalayas, Nado Poi's skilled local craftspeople create blends of sacred smoke, highly sought after by monastic bodies and temples all over the world. Using a 350-year-old recipe passed down through generations, Nado Poi also makes exclusive incense sticks and powder blends for the Royal Family of Bhutan. Available to those visiting Thimphu, the exclusive half-day Secrets of Ancient Incense experience takes place at the brand's local workshop, and includes a selection of raw materials to create, roll and cut the incense, guided by a Nado Poi artisan. 
Another renowned artist local to Thimphu, Gyempo Wangchuk, hails from the Zurig Chusum Institute, Bhutan's most important art school focusing on 13 traditional arts and crafts. Specialising in painting, Gyempo's work ranges from temples and sacred scrolls to present-day contemporary art. Exclusively for the new season, private painting sessions with Gyempo Wangchuk can be arranged either at Thimphu lodge or in his studio, where guests can learn traditional Bhutanese painting with a contemporary twist.
Paro
Sheltered within a blue-pine forest of glistening conifers, 24-suite Amankora Paro lies beneath the ruins of the 17th-century Drukyel Dzong (fortress-monastery) overlooking snow-capped Jhomolhari, each suite features its own bukhari, a wood-burning stove.
Adding to its already extensive experience guide, in the year ahead Paro lodge will offer an insight into one the world's rarest teas. Originating from the Camelia Sinensis trees planted by the former King of Bhutan, Thunder Dragon Tea is gifted to the villagers of Samcholing where the tea trees are grown by the community and gently nurtured by mists from the verdant gorge, Himalayan spring water and the valley's organic, fertile soil. Guests of both Paro and Thimphu lodge can discover the nuances of this unique green brew with Thunder Dragon High Tea, where its delicately aromatic flavour is paired with sweet and savoury treats created by the culinary team. With every sip, guests are transported to the Kingdom's mountains, springs and skies.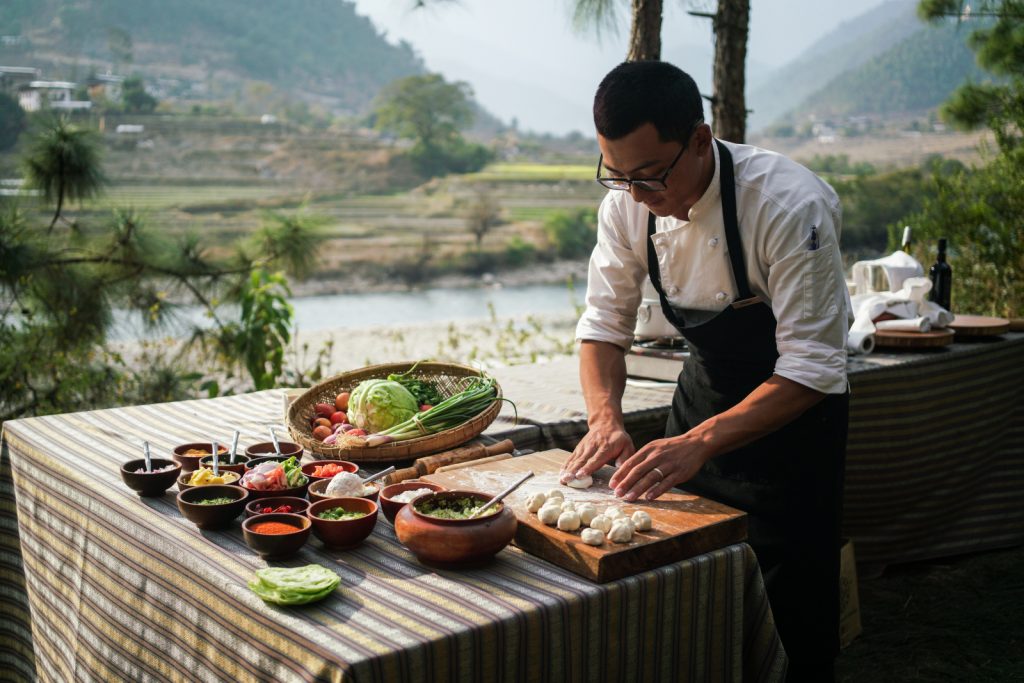 Punakha
Amankora Punakha lies east of the dramatic Dochu La Pass and just north of the resplendent Punakha Dzong that dominates the confluence of the Mo Chhu and Po Chhu rivers. Surrounded by rice paddies and fruit plantations, the lodge occupies a traditional Bhutanese farmhouse with twelve guest suites set in an orange orchard near the 30-metre infinity swimming pool.
Perhaps one of the best ways to experience culture is through cuisine. In the year ahead Punakha lodge will offer torma making classes, providing an insight into one of the most sacred Buddhist celebration cakes. Made with butter and barley flour, torma cakes are used to adorn altars during traditional Buddhist ceremonies and are created primarily by monks. Dyed with colourful pigments, shaped by hand, blessed and finally offered in accordance with its specific creation – whether to represent a deity, a ritual in a feast, as a healing, medicinal symbol or even as a vessel to obstruct spirits – guests are invited to partake in this unique heritage practiced all over the Buddhist realms of the Himalayas. Classes are to be held during auspicious dates hosted by a monk, with private classes available on request.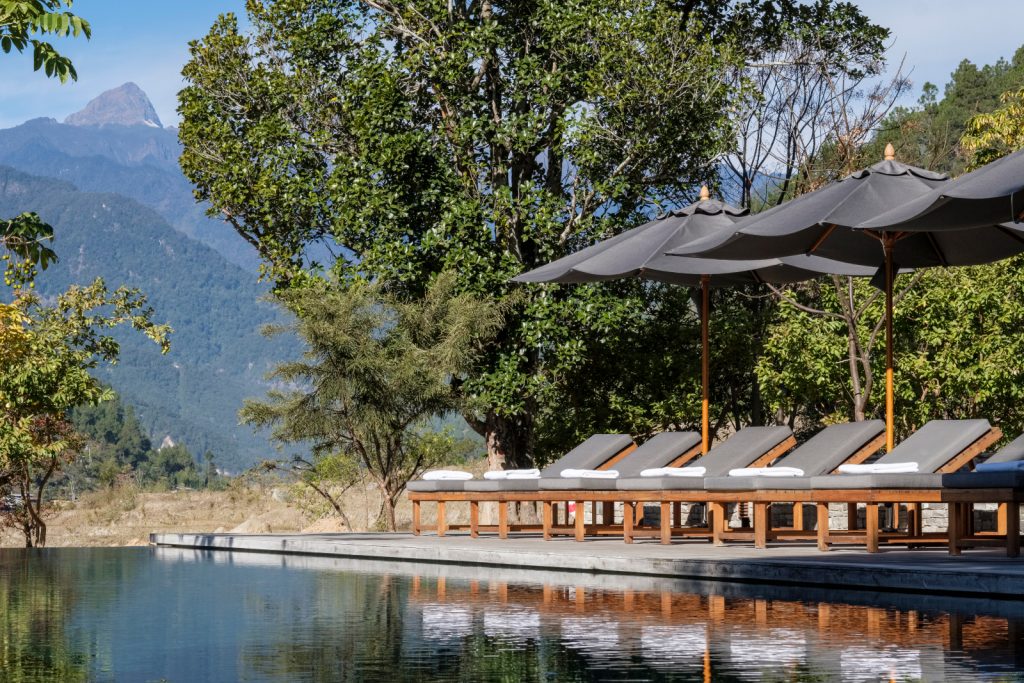 Gangtey
Offering eight suites, Amankora Gangtey rests in the seldom-visited valley of Phobjikha near the quaint village of Gangtey. From its forested knoll, the lodge boasts panoramic views across the gorge to the regal Gangtey Goemba, a 16th-century monastery, and easy access to the winter habitat of the rare, black-necked crane.
A new way to explore Gangtey' s pristine corners, guests are now invited relive the early days of Bhutan's wild frontiers on Yuta horseback. A distinct Himalayan breed known for their mild temperament and impeccable sense of balance, the expedition starts from the lodge grounds, passing through scenic traditional farming villages, wooden bridges and charming farmhouses before completing the hour-long loop passing through fields littered with prayer poles gently flowing with the breeze.
Bumthang
The eastern-most lodge, 16-suite Amankora Bumthang rests adjacent to the First and Second King's palace, Wangdichholing, in the Choekhor Valley. This region of sloping pine forests, apple orchards and fertile farmland is known for its cottage industries that produce the sought-after Bumthang butter, cheese, honey and a variety of fruit spirits and brandies.
New for 2023, guests to Bumthang lodge are invited to be blessed with a new Bhutanese name from Sey Lhakhang, the valley's most important name-giving institution. A once-in-a-lifetime opportunity, names in Bhutan are given by Lamas and Rinpochhes from the temples, and in this special ceremony names can be given to guests through an intimate ceremony with a Lama. Taking place in the private altar room of the monastery, the ceremony begins with a declaration of date of birth before the Lama performs a Buddhist name calculation using a unique method of Buddhist astrology. Following the name presentation, explanation and blessing, guests are invited to light butter lamps for wishes of wellbeing in the weeks and months that follow.