SereS Springs Resort and Spa Singakerta, Ubud Has Received a Five-Star Hotel Certification
SereS Springs Resort & Spa Singakerta recently received a Five-Star Certificate from Tourism Business Certification Institute (Lembaga Sertifikasi Usaha Pariwisata – LSUP) – PT QIS Certi Indonesia. The Five-star Hotel Certificate handover was done directly by Putu Tirta Yasa as the representative of LSUP PT QIS Certi Indonesia to I Nyoman Prabawa, the General Manager of SereS Springs Resort & Spa Singakerta.

The audit process has been done since 27th to 28th September 2021 with a satisfactory result, as SereS Springs Resort & Spa Singakerta obtained a total score of 1022 out of 1044 points and surpassing the standard score needed to obtain the Five-Star predicate, which a minimum of 936 points and also surpassing the previous result from 2018 of 997 points.
"This recognition is certainly a positive step for us in this pandemic situation. so that we can continue striving for the best service and guests' comfort with safer environment according to the health protocols." said I Nyoman Prabawa, General Manager of SereS Springs Resort and Spa Singakerta.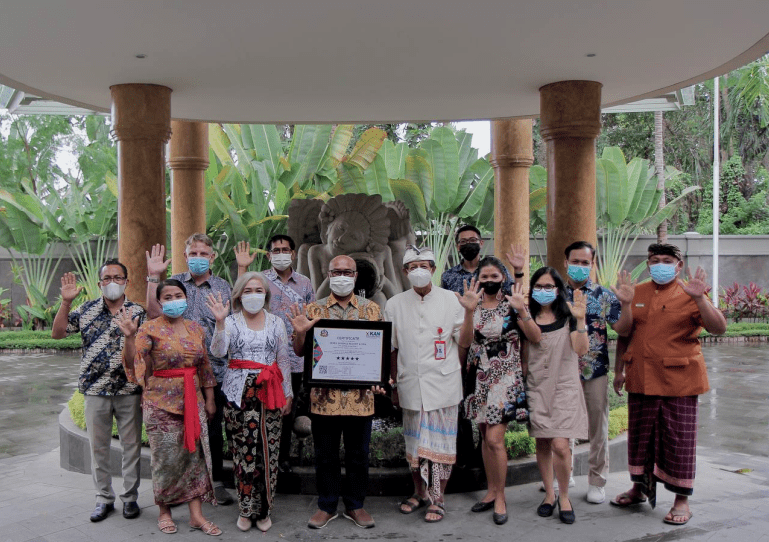 The audit process included the whole physical aspects of the hotel, management, and operational, as well as the certificate of the staff competences and the completeness of required permissions
Located in the village of Singakerta, with a full frontage along the River Wos and providing impeccable and panoramic views of rice padi paddy fields, SereS Springs Resort & Spa Singakerta comprises 44 deluxe rooms, 16 deluxe premium rooms with ofuro soaking tubs and 20 villas each with individual dipping pool. Amenities includes 2 large infinity pools.

A grand ballroom with pre-function foyer, a junior ballroom and a corporate meeting room. a pavilion for intimate weddings, a yoga bale, fitness centre, kids club and video lounge. All-day dining is available at the Mulberry Place, featuring diverse cuisine and Bell'Aria Italian restaurant with a wood-fired brick pizza oven and also Café DarSini Lounge & Bar.

In the setting of natural vegetation and pastoral ambiance, is the lavish terraced four-level SereS Spa Sanctuary that evokes Bali's iconic rice terraces and has been designed with 6 treatment suites for couples or single guests. Ensconced by nature and literally perched at Wos River's edge is Mother Nature's permanent endowment – SereS Springs' natural springs soaking-pool.