The Adiwana Arya Villas
The Tranquility Awaits
Palm groves, swaying coconut trees and verdant rice fields surround this Bali hideaway. The Adiwana Arya Villas nestles discreetly outside from the city center. Serenity finds its way into the island resort of where mossy gardens lay and huge pool fascinating the greeneries scene and exciting island adventures awaits.
The Adiwana Arya Villas is located 3 kilometers from Ubud's city center and offers guests a rustic village setting in the middle of rice fields. The luxury resort offers a blend of local culture, modern art concepts, and traditional Balinese style elements.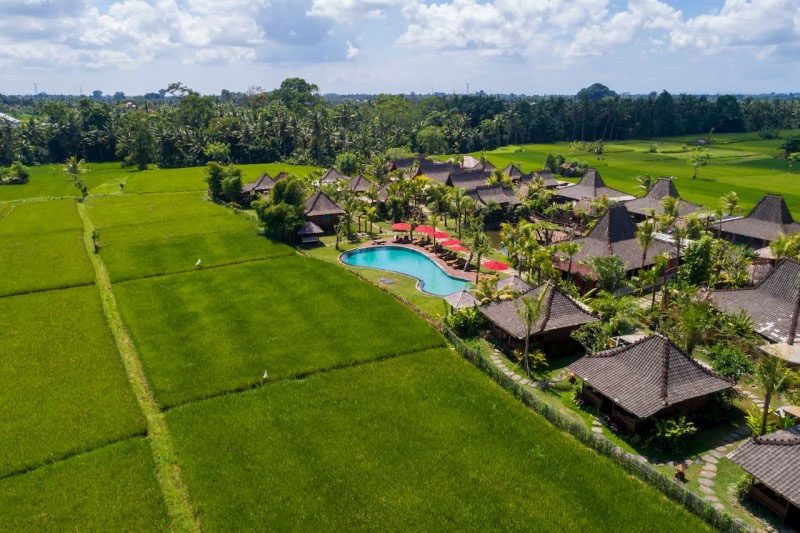 Amidst the soothing gardens and tropical aromas are nestled 20 enchanting bungalows and villas spread over more less 3-hectare lush jungle foliage. The resort divided into three luxurious, spacious bedrooms type consisting of 10 Suites Room, 6 Suites Room with view, and 4 Two Bedroom Pool Villa.
With an area from 50 to 55 square meters, every room, with its private terrace, opens onto a panorama of rice fields or tropical garden. The tastefully decorated rooms marry material with furnishings, to give them a refined charm without pretentiousness. Stone, wood, traditional tiles, ceramic and bamboo are naturally integrated for ultimate charm. The architecture blends with its natural surroundings to create a unique atmosphere reminiscent of a Balinese village.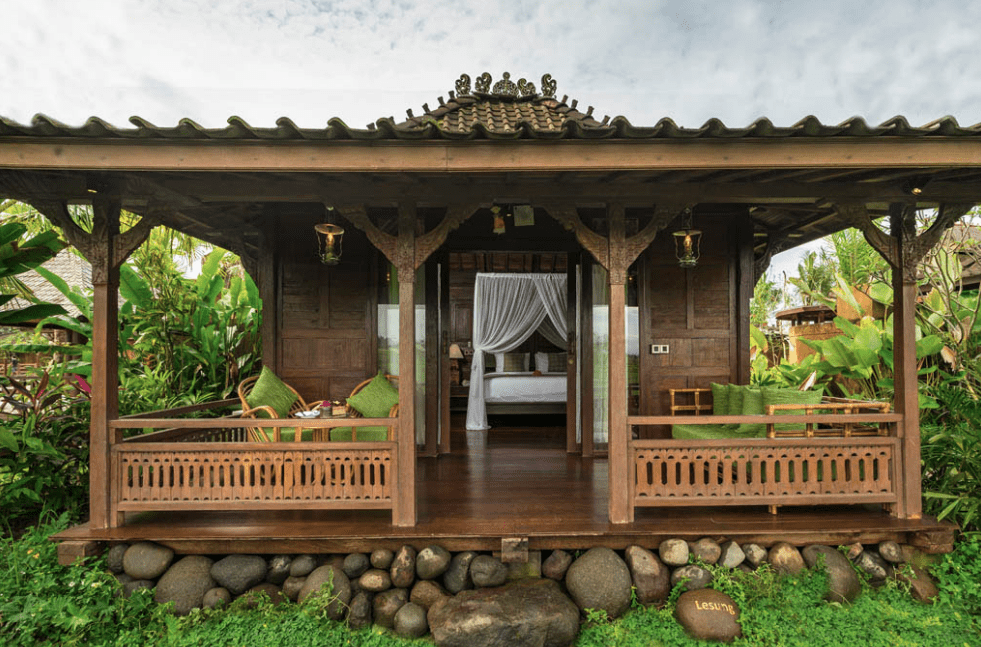 The resort suites are built inspired traditional Javanese House named Gladak House that made from wooden material, commonly known as wooden antique house.
Open onto a garden, each of these 50 sqm suites features either a king size bed or two single beds, bathtub and an under the starts shower in a semi open bathroom, and a private terrace. All rooms have: air conditioning, International Direct Dial (IDD) telephone, tea/coffee-making facilities, hairdryer, refrigerator/mini bar, in-room safe, high speed WIFI, satellite television with 40 inch LED TV, bathroom amenities. This resort gives you a local charm experience with five stars taste.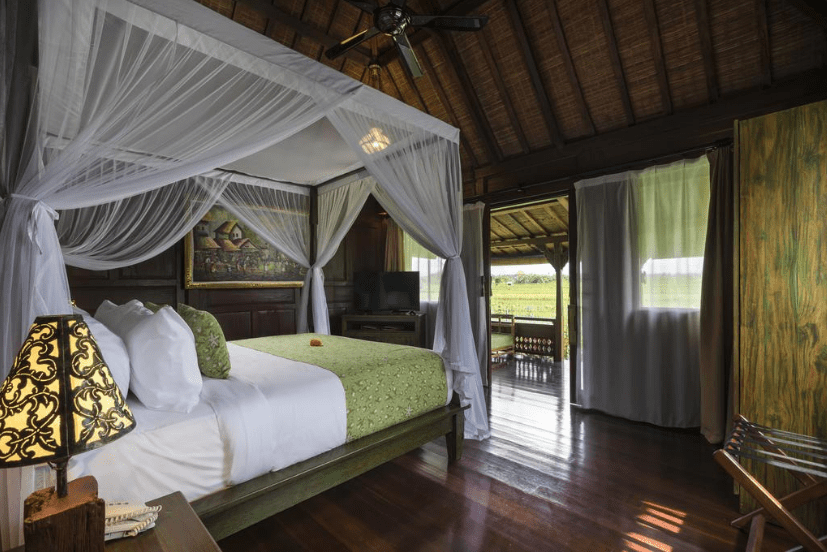 Adiwana Arya Villas is located in a quiet part of town overlooking the verdant rice fields. Upon arrival, you will be served a chill welcome drink made from ginger and lemongrass, which served in the Adiwana Arya Villas al fresco lobby. Natural vegetation and lush landscaping provides privacy between the elevated cottage and villas. Enjoy the peaceful views out over the rice fields beside the swimming pool area, or admire the water fishponds in the central courtyard before being taken to your room or while having an afternoon tea that includes in your room package.
Be sure to check out the Balinese Massages at The Tejas spa to relax, greatly benefits from the beauty of all this natural preservation. This signatures massage with the expert therapists delivers treatments inspired by centuries of tradition using organic ingredients. On your return, the daily catch and delicious Indonesian and international comfort food await at Wayang Restaurant.
Every aspect from the resort is too good to be true. At Adiwana Arya Villas you'll wake to what can only be described as looking like a movie set. A destination that so dreamy, and you'll think you need to be pinched to snap back to reality, this stunning luxury resort is surrounded by greenery-covered rice field. Particularly from the resort, the sense of tranquility is only surpassed by Adiwana Arya Villas.
For more information & reservation:
Adiwana Arya Villas
Jl. Raya Tebongkang Gg. Cendana
(0361) 3001158