The Samaya Seminyak, luxurious private villas & spa
The award-winning beachfront villas welcomes back guests with extraordinary experiences.
There was a time when affluent travellers seeking the ultimate paradise on God's island with a luxury holiday like no other. The Samaya Seminyak is the ideal tropical getaway for those who seek the ultimate exclusivity. Inspired by a Sanskrit word, Samaya means "coming together" or "I am with you." The Samaya Seminyak recently being awarded as the 'Leading Beach Resort of Asia' and the 'Leading Resort of Indonesia' from World Travel Awards, and also as 'The Leading Beach Resort of Asia' from The World Luxury Hotel Awards.
Located at the beachfront and has direct access to the famous Seminyak beach, The Samaya Seminyak is situated right in the middle of the most buzzing area with trendy cafés and entertainment nightspots. Its location is very strategic with Seminyak Square is only five minutes away by foot, 15 minutes to Legian, 25 minutes from the airport and only 10 minutes driver to the Canggu area.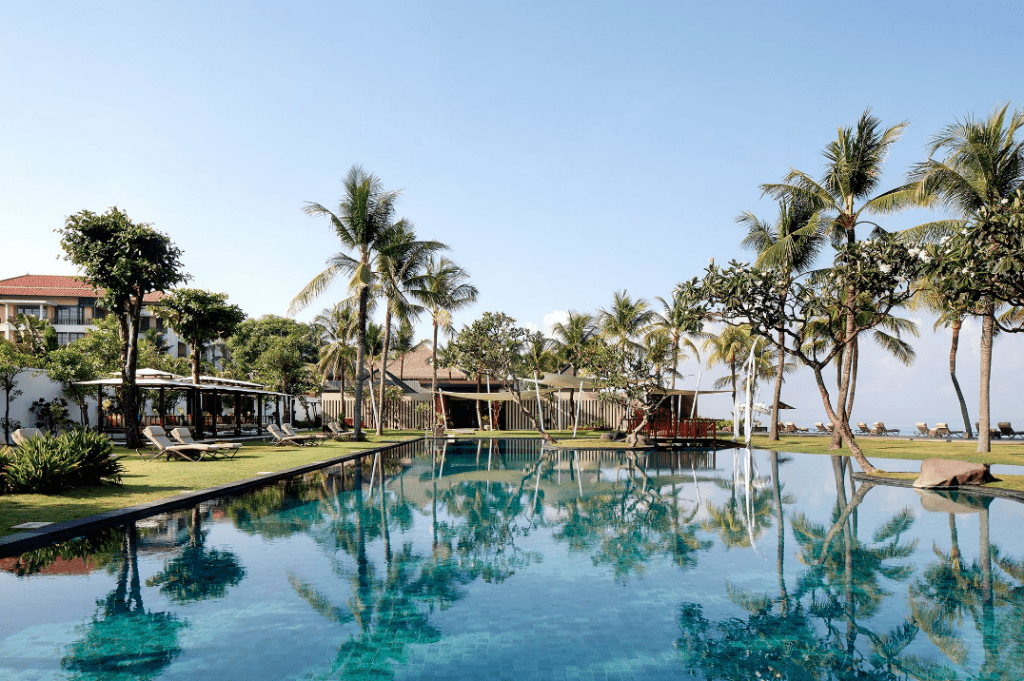 The Samaya Seminyak features 52 private villas, each perfectly designed for couples, honeymooners, families and groups. Each villa comes with its private pool, a relaxing lounging gazebo, spacious outdoor living area and lavish en-suite bathroom. Providing guests with a lavish Samaya Experience which is rooted on traditional Balinese hospitality, and the assurance of privacy within the luxurious compound that is modern designed.
There are five types of villas you can choose from to suit your holiday mood. The OneBedroom Royal Pavilion Villas is a spacious, ocean-facing villa that comes fully equipped with an outdoor Jacuzzi, spa area, indoor and outdoor showers and a 11m lap pool with garden gazebo. Meanwhile, the One-Bedroom Pool Villa is located on the beachside complex of the main resort and comes with a full-sized swimming pool, a spacious outdoor area surrounded by tropical gardens and a classic yet chic interior complemented by modern comforts.
Opposite the main complex, minutes away by buggy, The Royal Courtyard complex boasts a classic Balinese ambiance surrounded by lush tropical gardens. Offering discerning travellers with choices from one- to three bedroom villas, the Royal Courtyard villas also offers the same luxury of privacy, modern amenities, and facilities. While each villa offers extensive facilities including a private lap pool, guests can also enjoy a relaxing day at the lounge area with a spacious swimming pool with an expansive wooden deck at the centre of the complex.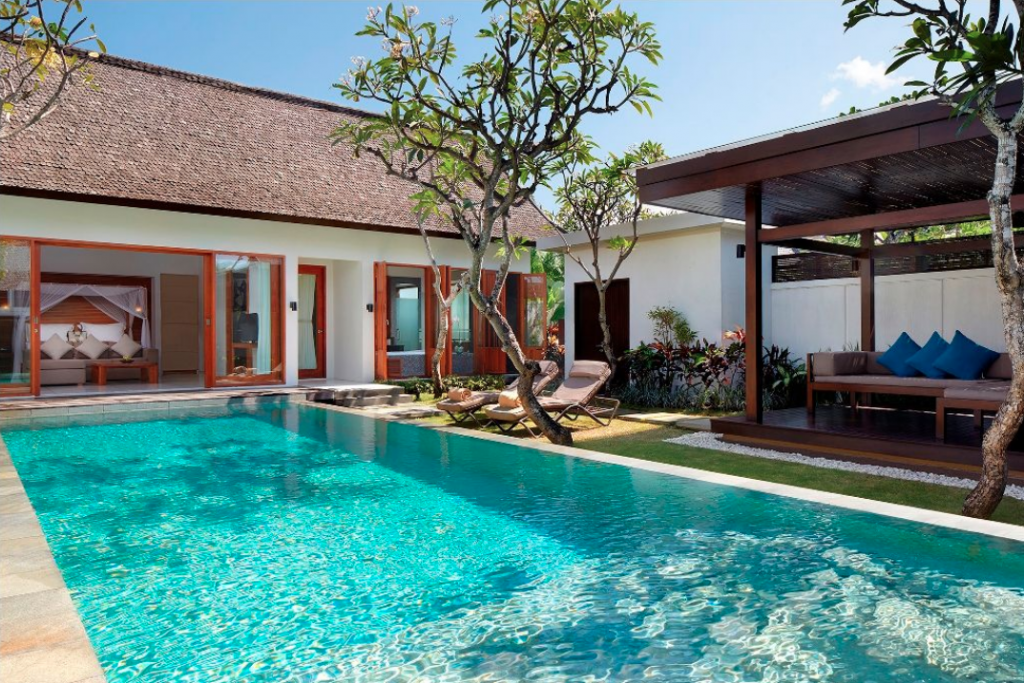 For an added of a luxury touch, an all-around butler service is available for each villa and will caters to everyone's wishes, including a no-time limitation breakfast for guests to experience whether inside their villas, gazebo, ocean deck or even at the famed floating breakfast. Overlooking the gorgeous Seminyak Beach, Breeze is the signature restaurant and bar at The Samaya Seminyak. This relaxing and sophisticated dining venue is home to leisurely breakfasts, lavish afternoon teas and cocktails with a stunning sea view. The Breeze Restaurant is also famous for its special "Megibung" menu, the seafood platter consists of Balinese rock lobster, scallops, prawns, catch of the day, squids, clams, streamed rice, seafood soup and a selection of homemade sambals. Breeze also provides a romantic dining destination called The Heart Shape Dinner. A romantic dinner arrangement to celebrate special occasion such as birthdays, anniversaries or special moment to propose to your loved one. Every weekend, Breeze offers Sundown Chillout promotion, a one-hour free flow of beverages including cocktails and canapes accompanied by a live DJ. The beachfront setting, great sunset views and the sound of the waves make this one of Bali's most places to visit.
"I always love seeing people on the beach with the famous white sand and bluest water. Now, here at The Samaya Seminyak, you will get a chance to experience it by yourself! For me personally, seeing the smiling faces of the guests are what we aims for. We are proud to provide them with top-notch services and warm hospitality so that all of our guests can enjoy their privacy and unforgettable experience that makes a lasting connection with the island and the people of Bali. Everyone deserves to rejuvenate their mind and body, and The Samaya Seminyak is the perfect place to make it happen," says Erick Hardiansyah as the General Manager of The Samaya Seminyak.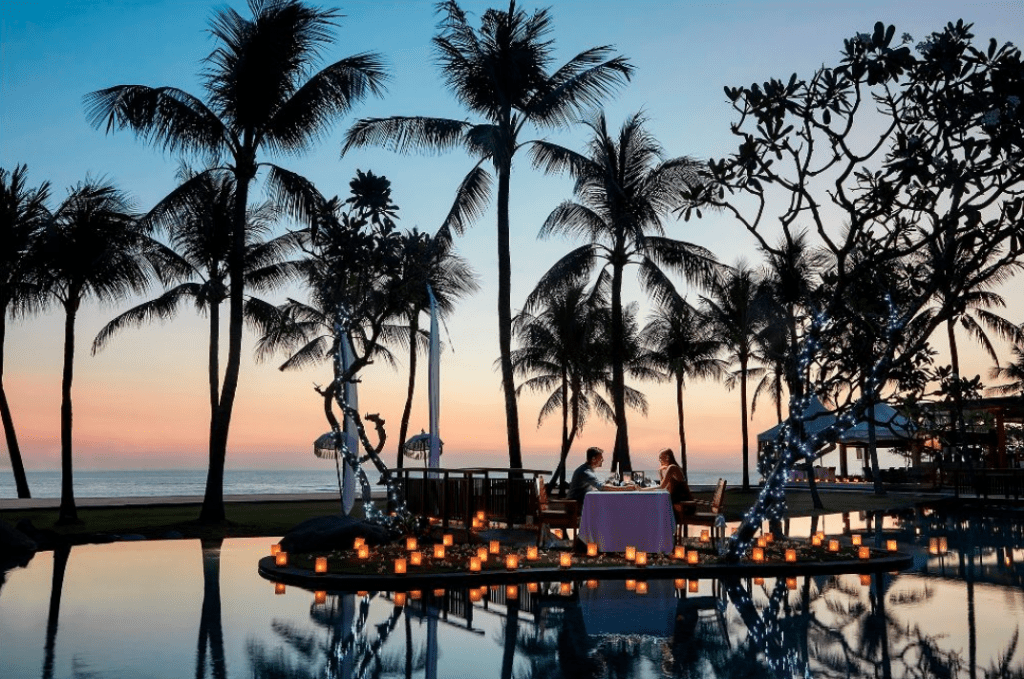 Taking care of the guests has always been the number one priority for The Samaya Seminyak. Comprehensive facility verification helps to ensure that guests and travel planners can book with confidence. The Samaya Seminyak is proud to announce that it was recently awarded a CHSE certificate from the Indonesian government. CHSE is a standard healthy protocol program from Indonesia's Ministry of Tourism and Creative Economy based on Cleanliness, Health, Safety and Environment Sustainability in response to the COVID-19 pandemic as part of Samaya's commitment to always provide excellence in every aspect. The Samaya Seminyak has implemented a variety of new protocols and elevated practices, also including a few adjustments to the services, amenities and facilities available during your stay.
We look forward to welcoming you and giving you the best Bali's luxury holiday at The Samaya Seminyak. In the meantime, do follow our official social media accounts on Instagram at @samayaseminyak and Facebook at The Samaya Seminyak Bali. Tag us and share your memorable moment with us by using the hashtag #samayaseminyak.