The 'Under-stated' Luxury Taste Maker
HighEnd-Traveller.com caught up with JOHN SPENCE, Owner of the Karma Group, luxury accommodation and lifestyle around the world.
When you first opened Karma Group, have you ever imagined that it will be a huge as now? And why did you choose the name "Karma" as a brand name?
Well, no obviously when I first started Karma Group, I had no idea it would grow into the size of today. If I'd had been sitting on the beach back in 1993 in Goa, I've had to pinch myself if I had to believe it had been a tenth of its size it become. My initial goal was to develop a resort in India, in Goa, and then with the success of that I went up to number two, and it just grew organically over the years. I am very suspicious sometimes with entrepreneurs that say they have a masterplan, they have a cunning plan, and then they stick to it. Because That was certainly not the case with me, nor with most entrepreneurs I know. We succeed and we continue to succeed.
Why do I choose the name Karma?
Well, it wasn't named called Karma originally. It was called Royal Resorts. That's how we started, and we started in 1993 in Goa, and it was later on I thought the name "Karma" was very strong. We are in Asia, we are developing obviously in India, we are developing in Bali, in Indonesia, and in Thailand, and most of our clients were Asians, and most of the people who work with us were clearly Asians. I love the whole concept of Karma. I understand that I am not particularly understanding it fully of course if someone's a Buddhist or a Hindu point out, but at the end of the day I like the basic concept that the universe gives back good things if you give good things to the universe. And very much that has been our philosophy in life is trying to do positive things, and we have received positive things in return. So I also like the name that honored the Asian aspect of our business, it is also recognized by international people, and unashamed I like the swoopy "K" what we did with it. So I thought it was a suitable name for us, for our philosophy, for our concept.
Why do I choose India as the first Karma property location in the world?
An accident is the honest answer. I was working for another company. My history was I was in the music business originally, I dropped out University after two terms thinking I was the best guitarist in the world and I discovered quickly I was the worst guitarist in the world. But I ended up on the other side of the desk, so to speak,  on the business side, and I looked after bands and took them on tour, and travelled a lot. And then I ended up getting in to the travel business. I joined a firm in the Canary an Island, which is part of Spain.
An American company which has just come to Europe, global. And I started of as a junior salesman, and I worked my way up to run that business, and in 1993, I was invited to go, I was running the company, I was the CEO and had resorts all over the Europe, I was invited to go to India to speak at a conference about our industry our resorts and international business and I fell in love with the place. To be honest I saw huge potential, I spent some time looking around the country, I was toured around to see opportunities and I went to Goa, and I just thought "wow", the state is beautiful, amazing beaches, great cuisine, a fantastic mixture of culture the European background with the Portuguese who owned it of course until 1962, and the Indian aspect to it.
I saw huge potential in the Indian marketplace, the emerging middle class, and clearly it was a lot richer than I'd imagined, from a distance. There was a lot of desire to take holidays and possibly mimic what had happened in the west, a lot of people have seen western holiday styles on TV shows and whatever, and wanted to do that. And I also saw huge potentials for non-Indians coming into the country. Direct flight has just started to Goa from Europe and it was being built as a cheaper winter sun alternative, so rather go the Caribbean, Seychelle, or Mauritius or whatever, it was an alternative. And so to me I saw huge potential, and to be candid, land was very cost effective, and there was good opportunity. So I went back to head office so to speak, and said to my bosses, the owners of the company, this could be an amazing place for us to do a development and they virtually laughed at me, really.
They are an American company who have this perception that Asia and India was full of poverty and wasn't really a place where we could be successful. So they declined, and I followed my gut feeling and made a quick decision, and left the company, cashed in my savings, sold my flat in London, and did it on my own, and started my own business. I persuaded some of the people that worked with me in Europe to join with me on this adventure, and like a bunch of conquistadores or pirates or explorers we turned up on the beaches of Goa, very underfunded to be candid, with a hope and a dream and we started of our first development.
So it very much was a gut feeling, it was seen opportunity, but really in the space of first visiting the country and really starting the company, my own company, was about 2 to 3 weeks. It was a very swift decision and it was one of the best decision I've clearly ever made. We started of with one resort, then we expanded, and then we got involved in Indonesia which is our second country that we went to, we came to Bali, a gain in 1994, I saw huge potentials and huge opportunity great domestic market which had potential and a location that people from all over the world wanted to go to. And then after that it's all history, we went to Vietnam, and we went to Thailand, and Australia and all sorts of places.
Which Karma property did you visit most and why?
Well, this is a difficult question to answer. The honest answer is in the last 16 months not many. If you'd ask me this pre-pandemic, then I was living my life sitting on planes, really. And I used to travel 100 days a year, travelling around my existing resorts, travelling to new potential resorts, or travelling to markets where we have members and clients. To say which one I go the most is difficult. I think probably i would say Karma Kandara, which is in Bali. It's an magnificent property, it sits near Uluwatu at the south of the island. It's a fantastic peace of land. We got a beautiful resort, we got an amazing beach club, we got a fantastic spa there. Its very special to me.
I bought the land myself many many years ago we the intention building myself a villa on it. I employed a feng shui expert to find me the best piece of land on the island, auspicious, powerful piece of land. And this is what they found. It looks out into the ocean, its got an amazing energy to it, fantastic wildlife and interesting trees and foliage. I decided it's probably too good for a villa, and we ended up developing a resort. So, its been very special to me over the years, its been obviously very popular and successful, its won best resort in Asia many times, and so I spent many many many wonderful times there as family holidays, holidays with friends, anniversaries and birthdays and all sort of things.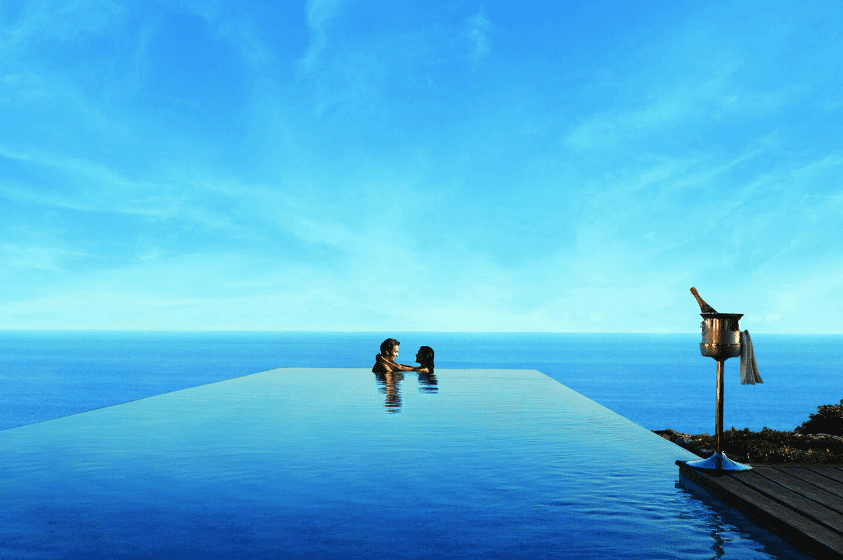 So I've been there a lot, and in general in Bali I spent a lot of time, I lived on the island for some time, I think the island got some magic about it, which is pretty much unique in the world. So I spent a lot of time there. Also India of course I spent time there, at Haathi Mahal, our property in Goa, which again we build a number of years ago, which has a beautiful attraction to it. And what I love to do is in the summer, because I travel so much, I would normally travel so much. I've been locked down like many of us have over the last year, but I like in the summer to visit my European properties, and base there, and so than rather me travel, people come to me, whether it be business meetings or friends or family. 
And the other property I go a lot is Le Preverger , which is our chateau in the south of France. Its just near St. Tropez, near a village called Grimaud, half an hour from St. Tropez. Beautiful property, it sits in 200 acres, its got a very strong history. It used to belong to Jeanne Moreau, who was the French film actress in the 60s-70s, and so they had amazing parties there with people like Brigitte Bardot and Sophia Loren and other celebrities in those days. It later became owned by Lord Ashley, the international designer and fabric designer, and then we acquired it from the Ashley family.
It's got vineyards on it, it's got thousand olive trees, it's got beautiful bedrooms we designed. We had Nicky Haslam, the famous interior designer, re-designed for us. And it's a very magical place , so I very much enjoy spending a month there, in fact I would be going there on Monday, except because of those quarantine requirements, we can't get in to France at the moment. So I have instead to go to our property in Mykonos, where I also love spending time in the Greek islands. Not too much of a hardship, just frustrating that we can't get into France yet.
What can we expect of Karma properties all over the world?
Well it's an interesting question. I mean I often asked you know what is the brand style, or the architectural style of Karma, and the simple answer is there isn't necessarily a structural or physical one. We're not like another hotel group, and I won't name names, there are a quite few, that they look the same. So you could be in Indonesia, or could be in India, you could be in Miami, or Spain, and they look kind of a same, same number of rooms. I don't believe in them.
I think all of our resorts should be unique. I think they should speak of their location. So they should be relevant to their location. So for instance our resort in Jimbaran in Bali is designed in the style of a Balinese village. Because its literally next to a little Balinese village. So it has a little courtyard and windy roads and what have you. Our chateau in France is very Provencal.
Our property in Italy is designed to look like an Italian hamlet, that sits on top of a hill, it has a palazzo, it has a little restaurant, a trattoria, it has a little church which forms part of it. So, all of our resorts are very unique, they all are relevant to the area that they're in. What unites them is several features that we try to put in all of them, like fantastic spas with great treatments, amazing wine lists, fantastic kids club, its also united by this Choix de Vie,  this sense of fun.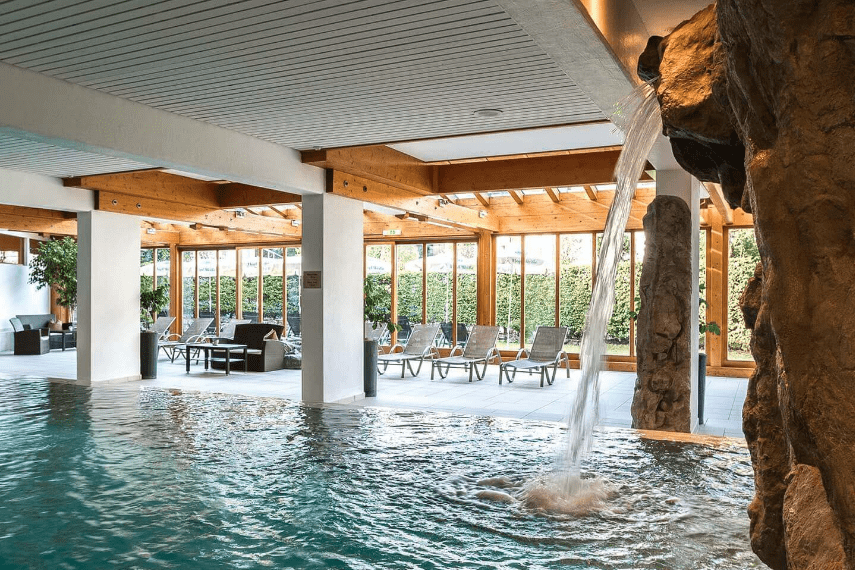 We often say we are not in the lodging business, we are not into just the accommodation business, we are in the entertainment business. And we view ourselves very much as an entertainment vehicle, so that people come to us, and they are entertained. We call very much our philosophy of Karma "Five Star Hippie", and what I mean by that is that sometimes the best holidays you have when you were young, when you were carefree, and maybe don't have much money and you stay in low rent accommodation, you backpack or you sleep in a hammock on the beach, and you maybe had a few too many beers, and you party with.
You had a wonderful sense of freedom of getting out there and experiencing the world, and experiencing cultures, and locals and interacting people. And then often you go through life, you become successful, and you have families, and you still holiday but it becomes rigid, it becomes more structured. So we appeal very much to that, that hippie, we appeal very much to that sort of freedom of youth, but without ashamed its five star. Because as we get older we want air conditioning rather than the mosquitoes in our room, and we want to have a quality wine list and spa treatments and cuisine.
We like to try to combine the two, I think that's what is the spirit that you'll find in our Karma resorts. Whether you are in a ski resort in Bavaria, whether you are in a resort in Hoi An in Vietnam, whether you are in our Australian island, Rottnest. I think everywhere you would find different architectural style, you'll find the resort looking totally different, the number of rooms different, amenities different, but they'd all be linked by that sense of Choix de Vie, and the other thing that links them are the members.
We are, as you now, much closer to a private members club then we are to a hotel. Most of the clients that stay with us are Karma members. They are either on an annual basis, like a normal club membership plan, or they are on a multi-year lifetime membership , whatever it is, they signed up to become Karma members, they view it very much as a lifestyle. And they are a loyal bunch. We have 50000 members and they holiday together a lot, they may bump into each other, and they swap stories, most of them being to many many many of our resorts, so it's really fantastic to see how many members we have that been with us 20 years and 25 years. And I love one of my favorite thing is going to my properties, sitting at the bar, meeting members, it's amazing how many I met before, or they have seen pictures of heard of me, swapping stories, and getting their input into how we should do our resorts.
When I am doing a resort we often very much lean on what would our members want, and we are responsive. If members say, look we really really really want to have more resorts in Indochina, I wish I'd have its responsive, I am trying to get a new resort in Laos, to Luang Prabang to satisfy that need. So, I think that's the other big difference between us and a normal hotel, were totally different people turn up, and no one really knows each other, and its really a sort of transitory crowd. We're very much designed for our members, populated by our members, responsive to our members, and our members are very much part of the fabric of the operation.
Try to give us 3 words that describes Karma properties all over the world.
How about "Understated Luxury". I think that probably is quite true, "Understated Luxury" . It's probably two words understated, but we can put a hyphen in, "Under-stated Luxury" 
When the borders open around the world, can you please give us recommendation on which Karma property in which country should we visit first and why.
Ok, so you want three, good. I could recommend them all I guess. Let me see, what would I recommend. I mean, I think you know from a domestic point of view it's clearly Bali, and I go back to my thoughts on Karma Kandara. I would recommend very much when it's easy to travel, everyone to come to Karma Kandara. I think it's hard to find a nicer resort. What I love there is the spa which sits on the clifftop, and we have these treatment rooms where you look down and you see the ocean crushing on the beach. You can hear the sound of the sea you can smell the salt, incredible intoxicating.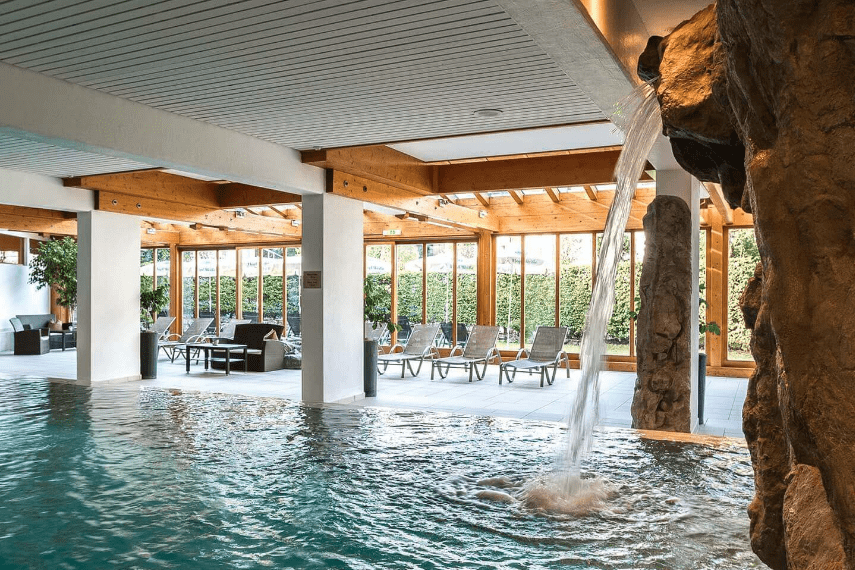 We have a particular zone there which I love where we have right on the cliff front we have an infrared sauna where you can sit in it and detoxes you and again see this magnificent view of ocean and sky. Now we have an outside spa pool where you sit in an Himalayan salt, pink salt. You have every well of the world that drifts away as you sit there. That's a lovely area. We also have a beach club there, Karma Beach which is great. You reach it by a cable car, perpendicular it goes by the side of the cliff with the most dramatic views as you go down, and we have amazing cocktails down there, and we have great DJ's, and beach parties, and wonderful food cooked by our amazing Indonesian chefs and other people down there.
So that's wonderful, and on top of the hill we have Di Mare, our beautiful gourmet restaurant, and a fantastic pool. The units are all spectacular, almost all of them with their own private pool and very spacious. So yes, I would definitely recommend that you go there. I would recommend another one which is actually our newest resort, which is Karma Salford Hall. One of the upside of the pandemic, or maybe upside isn't the right word, but one of the observations of the pandemic is we have been able to acquire quite a lot of new resorts.
We acquired Karma Salak just outside Jakarta, and we acquired Karma Salford Hall. Salford Hall is in the Cotswolds in England, which is about an hour and half from Heathrow and from London. It's very popular beautiful area, with rolling hills and old buildings and churches and whatever. Our resort is halfway between Evesham and Stratford, where of course William Shakespeare was born. And Evesham which has this amazing history, of the Evesham abbey, the battle of Evesham, and all sort of things.
The house itself is amazing, I mean it dates back to 1380. It's actually one of the oldest hotels in Europe. It used to belong to the monks who worked at Evesham abbey, and it was used as the house that when visiting monks or priests or whatever the technical word is came to visit them, is where they lodged and where they would entertain them, you know eat and drink and discuss business matters or spiritual matters. Later on, it was taken over by Henry VIII, when he did the dissolution of monastery. And over the years many famous people have been through there. We think Guy Folks went through there and there is other historical people.
We employed a lady called Sue Hills to do a research on it. And she produced a book which is fascinating to read. And it's got these amazing features. It's got obviously the wood beams, it's got old bells, it's got magnificent roaring fire places, it really does feel like a medieval mansion. And I think anyone going there  there loves it. But particularly someone from a different part of the world that maybe hasn't experienced that to stay in a bed room which is 400-500 years old, in a four-posted bed, with antique pictures on the wall, and creeky floorboards, that you hear down the corridor, the big sort of snooker room with big sorts of snooker table and bars which are old. So I think that's a lot of fun, and I would definitely recommend that. And let me scratch my head. What would we recommend for the third. I think its difficult because they are all so beautiful, I think maybe Tuscany again. Let's say as a destination to go to Tuscany is hard to beat.
I acquired this resort Borgo di Colleoli or Karma Borgo di Colleoli a number of years ago. It's located equally distanced between Pisa and Florence, and Luca and San Gimignano. So it kind of sits in the middle there, which is I think the best part of Tuscany. Its literally 45 minutes from Pisa airport or 45 minutes from Florence airport. And so within literally in an hour and an hour and a half you just got this plethora  of attractions.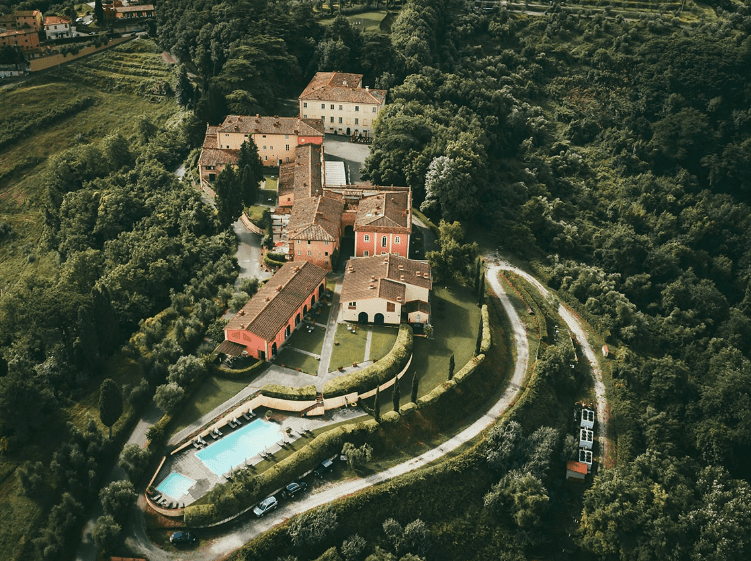 You got in Florence the Uffizi Art Gallery, and the beautiful cathedrals, and the buildings, and you got the walled city of San Gimignano, and obviously you got all the amazing operas around there, you got fantastic food and  restaurants, and cuisine. You got the amazing vineyard and some of the best wine in the world. So the area itself is beautiful and the resort I think is magnificent. Its a converted hamlet, it's got a Palazzo there, so you got a little Trattoria, and you stay again in those historical rooms that are about you really feeling immersing yourself in the local area, and the  local culture. So I think those, but you know while you're doing that you should visit the other ones as well. But that's a good starting point. Bali is slightly local to Kandara, England for  Salford Hall, and then zoom down to Tuscany to eat and drink, have savage wine.