THE WESTIN RESORT NUSA DUA, BALI IS ECSTATIC TO LAUNCH GOLF SIMULATOR
The Westin Resort Nusa Dua, Bali, is thrilled to announce the opening of Golf Zone, the newest premium facility to the Resort featuring the Golf Simulator. This state-of-art feature offers the finest virtual golf experience for guests who want to come together and enjoy an exciting recreation with their companies. This innovative all-in-one simulator comprises with 194" premium impact screen with full HD image. Auto tee-up system as well as swing analysis front and rear cameras are also available for players to activate when they want to develop their game even better.
For golf enthusiasts, this avant-garde simulator will provide beginner players with the opportunity to elevate their skills and advance golfers can challenge their friends to an 18-hole-game on one of the 20 courses. This Golf Simulator is indeed an amazing choice for inspiring indoor activity regardless of the weather outside. At The Westin Resort Nusa Dua, Bali, no one is left behind. The Golf Zone also creates the perfect avenue for family to bond. Guests can invite their teenagers or other family members to a stimulating indoor sport activity while being immersed in an uplifting conversation. Sheltered at the elegant hotel's lobby, the Golf Simulator with its cutting-edge design will also be the perfect opportunity for professional parties to enhance their golf swing without having to travel far in between their busy schedule.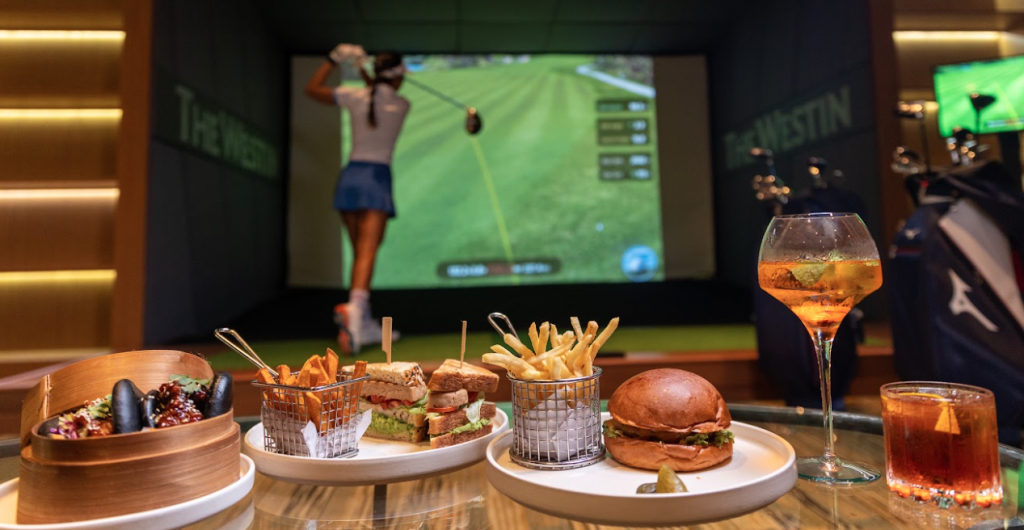 The guests of The Westin Resort Nusa Dua, Bali can reserve this Golf Simulator venue everyday from 7AM to 9PM, starting from IDR 200.000 per hour. During the restaurants' opening hours, guests can also enjoy energizing menu option from light bites to sweet sensation. Beers and spirit selections are also available for a perfect company throughout their delightful game.
"At The Westin Resort Nusa Dua, Bali, we continue to present creative offerings to our guests. This time, the initiative is in harmony with our Move Well and Play Well pillars. With our Golf Zone featuring its Golf Simulator, we believe that our guests can have more options to enrich their stay with us and make it even more memorable." said Oriol Montal, the resort's General Manager.
For more information, please visit www.westinnusaduabali.com or social media @WestinBali.