The Westin Resort Nusa Dua Bali
A Family Resort Where It Belong
Stepped back to The Westin Nusa Dua Bali has always felt like home, as their welcoming us with the sweet treats for the kids marked "Welcome Home".
In this extraordinary time around the world, the hotel still keeps up their heads to continuing the hospitality industry, in fact they were greetings the guest warmer as they are. They also strict to performed the health protocols such as body heat scanners, and all the staff wear mask, sanitize the room, to make safe and confident environment for the guest.
The Westin Resort Nusa Dua nestled in the high-end area of Nusa Dua, featuring 433 rooms with lots of rooms category. Our room is a Family Suite with 117 sqm space. The room has two suite bedroom that the purposes for the parents and children, with total room occupancy can afford up to 5 people.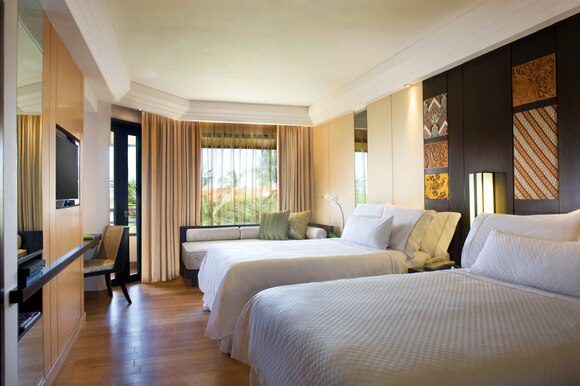 The rooms offer the luxury standard amenities you would expect from a five-star resort hotel. Each room has their own facility comprises Westin heavenly bed, Hypo-allergenic Feather and Foam Pillows, refrigerator, coffee and tea maker, satellite television, air-conditioning with individual climate control, dual walk in wardrobe, iron, living room area, glass-front balcony, high-speed Internet Wi-Fi, and of course personal sanitize kit including clean mask, hand sanitizer, and sanitize wipes.
Their en-suite marble bathroom features separate toilet and rainfall shower area with relaxed bathtub completed with revitalizing White Tea Heavenly Bath amenities including extra-large luxury bath sheets and plush, custom-designed bathrobe.
Family Resort Where It Belong
Embodying the values as a family hotel, The Westin Resort Nusa Dua, Bali offers plenty of activities especially for the kids to enjoy such as Fun Cooking Class, Slime and Bubble Attack, Mini Olympics, Wet & Wild water games, Treasury Hunts, and Beach Olympics.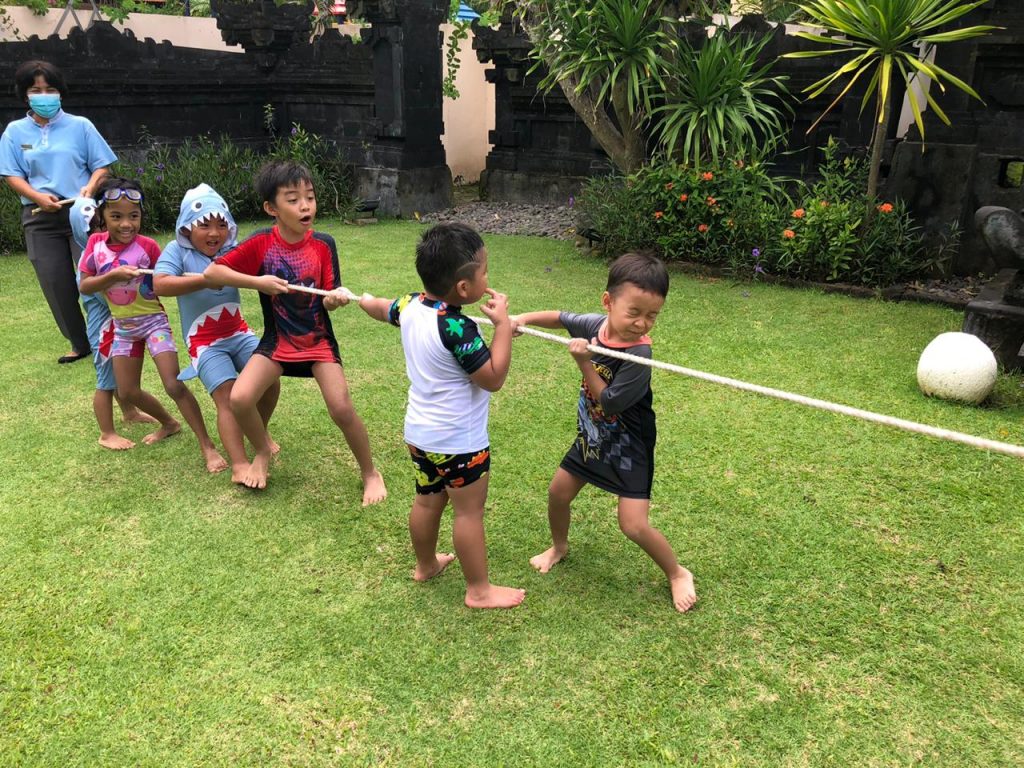 These itineraries are provided for the family fun weekend activities. It will assure make the children happy and have an exhausting yet so much fun weekend, also have a new friend. Kudos to the kid's club team, Miss Kendra and Miss Andini.
Renowned as one of the most family friendly resorts in Bali, the resort boasts a spacious outdoor playground, large pool including water slide while their kids club features fun activities such as face painting, kite making, fishing, movie night, stargazing and much more to cater the children.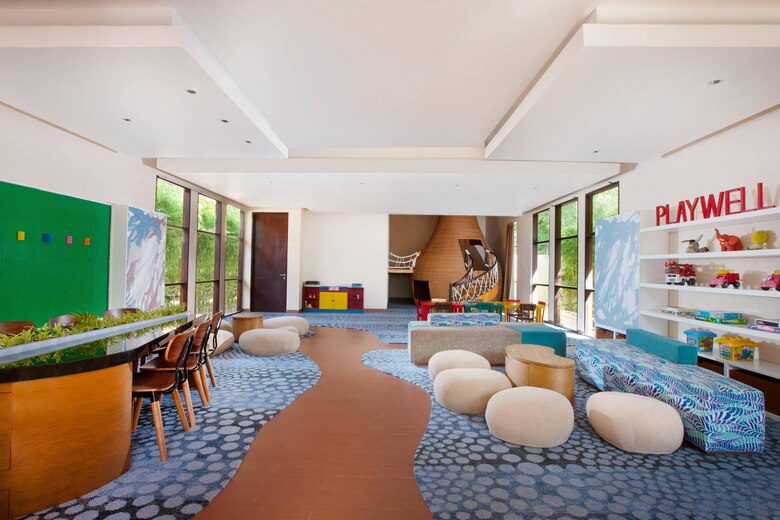 Our children first resort kid's activity was a movie night, even they allowed the kids to have their dinner while having a movie night. Also, it's their first time enjoyed burnt marshmallow from beach bonfire.
For total pleasure for the whole family, other activities they provide are cycling tour around the scenic Nusa Dua area, canoeing, and table tennis for your holiday pleasure.
Dining Option
At Seasonal Taste, they serve breakfast as usual, but at this time, the buffet section is very limited due to hygiene matter. But do not worry, they had a lot of à la carte selection. Their in charge head Pak Sumadita and Pak Suana were very helpful and agile to offer the guest all the breakfast menu specially the menu of the day that should've to try.
Another dining option is at Ikan Restaurant in front of the beach, serves both local and western delicate food, such as their Pork Satay was so good.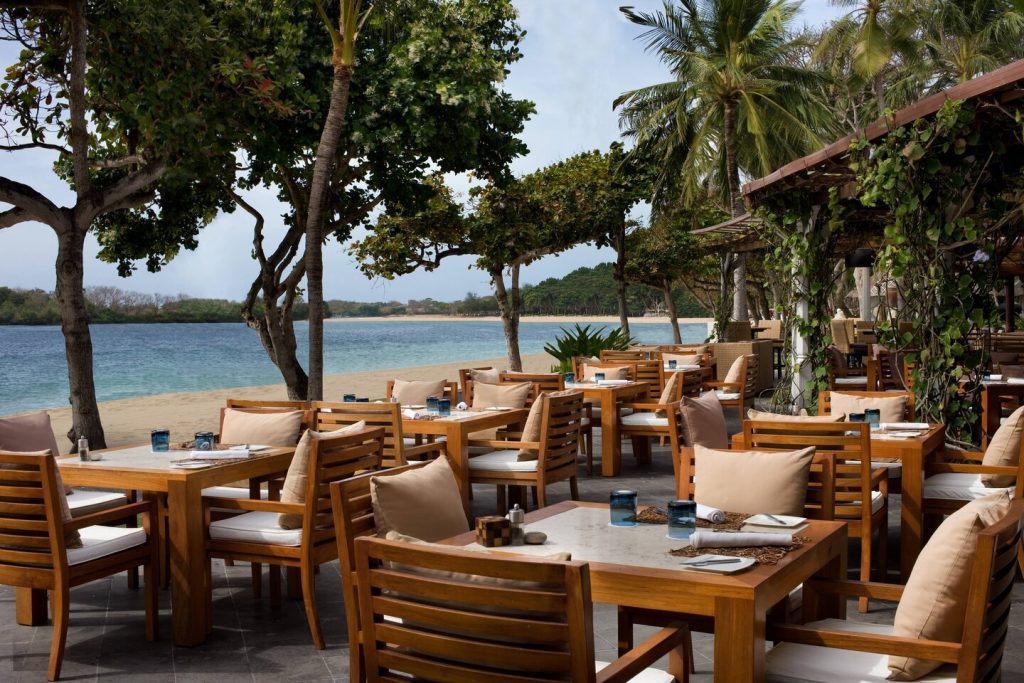 For dinner option, try their Japanese restaurant Hamabe. The restaurant combines modern and authentic Japanese cuisine of the very best quality. A selection of Japanese appetizers including sushi, sashimi and innovative rolls expertly crafted by our talented chefs using the freshest seafood. Mrs Arik the waiter was excellent in describing all the Japanese menu and gives us best recommendation to taste.
As fun as usual, Prego has a lot delicate Italian dishes to enjoy. The heart warming welcome as always, we receive from Prego team, especially the F & B Manager Pak Rudi. At this time, instead of a buffet line, the food was offered unstoppable deliver right to our table by food trolley. It's just easy as you can choose on your fingertip, and the food ready in your table. To pamper and satisfy the taste, a mouthwatering dessert selection was still displayed and choose as much as you like. Prego definitely is the one of most family brunch you have to try list on this island.
The Westin Nusa Dua proofed to be a great base for families whose would like to have a quality time and a lot fun staycation.
For information & reservation :
Visit : The Westin Resort Nusa Dua Bali
+62 361 771906