What's Cooking Behind the Green Door?
Bali's newest speakeasy launches snack menu for an intimate bar side experience
As it continues to make waves in the late-night social scene after its recent opening in December 2021, Behind the Green Door is treating its patrons with a delectable surprise, freshly prepared from behind its kitchen doors!
Hot and tasty from Behind the Green Door's kitchen is their new snack menu, featuring 10 delicious items that tickle the taste buds and will surely keep partygoers fueled up until the wee hours of the night… or perhaps until the early morning, who knows?
Driven by their insatiable desire to deliver a complete party experience, this music emporium & cocktail lounge surely knows what the party people need— an intimate bar side experience with a friend or a lover, just a few hours before the party begins. Behind the Green Door is where one can find everything: scintillating conversations, fine cocktails, good music, and now, excellent food.
Already famous for their liquid libations created by their leading mixologist Harris Mahendra, their new snack plates complete the missing piece of the puzzle, specially curated and prepared by the new creative culinary director & executive chef of the Kilo Collective Family, Jethro Vincent.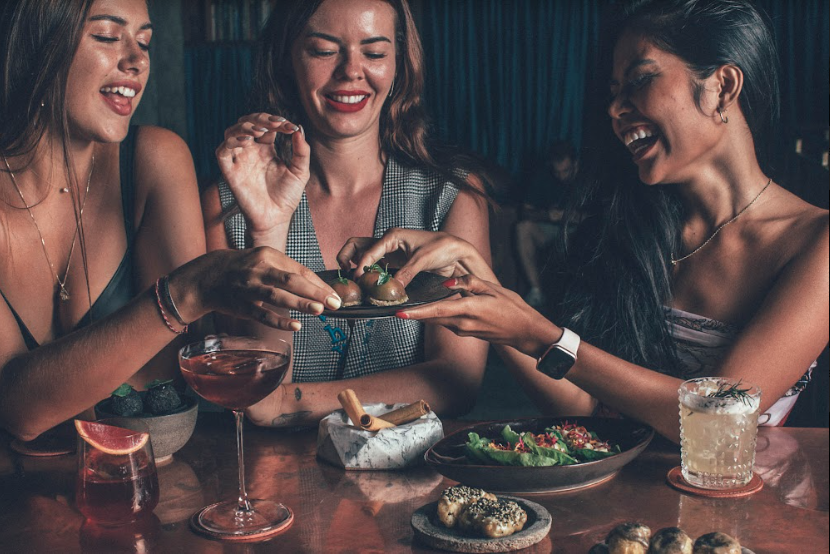 Staffed with award-winning talent and music you won't find elsewhere, Behind the Green Door invites you to drop by, settle in early on until late at night, and experience an evening you won't soon forget.
Behind the Green Door remains an exclusive, speakeasy venue that offers guests everything they need throughout the night: from the exquisitely cozy environment and service, amazing music entertainment and craft cocktails, and now the newly created snack menu that completes the full party spectrum—only found on the other side of the mysterious green door.
Don't forget to put on your stylish ensemble, your party shoes and your appetite for good food, good drinks, and a great party vibe, because Behind the Green Door promises that you won't ever have to leave once you set your foot on the green door… not without the password of course! This is a guest list you'll want to be on in order to access the exclusive space upstairs.
THE CHEF
Behind the Green Door is extremely proud to now call Chef Jethro Vincent part of the Kilo Collective Family. Chef Jethro debuts his creative genius within the family with the launch of Behind the Green Door's snack menu. Chef Jethro has a proven record in creating vibrant, thoughtful and quality food offerings across a range of styles and cuisines. Known for his exquisite taste and creativity, Chef Jethro masterfully curates his menu based on his expertise in flavor profiling and plating aesthetics.
THE DRINKS
From classic cocktails to curated elixirs, award-winning bartender Harris Mahendra succeeds in creating a one-of-a-kind cocktail menu. Not your average bartender, this 24-year-old Balinese pro has an impressive past and won awards in the world of mixology.
Using the best of Bali fruits, a wide selection of seasonal drinks will rotate to offer you something fresh and fun. Behind The Green Door also makes the commitment early on to apply a zero-waste policy behind the bar. This means they maximize the use of all their in-house ingredients, from peel to pit. With a fully stocked bar of equipment to redistill, infuse, extract and dehydrate ingredients, drinks are crafted to be both memorable and waste conscious.