WORLD'S GREATEST BUTCHER JOINS MONDRIAN'S BOTTEGA DI CARNA TO CREATE THE LAST WORD IN VIBRANT MODERN ITALIAN
Tuscany's Dario Cecchini brings his rebellious spirit, maverick passion and a reverence for meat passed down through eight generations to Bottega di Carna
Officially open for reservations, Bottega di Carna is firing up the dining scene in the Lion City as Dario Cecchini, hailed by the New York Times as the 'world's greatest butcher' and star of Netflix's 'Chef's Table,' joins forces with Mondrian Singapore Duxton's passionate chefs.
Created by a maverick who has cooked for everyone from Anthony Bourdain to Elton John to King Charles III, to a rock and roll soundtrack while quoting Dante's Divine Comedy and Shakespeare, Cecchini is modern Italian cuisine's arch disrupter and standard bearer. The menu's origins can be traced back to Panzano, in Tuscany's Chianti region, where master butcher Cecchini learned his trade from more than eight generations of master butchers.
Bottega Di Carna is a celebration of Cecchini's commitment to flavour, showcasing classic and unexpected cuts as pieces of art, going back to the future of crudos and charcuterie, creative handmade pasta, fired steaks and fish, and bold progressive wines. Expect craftsmanship and a playful gastronomic experience, perfect for long lunches and fun-filled dinners, where tableside service and trolleys add theatre in the light-filled space that overlooks the Mondrian's garden.
Inspired by Dario's spirit, Bottega di Carna will be known for its hospitality and generosity, with an open kitchen to showcase the chefs at work and a statement bar where guests can while away an evening with one of the bar's signature negronis and aperitivo.
'A BUTCHER KNOWS THE ALPHABET OF MEAT, A CHEF WITH THAT ALPHABET CAN WRITE POETRY"
Cecchini's respect for animals was informed not only from his family's long traditions, but from his time studying veterinary science at the University of Pisa. Three years into his six-year course, he felt compelled to take over the family butcher business from his dying father.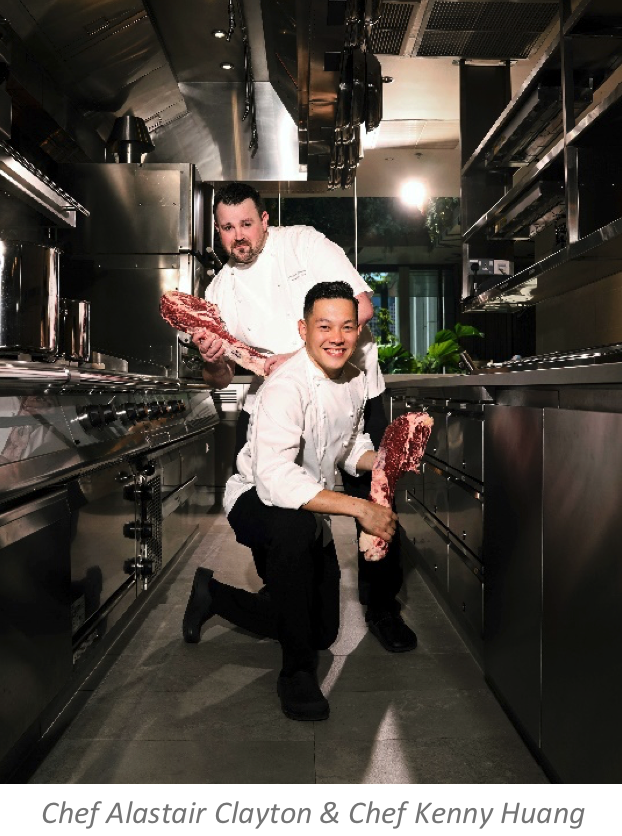 Descending from an unbroken line of eight generations of butchers in Panzano and his love of animals formed his philosophy. "You must guarantee the animal a good life and a dignified death, and use every part of the animal well. What began as economic necessity is now an ethical imperative. We should leave this world a little bit better than we found it. When you eat meat you must be respectful, reverential."
Bottega di Carna will be helmed by Executive Chef Alastair Clayton, who joins from Gordon Ramsay, and Chef de Cuisine, Kenny Huang, who speaks fluent Italian thanks to his years living and working in Italy. Chef Kenny spent time in Panzano with Cecchini, absorbing his philosophy and methods and it is the beginning of a beautiful friendship. "A butcher knows the alphabet of meat," says Cecchini. "A chef with that alphabet can write poetry and transform the nourishment of meat into a melody."
'ON OUR SHOULDERS WE CARRY A LIGHT THAT SHOWS THE PATH TO FOLLOW'
Cecchini, who once attracted global media coverage holding a funeral for the banned Florentina steak in Italy, says he's completely in tune with Mondrian's boundary-breaking mindset and believes that Singapore is ready for the Bottega di Carna experience.
"I always try to understand a culture by its street food, what the roots are, what the people eat. And after having a lovely plate of chicken rice, I understood that yes, this is going to be a success. The people of Singapore already have in their DNA this innate sense that it is important to use everything from the animal well."
"There is a beautiful passage in the Divine Comedy by Dante, where the author is asking in the poem of an artisan, why is it that you do what you do. Why do you have this energy, this desire for knowledge? It wasn't that you are seeking wealth. And the artisan in the poem responds: we are like those who move forward through the dark by instinct, we can't see the path we should take, but on our shoulders we carry a light that shows those who follow us a path they can follow. We come to Mondrian, with the spirit of Dante and the spirit of Ulysses."
Dario Cecchini will be in Singapore to celebrate Bottega di Carna from 19-22 June 2023.
To reserve a table please book at: Restaurants, Dining & Nightlife | Mondrian Singapore | Ennismore