Hilton Bali Resort Presents Festive Celebrations
With the festive season around the corner, this is the time of the year for family moments, cosy evenings, and re-unions.
To turbo-charge on the holiday, Hilton Bali Resort designed a festival of Year End options lasting until January 1, 2023 so everyone may choose from an array of styles and days, to feel the warmth and light of hospitality the hotel is committed to deliver.
The hotel stands out for its commitment to the environment and the community and the team friendliness makes all the difference whether it is for top notch service or dedicated attention to families and kids
To gear up for the month and wow guests from the entry, Hilton Bali Resort very own Santa will lighten up the Christmas tree with a candlelight festival on Monday 5th December – the time to sparkle theme will then roll out
Organic and locally sourced cinnamon, theme chocolates and pastries, vegan products will be on display at Deli Corner every day, for a relaxing break around a flavorsome Bali coffee.
Clinton Webber, Hilton Bali Resort Executive Chef, is committed to the neighborhood and sustainability, "We love to work with local producers to provide more of the hotel's food and beverage offerings while supporting small local enterprises and ensuring sustainable growth." That goes from sourcing local, to committing to reducing waste and using fresh and seasonal produce.
"We invite guests to experience the magic of Christmas and New Year in Bali, launching the festive season as we reveal the festive décor. Spreading the spirit across our resort with highlights on New Year's Eve, where our team will pull out unforgettable menu to welcome 2023," add Amit Sakhrani, General Manager, Hilton Bali Resort.
On the Friday 23rd of December, Dinner will honor the culinary history of the Balinese at Paon Bali Restaurant, and will be paired with local wines. Starting from lawar, serombotan, fritters to ayam betutu, babi samsam and sate lilit ikan will be a perfect atmosphere of the cuisines.
This Balinese evening at Paon Bali will take place from 6:00 pm and is priced at IDR 550.000 per person
***
On Christmas Eve, Chef and team elaborate a menu around food we remember from childhood, seasonal favorites and an array of festive drinks at Grain, a live band will play top 40 that evening
Dinner from 6:00 pm and is priced at IDR 850.000 per person. 'Touched' salmon, Squid ink lamb, crab & smoked king fish, BBQ black angus rib eye, roasted duck to steamed king prawns, close with baked ricotta puddings or steamed Christmas pudding. And that just a few of the spread.
For a cosy and an authentic Balinese dinner, choose Paon Bali, entertained by Balinese Ethnic Music
Christmas Eve Dinner will take place from 6:00 pm and is priced at IDR 950.000 per couple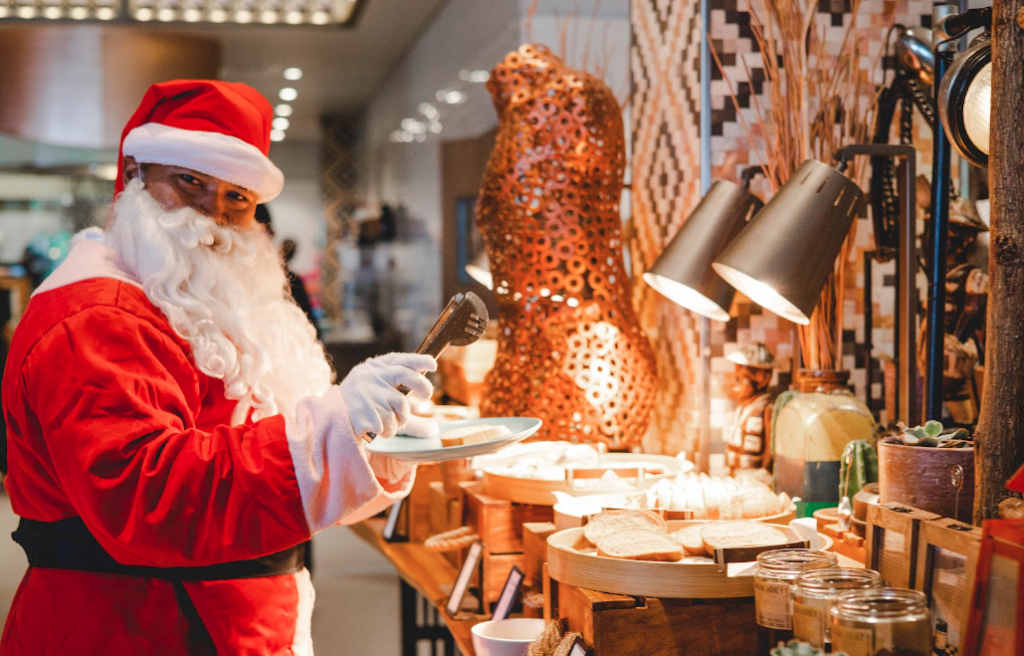 On Christmas Day, Head to the ocean front at our casual beachfront restaurant The Breeze for the now popular brunch. Chef prepares stands with BBQ, Seafood, Cheese
Christmas Day brunch will be served from 12:00 pm till 4:00 pm, accompanied by a live band, and is priced a la carte, with choices of bubbles, buckets of 3 beers, Christmas cocktails to spice up the day.
Too tired to go to brunch? Then hit to The Shore from 6pm onwards for the famous Christmas Butchers Block or seafood platter – Book it before it is too late, this is such a cool place to finish this special day and sit on the ocean front enjoying the live duo acoustic performance (prices a la carte)
Monday 26th December is Boxing Day, after so many agapes, choose from BBQ lunch from 12 or Evening Pantai Picnic along The Breeze, from 6pm.
Pantai picnic from 6:00 pm and is priced at IDR 850.000 per person, BBQ is a la carte
***
Celebrate seafood on the Tuesday 27th December at Grain, in a sustainable, ethical manner around our buffet. Guaranteed locally sourced products, watch our team grill and prepare for you in the friendly settings of Grain restaurant from 6pm.
Priced at IDR 600.000 per person
***
Opt for Wednesday 28th December, and a Wine & Dine experience at The Shore on the ocean front, with a selection of cheeses wines, desserts and savories entertained by a live jazz band.
***
Counting down to the new year, Thursday 29th December is the Beachside carnival day from 4pm onwards, an incredible dining experience at The Breeze, South American style concept and live bonfires accompanied with a live band
South American Beachside Carnival Day is priced at IDR 850.000 per person, BBQ is a la carte
31st December, Toast to the New Year under the Las Vegas Lights at the Grand Ballroom Paruman
Live band, tarot reader, Clown, Live DJ, fireworks to celebrate 2023, Hilton Bali Resort pampers you with an awesome menu featuring diverse international gourmet food.
Kids will have their very own New Year's Eve party next door with their very own menu activities.
***
Wake up late on the 1st January and detox either at The Shore or The Breeze with our light BBQ brunch served from 12:00 to 5pm with live DJ, sip a bloody Mary on your mattress and start planning on your resolutions facing the peace of the ocean
From 6pm, it will be Prawn & Beer festival at The Shore along our live cooking stations accompanied with a live acoustic duo.
To get in the mood, why not start planning for the festive season with a break at Hilton Bali Resort. The resort's comprehensive leisure amenities and activities pamper all ages. The hotel offers a spectacular architecture, built on the side of a 40-meter cliff. Great part of the 401 rooms and suites overlook the ocean, manicured gardens and peaceful resort facilities. Unless you prefer more privacy and choose from one of the luxury villas, each with personal terrace and pool.
The resort has direct beach access, 4 interconnected pools with sand lagoon, kids pool, 30-m waterslide, and outdoor jetted tubs. Children love the Jungle Kids Club's interior and outdoor playgrounds which include a trampoline, climbing wall, tree top playground, and daily kid's activities. Mandara Spa offer Balinese-style treatments in 8 semi-outdoor private villas.
And there are 4 restaurants and a deli serving anything from Coffee to Balinese and international cuisine, kid-friendly menus, and themed buffets.
Contact hiltonbali.info@hilton.com or +62 361 773 377 for details.