HOSHINOYA Bali Debuts Ubud Jungle Dinner To commemorate its 5th Anniversary
HOSHINOYA Bali, one of the finest luxury resorts in Indonesia, celebrated its 5th anniversary on January 20th, 2022. Since its opening, the resort has maintained the highest service standards, carrying forward the Hoshino Resorts experience, building a worldwide reputation for excellence and winning numerous acclamations and awards, among them the recent Condé Nast Traveler's 2021 Readers' Choice Awards.
To mark this occasion, HOSHINOYA Bali will debut  "Ubud Jungle Dinner" at its iconic Café Gazebo. In this exclusive dinner setting, cocooned in a lush tropical jungle wilderness, a 10-course dining menu is served carefully with the concept of the five senses of sight, smell, taste, sound, and touch harmoniously combined. This indelible gastronomic experience is crafted by Executive Chef Mitsuaki Senoo, combining his roots and techniques with his passion resulting in unique culinary creations.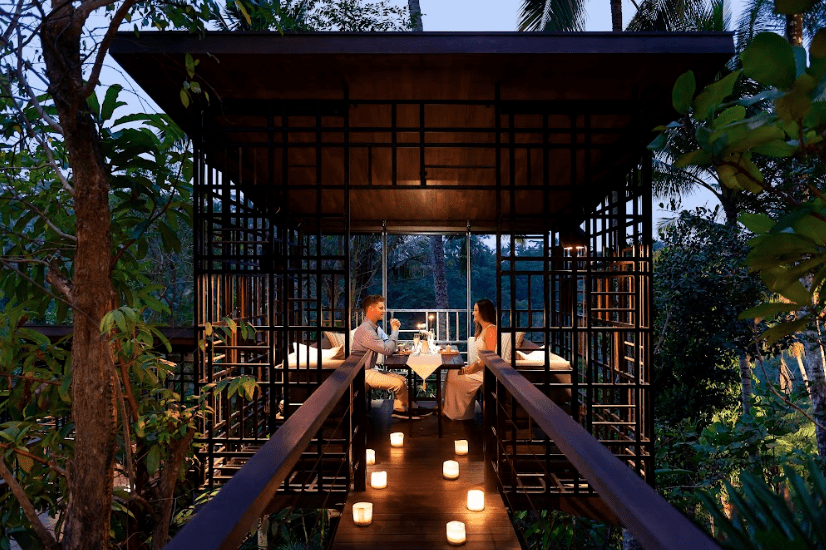 This storytelling 10-course journey features the fusion of French and Balinese cuisine with Japanese essence.
Greetings: Gazpacho – a hint of ginger and lime
The Story Begins: Gently Sautéed Bigfin Reef Squid – pistou, squid ink tuile
Gentleness: Slowly Cooked Salmon – cucumber sauce
Texture: Chicken Confit – black olive sambal matah
Joy: Sushi Mittsu
Aroma: Fried Seasonal Fish with Persillade – a touch of smoke
Refresh: Shiraae – fruits dressed with tofu, white sesame
Elevation: Beef Steak – sauce of your choice, burdock chips
Camilan: Bubur Sumsum with Coconut Ice Cream
Sweetness: Awayuki cheese – fruits, cocktail sauce
When the evening dawns upon Ubud's jungle, an unforgettable culinary journey awaits. Savor a mouthwatering 10-course dinner at Café Gazebo, perched on the edge of a tropical forest, accompanied by the twinkling stars and serenaded by the gentle sound of the river. Combining a humble traditional elegance with an exquisite touch, Ubud Jungle Dinner perfectly blends an idyllic dining setting for those looking for a tranquil Ubud ambiance.
This exquisite dining is available at Café Gazebo throughout February. Priced at Rp. 3,500,000++ for 2 persons including one bottle of wine. Reservation is required four days in advance. Exclusive for in-house guest only.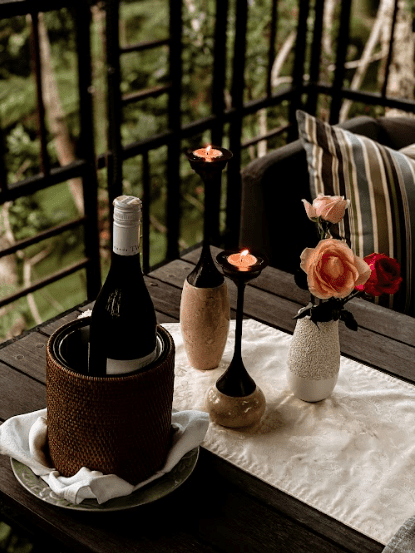 "Celebrating our 5th anniversary is a great moment, we have been striving to deliver a true finest personal service and experience to our guests. We hope to continue to create exceptional journeys for our guests, such as our latest culinary feast, the Ubud Jungle Dinner, that will stay with them for a lifetime. We are very proud to be part of the Bali community and will continue to extend our values of Japanese hospitality "Omotenashi," a commitment to provide personalized hospitality, commonly practiced in Japanese inns." expressed by Takaaki Yasuda, General Manager of HOSHINOYA Bali.
Book now to experience fine dining in the jungle, villas with a valley view and Café Gazebo that soars above the treetops. Reconnect with nothing but Ubud's lush green jungles, rich vegetation, and surrounding clear river streams, escape to our jungle resorts and get reacquainted with Mother Nature – in luxurious comfort.
Find out more about our dining experience through our social media channel Instagram @hoshinoyabali.
To celebrate our 5th anniversary, a 50% discount from regular prices is available.
To book go to : Hoshinoya Jungle Dinner
Early Bird and Stay Longer offers are also available for an extended journey of wellbeing.
For more information, please visit https://hoshinoya.com/bali/en/ .