SUNDAY FUNDAY
Collaboration Tall Trees and Riung Rasa
Riung Rasa in collaboration with Tall Trees Restaurant at The Westin Resort & Spa Ubud, Bali invites you to an afternoon of food & fun for all the family. Enjoy BBQ meats and seafood, some great beverage options, live music, games & activities for the younger ones. Spend your Sunday afternoon in the idyllic surroundings of Ubud with an amazing infinity pool and jungle as the backdrop.
Riung Rasa is small warung with a big dreams located in Jimbaran area owned by talented Indonesian Chef, Maxie Millian. Originally from Jakarta, Maxie Millian's cooking career has taken him across Indonesia and through some of the most diverse and luxurious restaurants in the world. From bustling Jakarta to fine dining in Dubai, he now commands kitchens in Bali, bringing an exceptional level of talent to the most humble and diverse range of Indonesian dishes. He is one of many Indonesian who has decided to focus on researching and cooking Indonesian food and his experiences
learning Indonesian food in the past few years.
On 7 March 2021, Riung Rasa bring their smoked barbeque specialty to Tall Trees Restaurant starting from 11.30 AM until 3 PM. What a great way to spend your Sunday with your family and loved ones. Offering a choice of 2 platters, Meat or Seafood; Slow and Low with 14 hour smoked Brisket, smoked paprika Pork belly, Ginger & chilly glazed chicken wings, or Wood and Fire with Char Octopus blend with Balinese Spices 'Sunah Cekuh', Sriracha prawn skewer, Mahi Mahi with onion marmalade, Baked "simping" , both accompanied with our Homemade pickles, baked potato with sour cream & chives, roasted corn on the cobb, spicy asian chimichurri & fresh home baked flatbreads will tantalize your taste buds. Great deals on buckets of beer or enjoy 1 or 2 of our famous jugs of sangria.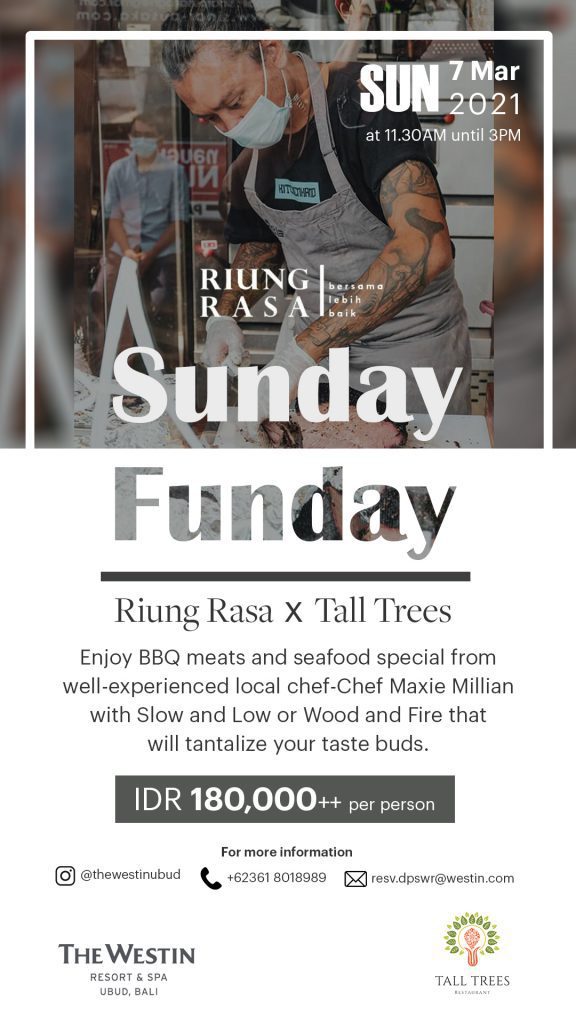 Your choice of Slow & Low or Wood & Fire will be available for only IDR 180,000++ per set also including dessert. Kids Menu available at 50,000 IDR for kids from 6 until 12 years old and free for under 6 years old. Featuring an interactive open BBQ, spectacular views of the greenery jungle for a great interaction between guests and our team of creative chefs. All the guest also can enjoying Resort facilities during Sunday Day Out.

For more information and reservation, please email to resv.dpswr@westin.com or WhatsApp
to +6285858051871.