The Apurva Spa
Journey To Ancient Javanese Tranquility
Apurva Spa at The Apurva Kempinski Bali embodies the restorative spirit of nature. Have an access to pristine sandy beach, Apurva Spa brings you the closest you will ever be in a luxurious royal of the ancient glorious splendor. An architecturally beguiling, light-filled space, Apurva Spa's peaceful, comfortable treatment rooms offer ocean views. 
Apurva Spa journey experiences are grounded in the knowledge that the life journey to wellness is a lifelong endeavor. Treatments are rooted in ancient Indonesia tradition healing philosophy and guided by the ancient Javanese proverb Rupasampat Wahyabiantara, which means "true beauty is achieved when inner and outer beauty are in harmony".
Drawing inspiration from the Serat Centhini: Suluk Tembangraras, an 18th Century Javanese text in which the collective wisdom of centuries is preserved, the journey through life is categories by different stages. The spa experience addresses the physical and mental needs from teenage years to adulthood, then married life and senior's years (post-adulthood).
Treatments are designed for specific life stage experiences, with different varieties of oil and lulur selected. The body's root and spiritual core pave the way for enduring serenity and well-being.
The tranquility treatments start from the lobby lounge to fill the form and enjoy a refreshment, then we are whisked to the couple's spa room. The treatment room has floor to ceiling views and opens onto a private outdoor patio completed with locker rooms with showers, Private Jacuzzi spa pool.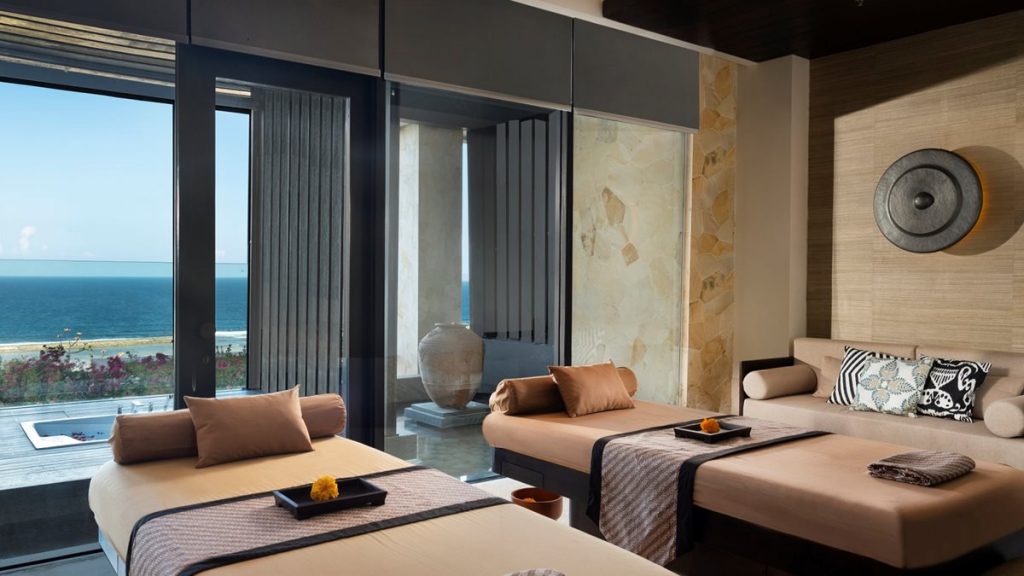 We are prepared to experience the Mahligai Kasih Smaradhana treatment based on our marriage life stage. Inspired by the sacred tradition of Javanese pre-marriage rituals, the Marriage Life treatments are specially crafted to uplifting the couple's lifetime journey.
This spa treatment is the longest spa experience that I've ever done. The rituals take 3,5 hours in two days. It is started with foot cleanse, continue with body massage with exotic massage oil blends. The traditional medium pressure technique such as long palm strokes and thumb works, create a feeling of physical relaxation, soothing the mind. Following the massage, a tropical body scrubs was applied to remove the body dead skin, and to finish day 1 treatment, an aromatic steam bath was a fine closing after the massage and scrub.
Completed the spa journey, in the next day couple enjoys the Naluri Roso treatment, a treatment focusing to back, face, and scalp massage. Finally, the adulthood spa journey was beautifully ended by Kembang Setaman flower bath.

Wellness cuisine further enhances the benefits of this rejuvenating journey. A daily Jamu herbal drink for Her and for Him was served for hormone balance and health maintenance. Also, they are reading our cakra based on our birth and year date to inform consent about our daily emotion, then they give some nutrition suggestions while providing guests effective tools to continue their wellness practice at home.
Using a unique, integrated combination of nutritional, physical detoxification in the stunning location of the luxurious and innovative, Apurva Spa intended to be the spa destination for all travelers around the world. By blending the effects of Spa Treatment, Meditation, Personal Training, Food, Jamu and Stress Release Therapy, Apurva Spa life stage journey can guide you into a healthy, positive state of mind and body.
For information & reservation:
+62 361 209 2288